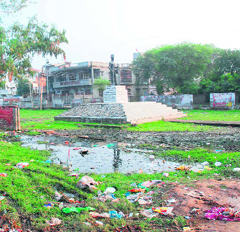 SHEER NEGLECT: Filth can be seen all over Hansi's Shaheed Bhagat Singh Park . It was inaugurated by a nephew of the martyr on April 1, 2007. Tribune photo: Ravi Kumar
Panel to settle doc-people disputes
Karnal, December 1
In a major initiative, the Karnal police has
put in place a unique mechanism for resolution
of disputes between doctors and people and
redressal of other grievances without the
police intervention.
Want a PhD degree?
Welcome to state
Hisar, December 1
Want a PhD degree? Welcome to Haryana. Yes, acquiring this coveted degree was never easier anywhere else whatever your topic of research and its quality.
A home for destitute children
Sonepat, December 1
Bal Gram, Rai, spread over an area of four acres, opposite Motilal Nehru School of Sports, was opened with a prime objective to provide homely atmosphere to the under-privileged children.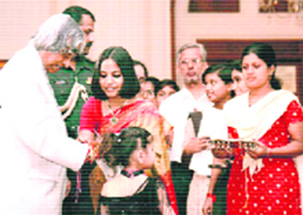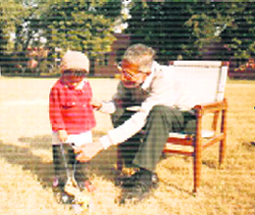 Bal Gram inmates meet the then President APJ Abdul Kalam on the eve of Raksha Bandhan in 2006 and (right) Gram director M.M. Godbole plays with a child.
Red Ribbon Express counsels 7,000 in state
Rewari, December 1
The year-long journey of the Red Ribbon Express (RRE), which started from New Delhi last year on December 1, had its final halt for two days at the Rewari railway station on November 26.
Decline in sugarcane cultivation
Power co-generation plan stalled
Chandigarh, December 1
Sharp decline in sugarcane cultivation in the state this year has forced the government to shelve its project for starting power co-generation in at least two of its cooperative sugar mills.
HJC to show strength at Bhiwani rally
Bishnoi to announce LS candidates
Gurgaon, December 1
With stage all set for the Haryana Janhit Congress (BL) rally to be held at Bhiwani tomorrow, the political observers of the state are keenly awaiting its outcome.
Students exhibit talent at fashion show
Gurgaon, December 1
The Pearl Academy of Fashion (PAF), along with the North India section of the Textile Institute (NISTI), Manchester, organised a two-day international conference on "Crop to Shop: Sustainability of Textile Fashion Industry Chain" at the Apparel Export Promotion Council here recently.
Helping the hapless
Ambala, December 1
The victims of destiny, beggars who generally spend their nights either on railway platforms or on bus stands, do not have sufficient warm cloths to save them from the harsh winters.
Haryanavi touch in Rajasthan Assembly elections
Sirsa, December 1
Political leaders from Haryana have been flexing muscles in neighbouring Rajasthan these days that goes to polls on December 4.
Cinemas lose popularity
Kaithal, December 1
Theatres, once a major source of entertainment, seem to be losing popularity in this part of the state and most of them remain deserted due to a drastic fall in the number of viewers.
Suman, Sanjeet get best athlete titles
Jhajjar, December 1
Suman and Sanjeet, students of B.A. Part-I, were adjudged the best athlete girl and boy, respectively, for their outstanding performance in the 29th annual athletic meet of the Dubaldhan Government College here.
New place to dump solid waste
Panipat, December 1
In an attempt to ensure cleanliness in the city, the local civic body has identified a new place to dump the solid waste being generated everyday.
Girl students undertake unsafe travel
Fatehabad, December 1
Owing to the indifferent attitude of the Haryana Roadways authorities, girl students from Government PG College for Women, Bhodia Khera, are being forced to undertake unsafe travel in overcrowded buses.
Award for vidyapeeth director-general
Sirsa, December 1
A well-known scientist and director-general of the JCD Vidyapeeth, Kuldeep Singh Dhindsa, was conferred with the Shiksha Rattan Award at a function organised in Delhi recently.
College girls exhorted to work hard
Kurukshetra, December 1
The women cell of Markanda National College, Shahabad Markanda, recently organised mehandi, rangoli and poster-making competition on the themes of female foeticide, pollution and the Ganga.