Karan Lake loses out to flashy eateries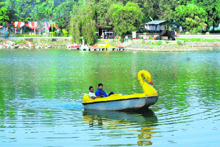 The tourism department is finding it hard to compete with new players in spite of the lake's soothing environs and fascinating beauty
Karnal, October 20
Once a famous resort of the state tourism department Karan Lake is gradually losing business to private competitors.

Visitors enjoy boating at Karan Lake in Karnal. Tribune photo: Ravi Kumar
First turmeric processing plant in Radaur
Yamunanagar, October 20
With a view to giving boost to the turmeric cultivation in the state, a turmeric processing plant costing Rs 1.8 crore would become operational at Radaur town of the district by February next year. The plant would benefit as many as 2,000 farmers involved in turmeric cultivation.
Communal Clashes
Villagers agree to bury the hatchet
Majri Gubhana (Jhajjar), October 20

The months-long row that led to a number of scuffles between Rathi and Balian gotra residents in this village has, ultimately, come to an end with the intervention of district administrative officers and representatives of various khap panchayats who assembled here to restore social harmony and brotherhood.
Women belonging to Balian gotra protest in Jhajjar following a land dispute. A file photo

Power consumers in for better times
Power Utilities to set up grid substations
Sonepat, October 20
As six new grid substations are coming up during the current year, electricity consumers of the district can hope for better services in terms of improved voltage and continuous power supply.

Yamunanagar's date with art
Yamunanagar, October 20
The district may be considered a small place,
but you can find a number of art lovers here.
Keeping this in mind, a local artist has tried to
do something new to reach out to them.



Mitu Saluja, a fashion designer, displays her new collection.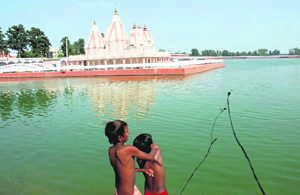 Two young boys throw magnet to find coins
in Braham Sarover in Kurukshetra. Tribune
photo: Ravi Kumar
Sonepat rally
BJP, INLD to justify alliance
Chandigarh, October 20
The Haryana day on November 1 will be the time for the recently aligned partners, the BJP and the INLD, to put up a show of their strength.
Semester system introduced at PG level
Sirsa, October 20
The Haryana government has introduced semester system in the colleges and universities of the state at the post graduate level from this academic year.
Community policing must to check crime: IGP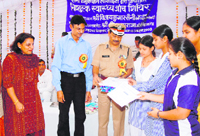 Rohtak, October 20
The policemen are entrusted with the task of preventing crime and maintaining law and order, but at the same time it is a responsibility of all residents to check unlawful activities going on in their vicinity.

Rohtak range IGP distributes prizes among outstanding students at a medical check-up camp at Saini Girls School in Rohtak recently. A Tribune photograph

Panipat police gears up to combat cyber crime
Panipat, October 20
With unprecedented growth in number of computers and internet users, the police is planning to upgrade its skills to combat crimes related to computer technologies.
Attack on Kaithal ADC
Police still groping in the dark
Kaithal, October 20
The role of the district police has come under a cloud following its failure to arrest the person who allegedly attacked additional deputy commissioner Ramesh Verma in Kalayat three weeks ago.
After wrestling, it's painting
Bahadurgarh (Jhajjar), October 20
A week-long painting exhibition "Maati ke rang", which concluded at Chhotu Ram Dharmshala here recently, succeeded in depicting the various aspects of rustic life of the state in an efficient manner through the medium of colour.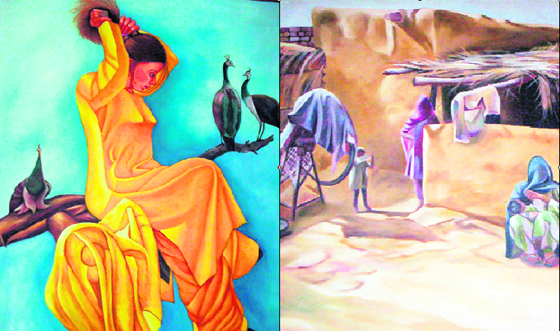 Photos by the writer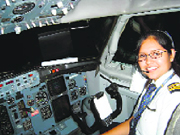 No stopping when sky
is the limit
Jind's first woman commercial pilot
Jind, October 20
Humble and semi-rural background
cannot stop young girls like Rachna
Dalal for whom sky is the limit.

Rachna Dalal

Gurgaon solid waste plant in nine months
Chandigarh, October 20
Residents of the millennium city would have to live with the garbage problem for a few months more as a modern solid-waste treatment plant to be set up in Bandhwadi village in the district would take nine months for completion.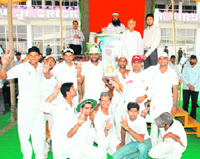 JJ Club win Aloe Vera cup
Sirsa, October 20
Te first Sach Herbotech Aloe Vera Cricket tournament, organised at Shah Satnam Stadium of Dera Sacha Sauda here, concluded recently.


HPCC president Phool Chand Mulana, dera chief Gurmeet Ram Rahim Singh and his son Jasmit Insan along with winners of the first Herbotech Aloe Vera Twenty20 cricket tournament in Sirsa recently. Photo: Amit Soni