Financial aid for martyrs' families
State reaches out to neglected lot
Rohtak, October 6
An amount of Rs 5,000 may seem a modest and rather insignificant amount, at least to the present-era laptop generation getting hefty pay packages.

War widows and other family members of martyrs at a function at Meham on Saturday. — Photo by Manoj Dhaka
Five GRP chowkis to be upgraded
Jhajjar, October 6
In view of the increasing number of commuters and to tackle crime, particularly in the border areas by beefing up security at railway stations, the government has decided to upgrade five Government Railway Police (GRP) chowkis into full-fledged police stations.


New sports policy soon: Minister
Sirsa, October 6
The government will soon come out with a new youth and a sports policy. Kiran Chaudhary, state minister for forests, tourism, sports and youth welfare and environment, said this while talking to mediapersons here recently.


State minister for forests, tourism and sports Kiran Chaudhary at a press conference in Sirsa. — Photo by Amit Soni
Panipat handloom industry
Weaving its way to prosperity
Panipat, October 6
From a handful of shoddy units, the Panipat handloom industry is scaling new heights by becoming the most reckoned business enterprise with an annual turnover of Rs 600 crore.


New-found confidence of Nepalese
Karnal, October 6
Enthused by the installation of Maoist-led government in Nepal, activists of Nepalese Janadhikar Suriksha Samiti (NJSS) have started flexing muscles and stepped up efforts to bring Nepalese living in India into its fold.



Anukool Sharma of the Nepali Jan Adhikar Suraksha Samiti addresses a function in Karnal. — Tribune photo by Ravi Kumar
Officials continue to dilute RTI Act
Hisar, October 6
Senior government functionaries continue to dilute the Right to Information Act by passing the buck on to other offices instead of collecting the information and giving it to the applicants.
Kurukshetra, October 6
Emission of greenhouse gases resulting in global warming has emerged as a cause of serious concern for scientists and environmentalists in recent time. But for the first time in the history of adventure sports, a biker has set out on a novel mission to create awareness about need to save melting glaciers.

Jaibir Singh Virk, president of Fox Adventure Club, presents a bouquet to Satinder Saini, as he leaves for an expedition to the Himalayas, in Kurukshetra. — Tribune photo by Ravi Kumar
Award for Sirsa panel for disabled
Sirsa, October 6
The local level committee (LLC) of Sirsa district created under the National Trust Act was recently honoured by union minister for social justice and empowerment Meera Kumar at a function held in New Delhi.



(From Left) Union minister Meera Kumar and chairperson of the National Trust Poonam Natrajan give away award to Sirsa deputy commissioner V. Umashankar, Surinder Bhatia and Ram Kumar.
Rewari doctor gets national award
Rewari, October 6
Local gynaecologist and obstetrician Seema Mittal (40) was recently presented a national award by the President of India for her book "Sukhad Matritva" (blissful motherhood). The award, carrying a citation, a memento and Rs 10,000, was presented to her at a function held to mark the national Hindi divas on September 14 in New Delhi. Seema's book was earlier selected for an award by the expert committee of the union ministry of human resource development.
Seema Mittal of Rewari receives national award from President Pratibha Patil in New Delhi.
ON A JOYRIDE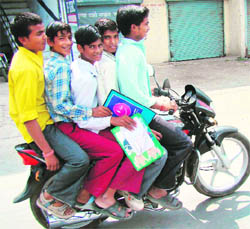 Youngsters flout traffic norms with impunity in Karnal. — Tribune photo by Ravi Kumar
Karnal village leads in vermiculture
Karnal, October 6
Hemda on the outskirts of Karnal has become the first village in the district to adopt vermiculture. Almost all households in this tiny village have responded to vermicompost project. It was launched with the twin objectives of encouraging the use of organic fertilisers and keeping the rural areas free from open defecation.
Scholarships for Fatehabad students
Fatehabad, October 6
Navyug Nirman, an NGO of Chief Minister Bhupinder Singh Hooda's daughter Anjali Singh, would provide scholarships to meritorious students of Fatehabad district from the next academic session.
Mullana institute wins paper presentation contest
Ambala, October 6
The team comprising Sakshi Chanana, Raman Dua, Gaurav Bhardwaj and Ankit Sahni of the Maharshi Markandeshwar Institute of Management (MMIM), Mullana, bagged the first prize of Rs 5,000 in a paper presentation contest organised as part of the two-day national conference on managing customer loyalty held at M.M. University, Mullana, near here, recently.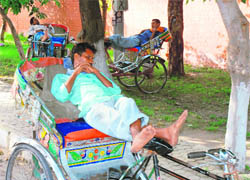 All in a day's work: Rickshaw pullers take a nap in Karnal. — Tribune photo by Ravi Kumar
Root out female foeticide, says DC
Jhajjar, October 6
With a view to make people aware about social evils, a seminar on female foeticide was organised at Government Polytechnic Institute here recently.
'Need to promote Gandhi's principles'
Kurukshetra, October 6
"To pay real tribute to Mahatma Gandhi, let us resolve and join hands to involve younger generation in understanding the tenets of his ideology of charity, compassion and purity. We must spread his ideology of non-violent struggle all over the world, defeating greed, cruelty and meanness," said chairman department of economics of Kurukshetra University M.M. Goel, who is also the vice-president of Antarjyoti which celebrated October 2 as international non-violence day.
Dussehra festival in Kurukshetra
Kurukshetra, October 6
The local Sanatan Dharam Sarvjaateeya Dussehra Committee in its meeting chaired by its chief patron and MLA Ramesh Gupta here recently, unanimously decided that the Dussehra would be celebrated enthusiastically near Gulzari Lal Nanda memorial on the eastern side of the sacred Braham Sarover.