Demolition threat looms large over Kaithal market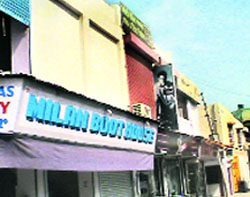 Jind, August 28
Shopkeepers of Palika Bazaar, the main shopping complex in the heart of the city, are in trouble as the first floors of several shops have been facing demolition. The shopkeepers allege that there is no clear-cut policy in this regard, although the authorities had been collecting monthly rent from them for the past over two decades.

A view of the Palika Bazaar in Jind. — Photo by Dilbagh Singh
Jayanti museum may be a thing of past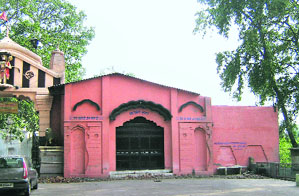 Jind, August 28
Jayanti Archeological Museum, which was thrown open to the public last year amidst fanfare, appears to be rendered as an orphan due to the lack of maintenance. The proposal to hand over reins of first-of-its-kind museum to the Kurukshetra Development Board (KDB) has failed to materialise.
A view of the satsang bhawan of Jayanti Devi temple where the museum was set up last year. — Photo by the writer
BSP upbeat as Chetan Sharma joins in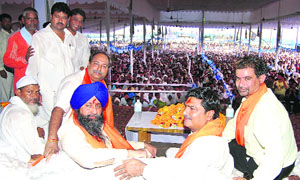 Chandigarh, August 28
The BSP is upbeat in the state. It has come a long way from the days when its candidates were considered just as another names on the ballot paper. After its success in Uttar Pradesh, the BSP has found acceptance in non-Dalit communities of Haryana. It has succeeded in attracting some big names to its fold in the past several months.

(From left) BSP leaders Mann Singh Manhera, Zakir Hussein and former cricketer Chetan Sharma at a rally held in Sohna on Wednesday.
YOUR DRIVING SKILLS WILL BE TESTED HERE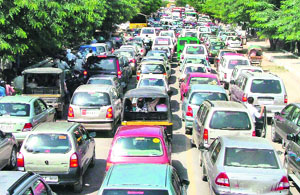 Traffic chaos has become an order of the day on the South City road in Gurgaon. — Photo by Rajesh Kumar Yadav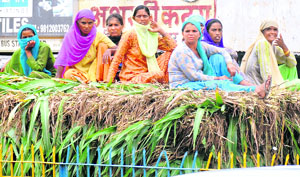 WORKED UP? Rural women return after working in fields in Hisar. — Tribune photo by Pradeep Tewari
Bima yojna in all districts by 2012
Chandigarh, August 28
The Rastriya Swasthya Bima Yojna (RSBY) has been extended to four more districts, as a result the scheme will now run in eight districts of the state. Under the second phase of the scheme, four new districts of Mewat, Rohtak, Hisar and Ambala have come under its ambit.
HAU's accreditation extended
Hisar, August 28
The Indian Council of Agricultural Research (ICAR) has granted accreditation to Haryana Agricultural University (HAU) up to August 2011.
Scholarship scheme for BC students
Chandigarh, August 28
Haryana Chief Minister Bhupinder Singh Hooda yesterday announced to launch a scholarship scheme for the Backward Classes (Category A) on the birth anniversary of India's first Prime Minister Jawaharlal Nehru on November 14, which is celebrated as Children's Day.
IOC to set up rubber plant in Panipat
Panipat, August 28
Indian Oil Corporation is all set to establish its maiden styrene butadiene rubber (SBR) project in Panipat to meet the ever-increasing demand of SBR in the automobile industry.
Puffing his way to creativity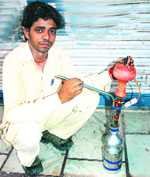 Rohtak, August 28
Necessity, they say, is the mother of invention. A burning desire to create something new and an innovative bent of mind are needed to become an inventor. For instance, take the case of a small-time electrician Harish Ahlawat (25), based at Rohtak, who has made a battery-operated hookah all by himself. Story behind the innovation is quite interesting. While Harish was very fond of smoking hookah, his father, a non-smoker, used to despise this habit.
Harish Ahlawat with his battery-operated hookah. — Photo by the writer
Gohana to have 3 bypasses
Sonepat, August 28
To check traffic congestion in Gohana town, the government has sanctioned three mini-bypasses for the diversion of vehicles, particularly the heavy ones.
Traffic chaos makes life difficult for locals
Sonepat, August 28
With the increasing number of vehicles in the town, traffic congestion has become an order of the day, causing big problems for residents. Though a number of proposals had been initiated in the past, including the construction of a railway overbridge at the level crossing, none has made any headway so far.
Entries invited for women's award
Yamunanagar, August 28
The government has invited applications for the Women Power Award constituted by the central government.
Rs 5.76 cr spent on roads
Sirsa, August 28
Under the local area development scheme, the district authorities have spent Rs 5.76 crore on the construction and maintenance of roads in this district.
Movies this week
Citizens' Grievances