Solar eclipse fair begins tomorrow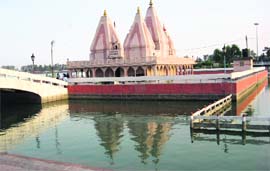 Kurukshetra, July 28
Elaborate arrangements are being made for the three-day solar eclipse fair scheduled to begin from July 30. As many as 15 lakh pilgrims are likely to take a holy dip in the sacred Brahamsarover and Sannihit sarover here during the fair.

The sacred Brahamsarover in the midst of which lies Shri Sarveshwar Mahadev temple in Kurukshetra. — Photo by the writer
Gurgaon makes rapid strides in IT
Total software exports from the millennium city has touched Rs 18,000 crore in 2007-08
Gurgaon, July 28
Name any renowned global IT company and you will find its office in Gurgaon. This rush, facilitated by a host of incentives offered by the state government, has shown up in the galloping surge in export volumes from here.
Rs 9.9 cr sanctioned for religious places
Chandigarh, July 28
The Haryana Government has sanctioned Rs 9.90 crore to the Kurukshetra Development Board for development of religious places, tourist centers and sarovars of both historical and religious importance, falling within 48 km radius of Kurukshetra.
Shortage of power meters hits consumers
Jhajjar, July 28
The shortage of domestic electricity meters continues in the district as the Uttar Haryana Bijli Vitran Nigam (UHBVN) failed to procure the most necessary equipment in time.
In the service of the dead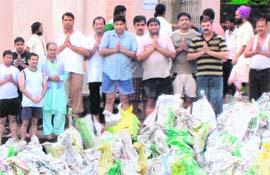 Hisar, July 28
A local NGO, Aasra Welfare Society, has recently immersed the ashes of 500 unclaimed dead bodies cremated at various places in Haryana in the Ganges in Hardwar.Dr Deepak Nagpal, a local dentist and president of the society, said the last rites were performed by Acharya Jagadguru Mahamandleshwar Mahant of Ayodhya.
Members of the Aasra Welfare Society with the ashes of 500 unclaimed bodies cremated at various places in Haryana before immersing these in the Ganges in Hardwar.
Agricultural board to bridge gap between farmers, consumers
Ultra-modern market to come up at Ganaur
Chandigarh, July 28
It's a win-win situation for everybody right from the producer to the consumer and it's a move that is set to revolutionise the procurement of agricultural produce. The Haryana State Agricultural Marketing Board (HSAMB), as a harbinger of change, has taken on itself the task of providing proper marketing infrastructure and introducing post-harvest management facilities to ensure standardisation and quality.
More facilities for gramin dak sevaks
Ambala, July 28
The postal department is making all-out efforts to improve the working conditions of gramin dak sevaks in the country.
A shot in the arm for state tourism
Faridabad, July 28
The Haryana government is making all efforts to recapture the earlier glory of Haryana tourism, according to state minister for tourism Kiran Chaudhary.
Frequent bandhs hit Sirsa traders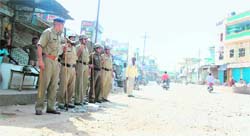 Sirsa, July 28
Strikes and bandhs have become a bane of Sirsa residents. Shopkeepers are particularly fed up with the protests being organised here at the drop of a hat. In July alone, the shopkeepers have already witnessed four bandhs.
A view of the Sirsa market during a recent bandh. — Photo by Amit Soni
Centre to help propel road development
Panipat, July 28
Assuring development of Haryana, the union government has embarked upon a number of ambitious projects to add to the existing infrastructure in the state.
Railway overbridge project hits roadblock
Bhiwani, July 28
Tired of facing hours long closures several times a day at Tosham level crossing, local shopkeepers, residents and other commuters recently met the deputy commissioner, seeking early construction of the proposed railway overbridge here.
Private transporters throw rules to the wind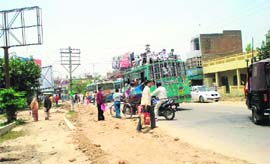 Kaithal, July 28
Albeit violation of traffic rules has reached alarming proportions in the district, authorities responsible for enforcing traffic rules allegedly go after petty offenders while serious violators, which pose a grave risk to road-users, go scot-free.

GRAVE RISK: An overloaded private bus plies in Kaithal. — A Tribune photograph
Changed political scenario with delimitation
Fatehabad, July 28
Delimitation of parliamentary and assembly constituencies has altered the political and geographical scenario in this district to a great extent. Prior to it, Fatehabad district had four assembly constituencies — Tohana, Ratia (Reserve), Bhattu Kalan and Fatehabad. Now, Bhattu Kalan assembly constituency has been abolished.
'Unspoken thoughts'


Rohtak, July 28
While most students of her age are coerced by their parents to read more books, Akanksha Chaudhary, 21, has written one herself. Born and brought up in Rohtak, Akanksha has just graduated from Lady Shri Ram College, New Delhi. She has been writing since her school days and some of her write-ups have been published in The Tribune as well.An anthology of her poems and pictures, titled The Unspoken Thoughts, was released recently. "It is an attempt to voice the concerns of people belonging to various sections of society, especially the downtrodden," says the budding author.
Move to appoint IAS officers as registrars flayed
Kurukshetra, July 28
Reacting sharply to the Haryana government's proposal to appoint IAS officers as registrars in the universities of the state, former president of the Kurukshetra University Teacher Association (KUTA) S.C. Mishra and its former secretary as well as university executive council member Bhagwan Singh Chaudhary, have said such appointments would create problems in the smooth functioning and academic growth of these institutions.