Long way to go for paddy transplanting machine
Ambala, July 24
Paddy transplanting machine, which was introduced in Haryana around six years ago by the agriculture department, may soon be a farmers best friend, thus putting to an end their woes of dealing with labour problems. However, farmers here have not adopted the machine well, partly because it is a new and revolutionary concept and partly because it needs few improvements to be done.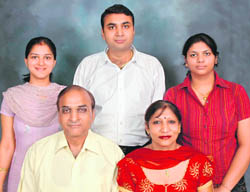 Meet a family of blood donors
225 units given and counting
Ambala, July 24
There could be several families in Ambala who donate money to various religious and social organisations but there is one family in this city whose all members are regular blood donors and the five-member family has donated around 225 units of blood so far.
Rajinder Garg along with his family members.
Inside Babudom
Mystery behind Malik's posting
Chandigarh, July 24
Postings, transfers and orders are a matter of routine for babus. However, one particular order of a bureaucrat, right after his return from central deputation and issued by the Haryana government, has become some sort of an enigma with its fate unknown.
Dalal calls on youth to take up farming
Hisar , July 24
Karan Singh Dalal, MLA and chairman of the Haryana Administrative Reforms Commission, has said the food security issue could only be resolved if the youth were encouraged to take up farming and cattle breeding. He said to achieve this goal agriculture had to be made remunerative for farmers.
Watch out, it's dengue time
Gurgaon, July 24
It's that time of the year when dengue — "the killer with a buzz" — is feared to claim more unsuspecting victims. And those suffering from heart diseases, pregnant women, cancer patients and kids need to take special care, as they are more vulnerable, in order to ward off dengue.
KU issues directions to check ragging
Kurukshetra, July 24
Ragging in any form on the campus or outside, especially in hostels, is strictly prohibited. Anyone reported to be involved in this act will meet strict disciplinary action leading to expulsion from the hostel and the rolls of the department, institute and college concerned.
Job scheme turns a boon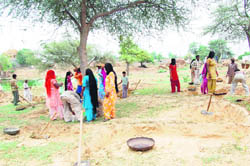 Fatehabad, July 24
Sarbati's household was in a shambles due to excessive drinking habits of her husband Satbir, who spent more on his daily dose of booze than what he earned through manual labour. Sarbati wanted to contribute towards the family income, but in the conservative environment of her village it was not possible for her to go out for work.
Work in progress in a Fatehabad village under the National Rural Employment Guarantee Scheme. — Photo by the writer
Moudgil gets Shiromani Punjabi Sahitkar award


Chandigarh, July 24
A writer's job is generally limited to his literary creations but a few chosen ones are blessed with an implicit urge to serve the literature and language both in the larger interest of the society. Leading by the example, is a prolific litterateur of considerable magnitude, the Kurukshetra based Chhotu Ram Moudgil, who had been rightly acclaimed as a writer and promoter of Punjabi language in Haryana.
C R Moudgil
'Name Panipat flyover after Hemu'
Chandigarh, July 24
The Rashtriya Yodha Samaarak Samiti has supported the demand of the Hemchandra Vikrmaditya Foundation, Rewari, that the newly built flyover in Panipat should be named as "Hemchandra Vikrmaditya Setu".
Citizens' Grievances
Treat NET as equivalent to PhD
Movies this week
Money Hai Toh Honey Hai
Mission Istaanbul