Rohtak police ropes in auto drivers
Rohtak, August 7
It's a perfect example of turning a problem into a beneficial venture. The thousands of auto-rickshaws plying in the district have always been seen as a source of nuisance due to the pollution and traffic congestion caused by these.
Bar on height of buildings removed
Chandigarh, August 7
The Haryana Urban Development Authority (HUDA) has removed the height restriction on the buildings for group housing colonies and commercial complexes.
Poll alliance
Options limited for INLD
Hisar, August 7
By rubbishing UP Chief Minister Mayawati's projection by the UNPA as a Prime Ministerial candidate, INLD chief Om Parkash Chautala has narrowed his chances of finding a suitable poll partner in the coming Lok Sabha and subsequently Haryana Vidhan Sabha elections.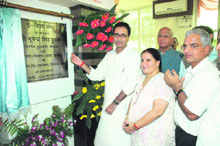 E-Disha — a step in right direction
Kaithal, August 7
The E-Disha Ekal Seva Kendra set up at local mini-secretariat here recently would go a long way in providing fast, time-bound and hassle-free services to residents of this district.

State power minister Randeep Singh Surjewala inaugurates E-disha Ekal Sewa Kendra at the mini-secretariat in Kaithal. — Photo by the writer

Cong out to woo Brahmins
Chandigarh, August 7
The Haryana Congress has entrusted its senior Brahmin leaders with the responsibility of wooing back their community.
Inside Babudom
'Jinxed' home secy's post still vacant
Chandigarh, August 7
Chandigarh's wait for a suitable candidate for its post of home secretary continues. Hectic lobbying for the post and a rejected panel later, the matter, for the first time, has found its way to the district courts.
Development plan for Jagadhari
Yamunanagar, August 7
An amount of Rs 207 crore is estimated to be required for complete development of Jagadhari town of the district.
Power shortage hits life in Ambala
Ambala, August 7
Unscheduled and frequent power cuts in Ambala have not only affected the agricultural and industrial sectors but it has also hit the common man hard.
Waterlogging
Faridabad MC chief pulls up officers
Faridabad, August 7
Buffeted by growing public complaints of choked sewerages in the city, commissioner of the Municipal Corporation of Faridabad (MCF) R. Kllar has taken officers to the task on the issue.
Leopard attack causes panic among villagers
Yamunanagar, August 7
Panic has gripped villagers living in the surrounding areas of Kalesar National Park of Chhachhrauli subdivision due to the increase in the incidents of leopards straying into their villages.
Movie this week
Singh is Kinng