Finally, chariot unveiled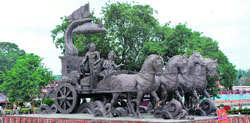 Kurukshetra, July 31
The nine-month-long wait for the 45-tonne all bronze Krishna-Arjun chariot for a formal inauguration came to an end on Monday with UPA chairperson Sonia Gandhi unveiling the monument and dedicating it to the nation.
Tribune photo: Ravi Kumar
Powering the toy train
Kalka, July 31
The Narrow Gauge Diesel Shed here, which was earlier called Narrow Gauge Loco Shed, has been providing yeoman service to the Kalka-Shimla rail section that was set up in 1903.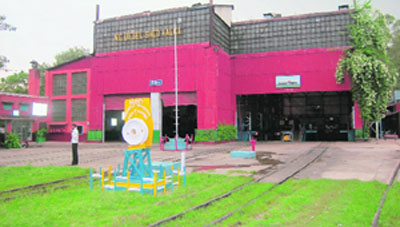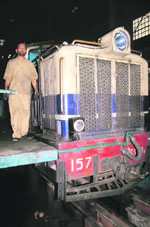 The Narrow Gauge Diesel Shed at Kalka, which has been providing yeoman service to the Kalka-Shimla rail section that was set up in 1903 and (right) one of the diesel engines
Darkness to reign longer in Panchkula
Panchkula, July 31 Panchkula residents will have to wait longer before they get illuminated roads. The municipal council has scrapped the memorandum of understanding inked with a Delhi based agency that was roped in to take the responsibility of maintaining the lighting system of roads and streets in the city.
Inside Babudom
CS proves his critics wrong
Chandigarh, July 31
When Dharam Vir, an IAS officer of 1973 cadre, took over as chief secretary of the state on March 1 last, many of his critics in the bureaucracy were of the view that he would not be able to take timely decisions on crucial issues, particularly involving huge financial implications.
e-library reduces fee for schoolchildren
Sirsa, July 31
Haryana's first e-library functional at Sirsa has decided to give special concession on the membership fees to schoolchildren below the age of 14 years.
Members browse the Internet at the e-library in Sirsa. — Photo by the writer

Research papers accepted
Kurukshetra, July 31
A research paper titled, "An experiment of developing and using group learning worksheets for a multi-level situation", written by an alumnus of Kurukshetra University, Dr Lalit Kishore of Senior Fellow Centre for Unfolding Learning Potentials (CULP), Jaipur, has been accepted for presentation at the International Journal of Arts & Sciences (IJAS) conference to be held in Germany from December 1 to 4, 2008.
Foundation focuses on educating the poor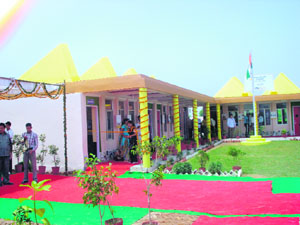 Kaithal, July 31
Under its flagship programme, the Bharti Foundation would set up 61 Satya Bharti Primary Schools and six Satya Bharti Senior Secondary-cum-Vocational Training Schools for underprivileged children across Haryana. These schools would provide free primary education, mid-day meals, books and stationery, and uniforms to underprivileged students·

The Satya Bharti School in Sotha village of Kaithal district. A Tribune photograph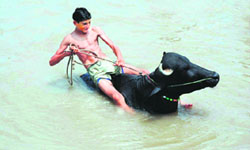 BLACK SHIP: A youth tries to tame his buffalo in a pond on a hot summer day in Karnal. — Tribune Photo by Ravi Kumar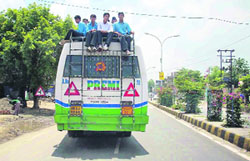 Travelling on the rooftop of buses is a common sight in Fatehabad. —Tribune photo by Sushil Manvav
Dress code for power utility employees
Sonepat, July 31
In order to give corporate look and ascertaining immediate identity, the Uttar Haryana Bijli Vitran Nigam has decided to implement the dress code for all employees, including the managing director and directors with effect from August 1.
Banks cover every household in Gurgaon
Gurgaon, July 31
Declaring Gurgaon as 100 per cent financially included district, a bankers meet here on Tuesday approved the district credit plan of Rs 861.33 crore for 2008-09 for Gurgaon showing an increase of 17 per cent as compared to the last year.
'Unrest' at rest houses
Jind, July 31
Are government rest houses meant to inconvenience the visitors instead of providing them a place to stay? It seems so if the conditions prevailing in some of these rest houses were given a look.
Congress grass menace 'alarming'
Chandigarh, July 31
Parthenium, popularly known as congress grass, has spread over an area of eight million to 10 million hectares in the country, according to Dr R.K. Malik, director education, Ch. Charan Singh Haryana Agricultural University, Hisar.
Farmers go hi-tech, courtesy field schools
Yamunanagar, July 31
Having up-to-date knowledge about the scientific methods for farming, pesticides and awareness about the proper time for the sowing of crops and vegetables could help the farmers to achieve high yield.
Jhajjar to add workforce to expedite work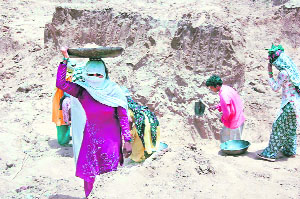 Over 2,600 enrolled under job scheme
Jhajjar, July 31
With a view to streamlining the implementation of ambitious National Rural Employment Guarantee Act (NAREGA), additional block programme officer (ABPO) and account assistant (AA) would be appointed soon at the block level and the office of District Rural Development Agency (DRDA) on contract basis.
Labourers work under the NAREGA scheme at a village in Jhajjar. — Tribune photo by Manoj Dhaka
Civic amenities poor in Yamunanagar: Report
Yamunanagar, July 31
In a latest report, prepared under the urban infrastructure development scheme for small and medium towns (UIDSSMT) launched by the Central government, submitted to the district administration many shortcomings in the civic amenities provided to the 3.92 lakh residents of Yamunanagar have been highlighted. The conditions are particularly worse for the around 30,000 slum dwellers in the town, who have been deprived of proper water supply, drainage, sewerage and streetlights etc.
Gohana to get industrial estate
Sonepat, July 31
Chief Minister's announcement to develop an industrial estate in Gohana town and construction of Sonepat-Gohana-Jind railway line has raised hopes for the revival of growth in this industrially backward area.

'Melody missing in contemporary film songs'
Panchkula, July 31
"None of the performing or visual arts has influenced the cultural and aesthetic taste of Indian milieu as the film music, be it Hindi or regional cinema," opines bollywood music director Padmashri Ravi.
Music director Ravi Kumar Sharma
Fire stations cry for modern equipment
Ambala, July 31
Haryana seems ill-prepared as far as fire safety measures are concerned. Most of the fire stations in the state do not have efficient equipments to deal with any disaster. Traditional fire tenders need to be replaced with modern ones having the facility of high and low pressure pumps.
Movie of the week
Ugly Aur Pagli
Producer: Rangita Nandy
Director: Sachin Kamalkkar Khot Cast: Ranvir Shorey, Mallika Sherawat