Hook-a-crook scheme a success
Hisar , August 11
The hook-a-crook scheme of the Dakshin Haryana Bijli Vitran Nigam (DHBVN) has evoked a good response. Over 8,500 informers have given information about power theft in their neighbourhood so far. Acting on this information, 1,400 cases of power theft have been detected and a penalty of Rs 2.85 crore has imposed on the consumers.
Breastfeeding drive fails to take off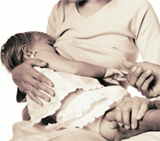 Rohtak, August 11
Even as the World Breastfeeding Week concluded recently amidst a host of speeches, seminars, pledges and slogan-raising to underline the significance of mother's milk for infants, propagating awareness in this regard remains a far cry - at least in Haryana. Thanks to the low rate of breastfeeding in the state, coupled with a wide variety of misconceptions leading to malnutrition in infants, Haryana is bracketed among the top states in infant mortality rate (IMR) with its staggering figure of 42/1,000.
Penning success stories year after year


Chandigarh, August 11
Writing is a passion for Dr Chander Trikha and his romance with words continues even 48 years after he first wielded the pen. Since then, he has come a long way, penning down success stories wherever he went. Adding another feather to his cap, this former director of the Haryana Sahitya Akademy has been awarded the Shiromani Sahityakar award by the language department of the Punjab government. Comprising a cash prize of Rs 2.5 lakh, a citation and a shawl, the award is given by the Punjab government in every language annually.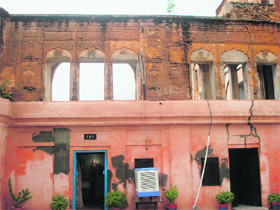 Govt offices in unsafe buildings
Kaithal, August 11
Though crores have been spent on the construction of government buildings, a number of offices in this town have been functioning from dilapidated buildings. The huge three-storey mini-secretariat building has fallen short of space and as a result several government offices continue to operate from private buildings or old government buildings.
This damaged building houses the city police station.

Challenges ahead for Kuldeep Bishnoi
Chandigarh, August 11
Kuldeep Bishnoi, president of the Haryana Janhit Congress (BL), is in a hurry. The rush is to plant the roots of the youngest party in the state before it faces the Lok Sabha elections. His party was formed on December 2, 2007, when he addressed a massive rally in Rohtak. That way, the HJC is just an eight-month-old infant, struggling to find its feet in the cruel world of politics.
Benefits for war veterans sought
Ambala, August 11
Haryana Ex-servicemen League's initiative to help war veterans reached a high point recently when 17 veterans were brought together and honoured.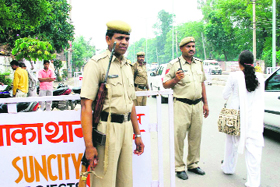 Criminals on bail under police scanner
Jhajjar, August 11
Under an elaborate plan chalked out to curb crime in Rohtak range, the police will keep an eye on the hardcore criminals who are out of jail on bail or parole, apart from questioning them about various incidents of crime.

Policemen guard a naka in Jhajjar. Tribune photo: Manoj Dhaka
13 gangs busted in one month
Jhajjar: The Rohtak range police claimed to have busted 13 gangs of criminals with the arrest of 44 members of various gangs during the last one month in five districts, Rohtak, Jhajjar, Sonepat, Panipat and Karnal, in the range. Kamaraja said the police busted four gangs of thief with the arrest of 12 persons. With this nine cases of theft had been solved and stolen property worth Rs 1,22,000 was recovered from the possession of the arrested members. The police arrested 17 persons belonging to three gangs of dacoits, he said, adding that 11 cases of dacoity were solved and looted property worth Rs 14.3 lakh was recovered.
Villagers sore over land acquisition by HUDA
Kalka, August 11
Farmers of the erstwhile state of Panchpur (Pinjore), as was called by Maratha invaders, are on the verge of losing their ancestral land to the Haryana Urban Development Authority (HUDA).
Flood control: Panipat admn ropes in NGOs
Panipat, August 11
The district administration has decided to rope in non-governmental organisations in its efforts to gear up for any eventuality arising from floods during the rainy season. The authorities have chalked out plans to initiate flood protection measures that are required to be carried out immediately.
Use plastic waste in roads, says minister
Chandigarh, August 11
Haryana minister of state for forests and environment Kiran Choudhry strongly feels that the problem of disposal of plastic bags can be tackled to some extent if the public works departments start building roads by using at least 5 per cent to 10 per cent plastic waste in place of bitumen.