Paddy scores
Sonepat, August 25
Encouraged by remunerative prices for the paddy crop last season and timely rains along with increased canal water supply this season, farmers in the district are giving priority to paddy cultivation over the cash crop of sugarcane. Official reports reveal that the area under paddy plantation had increased from 69,500 hectares last year to 75,500 hectares this year.
Area under paddy plantation has increased to 75,500 hectares
Nimble behind bars
Karnal, August 25
The National Integrated Forum of Artists and Activists (NIFAA), a socio-cultural organisation of the region, has decided to hold a dance workshop for prisoners in the district jail to promote peace.
Cong leaders project Rahul as vital pillar
Faridabad, August 25
Congress leaders, especially of Haryana, now invoke the name the scion of Gandhi family Rahul Gandhi, uninhibitedly for social engineering and to symbolise the concept of secularism with the numero uno political family of the country.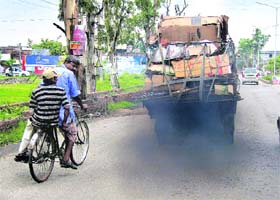 THROWING RULES TO THE WIND: This vehicle is contributing to the already polluted air in Karnal. — Tribune photo by Ravi Kumar
UHBVN to hear grievances in Rohtak
Rohtak, August 24
Here's some good news for electricity consumers of Rohtak and nearby districts of the state. The Uttar Haryana Bijli Vitran Nigam's (UHBVN) Consumer Grievances Redressal Forum (CGRF), at present functioning from Panchkula, will now also hold sittings in Rohtak during the last week of every month with immediate effect.
Sale of park site
Faridabad MC in a spot
Faridabad, August 25
The district administration is caught in a difficult situation over allegations that a person sold off a piece of land that was a park after fraudulently obtaining a favourable verdict from a Lok Adalat.


Encroachers have a field day in Sonepat
Sonepat, August 25
Unrestricted encroachments upon the roads across the town by shopkeepers, vendors and workshop owners have become a chronic problem for the people of the town as well as others who visit the town.


A view of the congested main market in Sirsa.
— Photo by the writer

Sirsa residents sore over poor roads
Sirsa, August 25
The lack of public amenities has become bane of Sirsa residents. Potholed roads, heaps of garbage, stray animals, stinking stagnant water and huge traffic are the common problems for most of the local people.

Vehicles jostle past each other on the potholed Circular Road in Sirsa. — Photo by Amit Soni



Blogging route to voice concerns
Panipat, August 25
Concerned about their city, the youth here has discovered a new way to highlight views and suggestions. Community sites on the Internet is the newfound tool that the youths are using to reach out to the authorities which they believe can bring about the positive change to improve the quality of life in this textile hub of the nation.


Wild growth takes over mini secretariat park
Sonepat, August 25
Soon after taking over as the deputy commissioner of Sonepat last month, Ajit Balaji Joshi took an initiative to personally inspect the maintenance of public utility places like parks and play grounds in the city by paying surprise visits during early morning hours on his motorcycle.
POOR STATE: Wild growth covers the mini-secretariat park. — Tribune photo by Ravi Kumar
BSNL subscribers rue signal problem
Kalka, August 25
Resentment prevails among mobile subscribers of BSNL of Kalka, Pinjore and its adjoining villages over poor signals in the area. They allege that since the last couple of months, they have been facing this problem.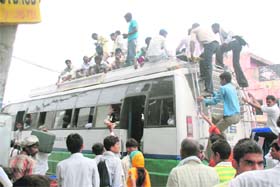 Legalising ROOFTOP travelling? A private bus conductor collects ticket money on the top of a bus in Hisar. — Tribune photo by Pradeep Tewari
Private clinics under scanner
Jhajjar, August 25
Ultrasound centres indulging in prenatal sex-determination tests beware as the district health authorities have decided to tighten the noose around medical practitioners violating the Pre-Natal Sex Diagnostic Test (PNDT) Act. 
50,000 cataract operations and still counting
Rewari, August 25
With over 50,000 successful cataract operations and effectual treatment of over 1.5 lakh other eye patients to his credit, the septuagenarian eye specialist Dr Suresh Narayan Saxena has become a living legend in the domain of ophthalmology not only in Rewari, but also in the entire North India.
Citizen First
Degree courses under threat
With the changing trend of people rushing towards job-oriented/vocational courses, a remarkable shortfall in admissions in traditional courses is being felt since last few years. Opening of too many institutes offering technical and managerial courses are proving to be a threat to degree colleges of the region, which are no more able to attract talent.