Row over stadium's name
Faridabad, August 21
The legacy of local war heroes of the 1857 mutiny is being politicised by leaders of the ruling Congress here. The Nahar Singh sports stadium, located near NIT bus stand, is caught in the crossfire of factionalism in the local unit of the Congress.
Waking up to stinking reality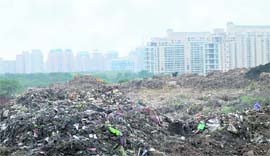 Gurgaon, August 21
The local municipal corporation has finally woken up to tackle the widespread problem of garbage disposal that has given the cyber city an ugly look, besides being a source of many diseases.

Tonnes of garbage being dumped behind a posh area in Gurgaon. —Tribune photo by Raejsh Kumar Yadav
Twenty20 in Sirsa
Sirsa, August 21


The Jan Nayak Chaudhary Devi Lal International Cricket Academy, set up by INLD MP Ajay Singh Chautala's son Digvijay Singh, will organise international twenty-twenty cricket tournament at JCD Vidyapeeth Sirsa from September 6 to September 14 on the occasion of birthday anniversary of former Deputy Prime Minister Devi Lal that falls on September 25.
Inside Babudom
It's raining gains post-retirement
Chandigarh, August 21
Three years of Bhupinder Singh Hooda term in Haryana have been nothing short of a dream run for bureaucrats on the verge of superannuation. Offered plush jobs post-retirement, the "accommodating" government went a step further this time.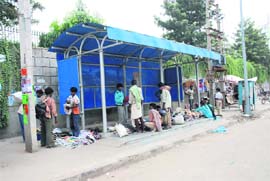 ILLEGAL BUSINESS: A bus stop in Panipat being used to sell commodities by local hawkers. Tribune photo: Ravi Kumar
Cong's ranks get a wake-up call
Chandigarh, August 21
It's on, it's off, and it's on again. Ministers of the Haryana cabinet have once again been asked to make themselves available at the office of the state Congress committee to redress grievances of the public.
Global exposure for faculty to enhance skills
Sonepat, August 21
The Deenbandhu Chhotu Ram University of Science and Technology, Murthal (Sonepat), is encouraging the faculty to have international exposure through the presentation of technical papers at various international conferences held around the world sponsored under the TEQIP scheme. Dr S.K. Singh, assistant professor in the applied science department, had presented a paper on platinum metals in the modern industry, hydrogen energy and life maintenance in future at Xian, China.
Renewable energy: The path for the future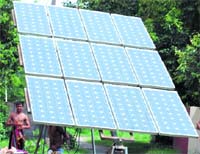 Sirsa, August 21
As power is becoming costlier, renewable energy generated from natural resources like sunlight, wind, rains, tides and geothermal heat is becoming popular.Given the climatic conditions of this area, sunlight is the only form of renewable energy that is used to produce energy.
WARMING UP: Solar energy equipment installed at Government Polytechnique in Sirsa. —Tribune photo by Amit Soni
Energy conservation plan to be launched
Sonepat, August 21
In order to promote energy conservation, Sonepat will be covered under the Clean Development Management (CDM) programme by the Uttar Haryana Bijli Vitran Nigam (UHBVN). All preparations have been made to launch the programme in coordination with the Sonepat unit of Osram India Limited. According to the spokesperson of the Nigam, Haryana is the first state in the country to be chosen for this programme that is first of its kind in the world.

Soldier who plays different tunes
Panchkula, August 21
Strange though it may seem but it is a fact that a music addict sergeant in the Indian Air Force carried his harmonium along with his luggage even during the World War II operations. The unusual phenomenon, however, is an eloquent testimony to the ardent musical passion of Bollywood music director J.P. Kaushik.
Prayas — a noble effort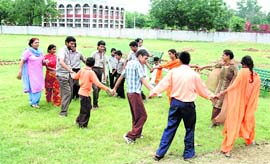 Sirsa, August 21
It is a shocking and alarming fact that approximately 2.5 to 3 per cent of the total population is mentally retarded which in most cases is a lifelong condition. Mentally retarded children at homes are a lifelong pain for parents.
HELPING HANDS: Children play on the premises of Paryas, a school for special kids, in Sirsa. —Photo by Amit Soni