DNA Lab
The technology of truth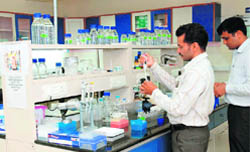 Karnal, September 25
The DNA profiling lab of Forensic Science Laboratory at Madhuban (Karnal) which became functional three months back is emerging as an important training centre not only for investigating officers but also for officers from judiciary, prosecution, medical fraternity and scientists.
DNA specialist Pandu Guguloth works at Forensic Science Laboratory, Madhuban, Karnal. Tribune photo: Ravi Kumar
Trauma centre to get functional by December
Ambala, September 25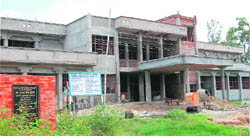 A trauma centre at the Ambala city civil hospital, which is nearing completion, will prove to be a lifeline for accident victims. With the begining of this centre, a long awaited demand of this area would be fulfilled as both Ambala city and Ambala Cantt are surrounded by five national highways that are highly prone to accidents.

The upcoming trauma centre at civil hospital in Ambala City
Officials inspect Gurgaon roads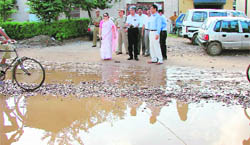 Press for quick repairs
Gurgaon, September 25
It was a rare sight for local residents when the top officials of the district administration boarded a minibus for a five-hour trip to the city to inspect roads.
Gurgaon divisional commissioner D.P.S. Nagal and deputy commissioner Deepti Umashankar along with a team of officials inspect the road in front of the local bus stand. Photo: Rajesh Kumar Yadav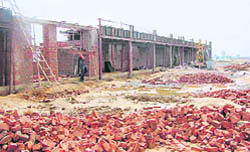 Jhajjar commuters in for a better time
Rail link project nears completion
Jhajjar, September 25
Now, residents of the Jhajjar district would not have to wait for long to board a train to Rohtak and Rewari. The earthwork of the first phase of the Rohtak-Jhajjar-Rewari rail link project has reached its final stage.
Work in progress on the Rohtak-Jhajjar-Rewari rail link in Machhroli village in Jhajjar district. Photo by the writer
Gurgaon takes e-disha centres to rural areas
Gurgaon, September 25
Making the concept of e-governance a reality, the Gurgaon district administration has set up e-disha common service centres (CSC) in the rural areas so that the villagers can get services like preparation of domicile, caste certificate, birth and death certificates, copy of land record, acceptance of application forms related to Indira Awas Yojna and other social welfare schemes of the government at their doorstep.
Traffic marshals to man Ambala roads
Ambala, September 25
Taking a leaf out of the Chandigarh traffic police's book, the Ambala police has appointed traffic marshals to help streamline the vehicle movement in the district.
Panchkula lends a helping hand to elders
Panchkula, September 25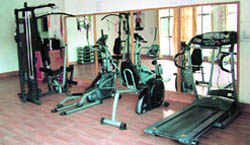 The Panchkula administration is all set to launch senior citizens' voluntary service association on October 1, the world elders' day. Under the scheme, senior citizens, especially doctors, engineers and educational experts would be provided a platform so that they could guide the people with their rich experiences, said Panchkula deputy commissioner Rajinder Kataria.

Gymnasium hall at Daycare Centre in Sector 15, Panchkula. Tribune photo: Vinay Malik
Discussion on global financial crisis
Sirsa, September 25
An extension lecture was organised by the department of business administration of Chaudhary Devi Lal University, Sirsa, at Tagore Bhawan here recently.
Managing natural resources
Govt seeks World Bank help
Chandigarh, September 25
The state government has approached the World Bank to fund a unique project, titled "Natural Resource Management Project" that aims to develop a process for sustainable management of natural resources through active participation of local people. The state has sought funds worth Rs 2291.56 million for this resource management and livelihood project.
BSP set to make its mark
Chandigarh, September 25
The BSP took the lead over the other political parties in the state when it announced nominees for five out of the 10 Lok Sabha seats in Haryana several months ago.
Real estate firm woos elders
Chandigarh, September 25
Big private builders have started moving away from Gurgaon and Faridabad to other parts of Haryana. After the national capital region, real estate companies like Omax and DLF have spread their wings to Panchkula, Ambala and other towns along the GT Road.
Born to act


Sirsa, September 25
Sheeba Bhakri, who stars in "Mera Pind – My Home", the recently released film, featuring Navjot Singh Sidhu and Harbhajan Mann, was in Sirsa recently to perform at a twenty-20 cricket match. Sheeba has been playing roles in Punjabi films since her childhood. Born in a family of filmmakers, her father Subhash Bhakri and grandfather Lekh Raj Bhakri have been in the film business for long. Old-timers still remember the film "Bhangra" by Lekh Raj Bhakri.
Sheeba Bhakri. Photo: Amit Soni

Hari Puttar
Producers: A.P. Parigi, Munish Puri, Lucky Kohli
Director: Lucky Kohli, Rajesh Bajaj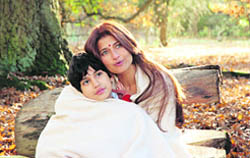 Music: Aadesh Srivastava
Cast: Zain Khan, Sarika, Zakir Khan, Jackie Shroff, Lillette Dubey
Hari Puttar which revolves around a young boy and his adventures opens today at PVR MGF-Gurgaon, PVR Ambience-Gurgaon, INOX-Faridabad, SRS City Mall-Faridabad, SRS Pristine Mall-Faridabad, OHM Cine Garden-Sirsa, Sheela-Rohtak.
Special attraction: Wonder Boy Zain Khan's performance, direction and Music.
Zain Khan and Sarika in Hari Puttar
— Dharam Pal