Forestry project transforms lives in rural areas
European Commission hails community participation
Chandigarh, September 22
The state government has received laurels from the European Commission for the successful implementation of the Haryana Community Forestry Project (HCFP). The final report of the project assessment, submitted by the three member consultant group recently, says that the project has managed to fulfill its objective of improving natural environment of the state through sustainable management of natural resources, besides enhancing rural livelihoods.
Kalka girl in Geneva for atom test
Kalka, September 22
Natasha Sharma, a resident of Kalka city, has brought laurels not only to her small town but to the entire country by becoming part of a team of scientists at the European Organisation for Nuclear Research (CERN) for the world's largest atom-smasher test which started in Geneva recently.
Natasha Sharma
For parties, it's time to flex muscles
Hisar, September 22
The "eye for an eye" politics has resumed in the state with the Indian National Lok Dal (INLD) organising a rally in Bhiwani on September 25 and the Congress planning a show of strength in Rohtak on October 5 in the form of the "Backward Classes Kranti Rally".

Preparations in full swing for INLD's September 25 rally in Bhiwani. — Tribune photo by
Subhash Kumar
Green building coming up in Panchkula
Chandigarh, September 22
It is as green as a building can get and it is certain to make its neighbours envy. The eco-friendly office of the Haryana Renewable Energy Development Agency (HAREDA), the Akshay Urja Bhawan, coming up in Sector 17, Panchkula is all set to change the way the public perceives renewable energy devices and will have an ecological footprint all over it.
An artistic view of the office of the Haryana Renewable Energy Development Agency (HAREDA), the Akshay Urja Bhawan, coming up in Sector 17, Panchkula
Providing succour to poor patients
Rewari, September 22
With the provision of medical-cum-pathological facilities, Hari Om Aggarsen Laboratory and Hospital (HOALH), a charitable institute, has proved to be a boon to poor patients of Rewari. It is located on the Circular Road near the Kanod Gate. It was launched under the auspices of the Seth Girdhari Lal Shyam Lal Charitable Trust, a voluntary organisation.


Patients wait for their turn at Hari Om Aggarsen Laboratory and Hospital in Rewari
Karnal MP ups ante against Hooda
Faces disciplinary action
Karnal, September 22
A general grouse among the electorate is that their representatives do not heed them once they are elected. But in the case of Karnal MP Arvind Sharma, it is the other way round.


Shefali set for a comeback
Sirsa, September 22
Shefali Jariwala, the kanta laga-fame girl would soon be seen in lead roles in movies. This is what Shefali said while talking to Haryana Plus during a recent interview here at local JCD Vidyapeeth. "I got several offers to act in films but I was busy in my studies. I have now completed my engineering course and now I am ready to take up new assignments," said Shefali.
Shefali Jariwala
Rise in robbery cases
Install CCTV cameras, banks told
Panipat, September 22
The district administration has asked banks and other financial institutions in the district to install CCTV camera on their premise and maintain the recordings of the cameras so that it could be used in preventing anti-social activities.
Rural Lok Adalat
Justice at your doorsteps
Kurukshetra, September 22
As many as 239 pending cases of villages were settled at the 15th Rural Lok Adalat organised by the District Legal Service Authority and presided over by its president and district and sessions judge R.C. Bansal, at Kaulapur village, 15 km from here, recently.
Power dues
Officials to meet defaulters
Sonepat, September 22
In order to make non-paying consumers aware of their obligation to pay electricity bills, subdivisional officers of the Uttar Haryana Bijli Vitran Nigam would personally contact 6,000 defaulters of their respective subdivisions every month.
Haryana Review aims at creating better informed society
Chandigarh, September 22
With the revival of Haryana Review, a journal of the state information and public relations department, the government intends to strengthen communication between the people and the government. Haryana Review along with Samvad and Krishi Samvad, monthly magazines in Hindi, aims at providing important information to the public.
The monthly magazine, Haryana Review, was launchedrecently in Chandigarh
Widow welfare high on samiti's agenda
Beneficiaries to get monthly pension
Rewari, September 22
The Maharaja Aggarsen Seva Samiti (MASS), an associated voluntary organisation of the Haryana Pradesh Aggarwal Sammelan, has devised a comprehensive project to provide financial assistance to widows of the Vaish Samaj in the state.
Kalka bank waives Rs 46.56 lakh farm loan
Kalka, September 22
Paploha Co-operative Society Bank, Kalka, has exempted 140 loan holders from paying the debt under the agricultural loan waiver scheme of the central government.
Sirsa, September 22
A local Congress leader has set an example by celebrating her 33rd birthday by arranging a blood donation camp in which 33 donors, mostly women, donated blood. District president of the Haryana Pradesh Mahila Congress Shilpa Verma organised a blood donation camp on her birthday at Government Senior Secondary School, Khairpur.

Volunteers donate blood at a camp in Sirsa. — A Tribune photograph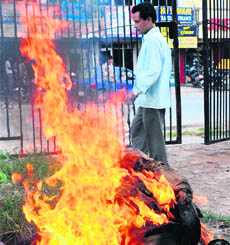 Thick smoke emanates from burning of oil filters and other waste material by scrap dealers near Khalsa Collage on the railway road in Karnal. — Tribune photo by Ravi Kumar
Power supply set to improve in Kaithal
Kaithal, September 22
Kaithal would soon have a minishakti bhawan from where almost all power board offices would function. Keeping in view the increase in power consumption during the next 10 years, a sum of Rs 9 crore would be spent to improve power supply system in the town.
Training course on prawn farming
Rohtak, September 22
A short-term training course on scampi hatchery management using underground sub-saline water commenced at the Rohtak centre of the Central Institute of Fisheries Education (CIFE) at Lahli village, near here recently. "The underlying idea is to popularise freshwater prawn farming in the non-conventional states," said Dr V.K. Sharma, CIFE officer-in-charge.