Writing off the tainted past
Karnal, September 8
In an endeavour of its kind, the authorities of the Karnal jail are using music to reform the outlaws. The project, started about two years back, is the brainchild of jail superintendent Jagjeet Singh.
Prisoners perform during a program organised by the National Integrated Forum of Artists and Activists (NIFAA) in Karnal jail.
Power Crisis
Over to renewable energy
Chandigarh, September 8
The high cost of non-renewable sources of power generation and supply constraints for coal, has forced the state government to look at alternative renewable sources of power generation. The state government, through the Haryana Renewable Energy Development Agency (HAREDA) is now working to produce 714 MW power through renewable energy sources.
Jind industry faces neglect
Jind, September 8
Jind is among those few districts of the state where industry has remained neglected ever since the state came into being. As a result, only a handful of units dared to come here or survived an indifferent and uncooperative regime.
The HSIDC sector in Jind wears a deserted look. Photos: Dilbag Singh
Sampat ridicules CM on free plots
Fatehabad, September 8
Former state minister Sampat Singh has ridiculed the statement of Chief Minister Bhupinder Singh Hooda regarding the beginning of allotment of free plots to the poor from October 2 this year.


Kaithal's historical buildings to get a facelift
Kaithal, September 8
The district administration has decided to launch a special campaign to beautify the town and preserve its old historical and religious sites in Kaithal town and its surrounding areas with the help of the Archaeological Survey of India (ASI) and the Indian National Trust for Art and Cultural Heritage  (INTACH).

A view of the fort of the erstwhile rulers of Kaithal on the banks of the Bidhikyar Tank. Photo by the writer
Need to free women from social taboos, say experts
Panchkula, September 8
Claims of the multi-dimensional development of the country would remain a myth till women in the country are not set free from the existing medieval social perspective. This was stated by V.N. Rai, ADGP, Haryana Police, at Guru Ravi Das Bhawan here.
Trans-Agra canal area residents face eviction
Ex-minister threatens stir
Faridabad, September 8
Residents of more than 12 unauthorised colonies located in the trans-Agra canal area here are facing the threat of eviction as the government plans to acquire the land. The BJP, meanwhile, has stepped into action to fight for their cause.


Students on warpath
Ayurvedic college suffers govt apathy
Kurukshetra, September 8
The protesting students of Shri Krishna Government Ayurvedic College, Kurukshetra, in a letter to the state health minister, have threatened to intensify their agitation till their long pending demands were met.


Haryana Janhit Congress (BL) leader Pawan Garg (extreme left) listens to the grievances of protesting students of Shri Krishna Government Ayurvedic College in Kurukshetra. A Tribune photograph
Rohtak's memory guru pens book
Rohtak, September 8
Impossible is a word found in the dictionary of fools goes a famous saying. Virender Mehta of Rohtak, who was a below-average student during his school days, has proved these words by transforming himself into a world-record holder memory guru.


Sirsa police starts filming violations
Sirsa, September 8
Flouting of traffic rules, encroachments on both sides of the roads and unauthorised parking of vehicles have been the bane of the traffic police here since long. Infringement of traffic rules is such an offence that not only unscrupulous motorists but also many prominent persons of the society commit these.

NO ESCAPE: Police officials prepare video film of encroachments by shopkeepers in Sirsa. Photo by the writer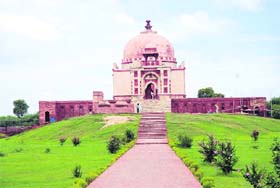 A view of the tomb of Khawaja Khizar, a local saint and celebrity, built between 1517 and 1526 in Sonepat with rare red sandstone. The monument is being renovated by the local administration. Tribune photo: Ravi Kumar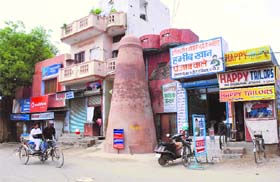 CAN'T GET ENOUGH: Encroachers have constructed houses along the historic Meel Minar near Sonepat bus stand even as rules prescribe no construction within a radius of 100 m from the minar. Tribune Photo: Ravi Kumar
Kaushalaya barrage triggers development
Panchkula, September 8
With the construction of Kaushalaya barrage, near Pinjore, residents of both Pinjore and Panchkula can hope for increased availability of drinking water. Besides, the project has also geared up the pace of development in the area.
Power crisis cripples life in Jhajjar
Jhajjar, September 8
Normal life was thrown out of gear in this district because of long and unscheduled power cuts following a snag that developed in the Panipat and Yamunanagar thermal plant. The drinking water supply, hospital and telephone services were the worst hit.
UHBVN to check low lying
wires
Yamunanagar, September 8
With a view to ensure the safety of people in public parks, the Uttar Haryana Bijli Vitran Nigam (UHBVN) has decided to replace all bare high tension (HT) and low tension (LT) wires passing over the parks with aerial bunched cable (ABC).
Funds for Bihar flood-hit
Sirsa, September 8
Students and teachers of Chaudhary Devi Lal University have decided to launch a 70-day fundraising campaign for flood relief in Bihar. A resolution to this effect was adopted on the Teachers' Day ceremony held on the university campus recently.