Rural women to spearhead social change

Set to become digital workforce
Sirsa, September 15
A recent scheme for the empowerment of women, and members of the Scheduled Castes and Scheduled Tribes using information and communication technology tools is preparing them to stamp their footprint on the overall planned development.
Rural women attend computer class at Hartron centre in Sirsa. Photo: Amit Soni
Health dept, too, banks on them
Chandigarh, September 15
The health department has now found a novel way to create heath awareness amongst the rural people. A sub-group of the Sakshar Mahila Samuh (SMS) will now be used to spread health information, education and communication (IEC) in the rural areas.
MNCs beware
Yamunanagar, September 15
Women in the rural areas of the district are being trained in manufacturing sanitary napkins and sell these at less than half the price in comparison to similar products available in the market, thus giving multinational companies a run for their money. After completing their training, women of the district involved in the project would be able to manufacture and sell a packet of sanitary napkin at just Rs 10.
College holds talent-hunt show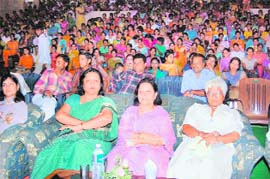 Sirsa, September 15
In the present era of globalisation and competition, making good career in any field is not difficult. If one is not good in studies, he or she could still excel in numerous other fields. The recent spurt in reality shows on television channels has opened up new vistas for youngsters in the field of music and dance.
Sunita Setia (centre), chairperson of the Improvement Trust, Sirsa, flanked by Vijaya Tomar (left), principal of CMK National PG Girls College, during a talent search competition in Sirsa. Photo: Amit Soni
Yamunanagar doc performs bilateral knee replacement
Yamunanagar, September 15
Dr Rajan Sharma, an orthopaedic surgeon of the district, has performed first bilateral knee replacement on 68-year-old T.R Makkar with his team of doctors and surgeons at Rajan hospital here recently.
Emergency reservoirs on verge of extinction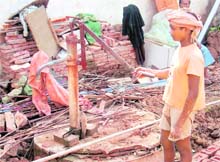 Ambala, September 15
A number of static water tanks constructed during the Indo-China war in 1962 in different areas of Ambala city to combat incidents of fire have lost their purpose as residents of the adjoining areas have filled these with litter and garbage. These tanks were built after taking into consideration the highly sensitive Army cantonment in Ambala Cantt.
A historical water tank lies in a state of neglect in Ambala City. Photo: Kamal Sachar
Commonwealth Youth Games
Garg nominated as technical official


Jhajjar, September 15
Wrestling trainer and FILA (Federation of International Desluttes Associeas) referee Rajender Prashad Garg, has been nominated as technical official for the 3rd Commonwealth Youth Games 2008 to be held in Pune from October 12 to 18. A communication in this regard has been received recently by RP Garg from convener of games technical committee ASV Prasad.
Moneylenders thrive in Bhiwani
Bhiwani, September 15
The illegal business of financing by private moneylenders is booming in this city. More than 500 small and big moneylenders are illegally collecting lakhs of rupees daily in the shape of interest from small traders without paying a single penny to the government.
CDLU on expansion spree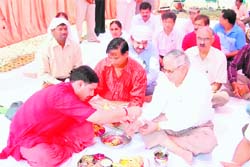 Work begins on multipurpose hall, library
Sirsa, September 15
Chaudhary Devi Lal University will soon have a multipurpose hall and a separate building for library. Vice-chancellor K.C. Bhardwaj recently performed bhumi pujan at the construction site of the mult purpose hall and the library to be constructed at a cost of Rs 34 crore.
Chaudhary Devi Lal University vice-chancellor K.C. Bhardwaj performs bhoomi pujan at the site of a multipurpose hall on the university campus in Sirsa. Photo: Amit Soni
Modern auto market on the cards
Sonepat, September 15
On the pattern of Kashmiri Gate auto market, the Haryana Urban Development Authority (HUDA) has finalised plans to develop a modern transport nagar and auto market in sector 3 here. This plan has been sent to the higher authorities in Chandigarh for initiating necessary actions of auctioning the sites for shops, dhabas, hotels etc.
NGO helps orphans build careers
Ashiana, where 62 orphan children are at present living, has been providing a perfect ambience of parental love, care and education to these lesser children of God since 1981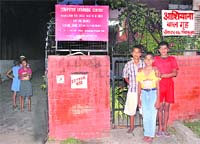 Panchkula, September 15
"Ghar se maszid hai bhaut dur, chalo yoon kar lein kisi rotte huye bachhe ko hasaya jaye," but only the blessed souls ascribe to the noble thought embalmed in Nida Fazli's couplet suggestive of human love and compassion. The rich Indian cultural heritage propounds the philosophy of humanitarian ideals, sympathy and kindness in ample measure, as enshrined in our old epics and scriptures.
Ban on burning trash goes up in smoke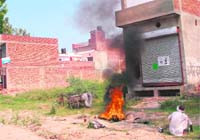 Kaithal, September 15
Despite the ban imposed by the government on the burning of polythene and other waste materials in the open, the practice goes on unabated. This has resulted in higher level of pollution, posing risk to health of the people.
Thick smoke emanates from the burning of oil filters and other waste material by scrap dealers in Kaithal. Photo by the writer
Parul makes Jind proud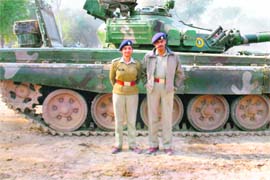 Jind, September 15
What Kiran Bedi is to India, Parul Kush is to Jind district. She is perhaps the first woman IPS officer from this agriculture-dominated part of Haryana that has been lagging behind in many areas of development. Presently posted as ASP in Howrah, West Bengal, this 29-year-old officer hails from Safidon, the paddy hub of Haryana.
A file picture of Parul Kush.
Citizens' First
Frequent protests in Rohtak
The unfortunate incident of police action on guest teachers in Rohtak on September 7 that led to the death of a teacher is indeed a sad episode. The incident raises a pertinent question. In democracy, petition and peaceful protests are justifiable, but the recurrent protest rallies in Rohtak and especially the marching of protesters towards the so-called CM's residence is not understandable.