Central scale for school principals, finally
Chandigarh, September 11
The decision of the state government to implement the Sixth Pay Commission has brought cheer to 1,500 school principals, block education officers and deputy district education officers, in government schools. They are now hoping that the anomalies in their pay scale will be removed and that their revised pay scale will be equivalent to the ones being given by the centre.
Elevated road fails to ease traffic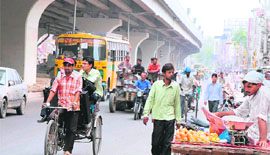 Panipat, September 11
Even as Rs 418-crore elevated road has reduced the travel time between Chandigarh and Delhi by less than 10 minutes, it has failed to ease the traffic congestion in the city. Little seems to have changed for the local residents who continue to face traffic snarls on the NH-1 while using the service lanes on either sides of the flyover.
The service lanes on both sides of the Panipat flyover continue to witness chaos. — Tribune photo by Ravi Kumar

Paddy procurement
Pull up socks, agencies told
Faridabad, September 11
The sluggish approach of the district food and supply control (DFSC) department and the Food Corporation of India (FCI) in lifting and storing of wheat procured in June-July in Mohana grain market has forced the administration to step in.
A quiet wedding for this Olympian


Karnal, September 11
Shine of bronze medals won by wrestler Sushil Kumar and pugilist Vijinder Kumar at Beijing Olympics has virtually washed out the achievement of another Olympian havildar Devinder Kumar Khandelwal, who represented India in rowing.
Devinder Kumar Khandelwal

Stationed in chaos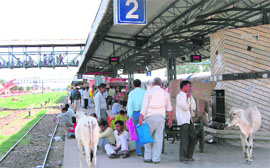 Bhiwani, September 11
Having the status of model station, the Bhiwani junction has now turned into an ordinary railway station as commuters are forced to suffer due to the lack of facilities. The Bhiwani junction was accorded the status of model station when late Bansi Lal was the railway minister. He had sought to provide every facility to this station at par with stations of metropolitan cities.
Bhiwani railway station, which was once accorded the status of a model station, lies in a state of neglect. — Photo by the writer

Poll alliance: BJP set to drive a hard bargain
Chandigarh, September 11
The Haryana BJP, which was being wooed both by the Indian National Lok Dal (INLD) of Om Prakash Chautala and the Haryana Janhit Congress (HJC) of Kuldeep Bishnoi for an electoral alliance, seems to be leaning towards the former. Despite the party's dismal and humiliating performance during the May assembly bye-elections in the state, the BJP leaders were on cloud nine when they were courted by the INLD and the HJC.
Kalka-Pinjore bypass en route to development
Kalka, September 11
The completion of 11-km long Kalka-Pinjore bypass would mean faster access to plains and relief from the biggest bottleneck on the NH-22 for the people coming from Himachal Pradesh.
Art gets better of babus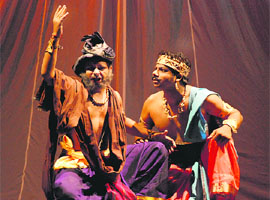 Chandigarh, September 11
Between passing files and framing policies, our babus certainly need to unwind. While playing golf is a matter of routine for some of them, there are others who have learnt to relax by way of an adventure-break occasionally, still others who pen down their thoughts or just have an evening out with family and friends. Month of September each year, however, is different ball game.
A scene from a play staged at Indradhanush auditorium in Panchkula. — Photo by
Himanshu Mahajan

Elders' date with cops
Sirsa, September 11
It was a special day for senior citizens of the town, when they were invited to the local police station for a cup of tea for apprising the police of problems faced by them.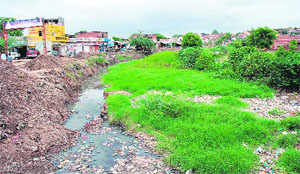 Sonepat may be emerging as a major residential and commercial destination in the national capital region, but it continues to be neglected. This is evident from a seasonal nullah (drain no. 8) passing through the city. Thousands of residents living on both sides of this 4-km long drain have no option but to live in unsanitary conditions. — Tribune photo by
Ravi Kumar
Filthy ponds to be a thing of past
Kaithal, September 11
Village ponds in this district will be cleaned and beautified and more trees will be planted in its surroundings, saying this deputy commissioner Vikas Gupta added that this would have a far-reaching effect on the ecology, besides providing villagers a place to relax.
Work begins on education city project
Sonepat, September 11
After acquiring 2,000 acres of land, the state government has commenced the infrastructural development activities for the proposed Rajiv Gandhi Education City (RGEC).
170 cases settled in Lok Adalat
Kurukshetra, September 11
As many as 170 cases pertaining to motor vehicle accident, marriage disputes, and various civil and criminal cases were settled during a Lok Adalat organised by the district legal service authority, presided over by district and sessions judge R.C. Bansal at the judicial complex here recently.