Indo-Pak theatre fest leaves mark
Artistes regale Rohtak audience
Rohtak, October 13
The three-day Indo-Pak theatre festival organised by the Haryana Kala Parishad in association with the Saptak Cultural Society, Rohtak, and the local district administration concluded here recently, leaving behind cherished memories.

A scene from "Gadhe Ki Baraat" staged during the Indo-Pak theatre festival in Rohtak. Photo: Manoj Dhaka
Pinjore garden set to become major tourist destination
Kalka, October 13
The 3rd heritage festival at Yadavindra Gardens, Pinjore organised by the tourism department concluded here recently. The festival left visitors thrilled and amused despite the fact that rain partially affected some of the activities.
Old & dilapidated, yet occupied
Jind, October 13
Certain government offices and schools in the town seem to be still living in the past as they are functional from the same old dilapidated structures, which are now on the verge of collapse.

(From left) Poorly maintained buildings of the district agriculture office, the city police station and the primary school near Jind railway station. Photos: Dilbag Singh
Inside Babudom
No financial crisis for officers
Luxury drive on the cards
Chandigarh, October 13
Ambassador cars seem to be bowing out of the corridors of power in Haryana. Once identified as the official symbol of "authority on wheels", the white Ambassador car from the stable of Hindustan Motors is no longer a favourite of babus.
New technology to cure cataract
Ambala, October 13
A new technology in eye surgery introduced in an eye hospital here has generated hope in people who cannot see due to the disease.


Police puts brakes on vehicle thieves
Sonepat, October 13
The nabbing of eight members of a notorious gang of vehicle thieves recently has brought relief to the police not only in solving 13 cases of thefts but also in putting a check over such incidents.

Arrested criminals with recovered vehicles. Photo by the writer

Seminar on English literature
Sirsa, October 13
Former vice-chancellor of Kurukshetra University Bhim Singh Dahiya recently delivered extension lectures on the history of English literature at Chaudhary Devi Lal University.

Former vice-chancellor of Kurukshetra University Bhim Singh Dahiya delivers an extension lecture at CDLU, Sirsa. Photo: Amit Soni



HARTRON's turnover climbs to Rs 31.17 crore
Chandigarh, October 13
The Haryana State Electronics Development Corporation Limited (HARTRON) has achieved an all-time high turnover of about Rs 31.17 crore during 2007-08.


Sirsa police to take drunk drivers to task
Sirsa, October 13
The Sirsa police has recently launched a drive to check drunk driving in the district during which it will check tipsy drivers through its breath analyser machines installed in interceptor vehicles.

A traffic police official checks a driver using a breath analyser in Sirsa. Photo: Amit Soni

All districts to have museums
Jhajjar, October 13
The Haryana archaeology department has chalked out a plan to set up archaeological museums at the district level across the state. This is done with an intention to preserve and promote the rich cultural heritage and to educate people regarding relics and antiquities of the state.
Commissioner R.R. Phulia observes the archaeological museum in Jhajjar. Photo by the writer


Age no bar for this squash champ
Karnal, October 13
Trying hand on squash racket at the tender age of 14 when most of the children are not even aware of this offbeat game, a local lad had created a history of sorts by participating in the senior national squash championship.


Visitors throng Beri horse fair
Beri (Jhajjar), October 13
A large number of devotees from across the country recently visited Maa Bhimeshwari Devi mela in Beri village of this district, but it is the horse fair, which is customary and the exciting feature of this famous mela, which succeeded to draw the attention of a majority of the visitors.

"Rani" who became the centre of attraction at the horse fair in Jhajjar. Photo by the writer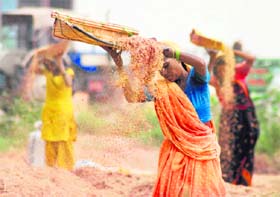 Workers busy in chafing paddy at New Grain Market in Karnal. Tribune photo: Ravi Kumar
Women outfits up ante against female foeticide
Jhajjar, October 13
A number of women outfits have been working for the eradication of female foeticide in the state. Two such organisations organised a camp here recently to make people aware against this social evil.
Power utilities cut transmission losses
Hisar, October 13
Haryana's power distribution corporations, Dakshin Haryana Bijli Vitran Nigam (DHBVN) and Uttar Haryana Bijli Vitran Nigam (UHBVN), have brought down the aggregate transmission and commercial (AT&C) losses to 25.52 per cent and 33.23 per cent, respectively, in 2007-08.