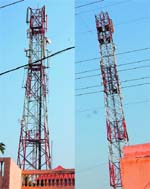 Mobile towers haunt Ambala residents
Ambala, October 16
Around 24 mobile phone towers atop residential buildings pose a threat to residents of several localities in Ambala. People of these localities have protested a number of times for the removal of towers, but to no avail. During the past three years as many as three towers have fallen down due to storms in which buildings close to them got badly damaged. Although nothing has been proved in this regard, people are of the view that radiation from these towers adversely affects the health of nearby residents.
Chicks bring cheer in Mewat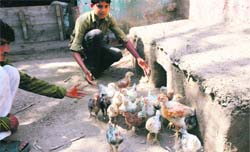 Mewat, October 16
Family-size in some backward villages of this district has more than tripled. No, this is not a story of population boom in Mewat but of an initiative that is likely to provide the poorest of the poor with their daily bread and butter.

A family in Marora village of Mewat tries to keep its brood of chicks together as they emerge from the coop. Tribune photo: Sayeed Ahmed
Technology must to improve farm yield: Expert
Fatehabad, October 16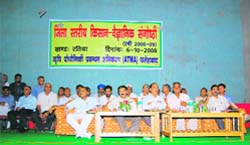 The contribution of the farm sector in the national income is 20 per cent, while more than 70 per cent of the population is based on agriculture. This was informed by deputy commissioner J.S. Ahlawat while addressing a seminar on agriculture at Ratia in this district recently.
Fatehabad deputy commissioner J.S. Ahlawat and others at a workshop on agriculture at Ratia in Fatehabad. A Tribune photograph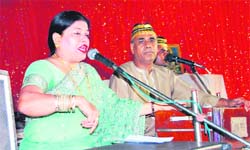 Qawwals enthral Sirsa audience
Sirsa, October 16
Qawwals of international acclaim Sarfraz Chishti and Chanchal Bharti recently performed before a select gathering at the local Sirsa Club.

Qawwal Sarfraz Chishti and Chanchal Bharti present qawwali at the Sirsa Club Photo: Amit Soni
Bahadurgarh set to get a facelift
Bahadurgarh (Jhajjar), October 16
Following directions of the Chief Minister, the Rohtak range administration has drawn an elaborate plan for the beautification of Bahadurgarh town.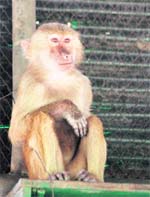 Mini Zoo's aging baboon finds companion
Chandigarh, October 16
Finally, there is good news for a lonely baboon at the Mini Zoo, Pipli. After more than two years, officials of the Wildlife wing of the forest department have managed to find a female companion for him. The 16-year-old ageing baboon (named Baboon) has now found a new companion in Kavitha. This "nubiile young thing" (NYT) has been specially brought to Haryana from Srichamarajendra Zoological Garden, Mysore.


Kavitha, a young female baboon, who has just arrived at the Mini Zoo, Pipli. Tribune photo: Ravi Kumar
To end social evils, NGO treads religious path
Karnal, October 16
While scores of religious leaders with mass following have not been able to make a concerted effort to capitalise on "immense" faith of people in religion to bring about social reforms, a local NGO, the National Integrated Forum of Artists and Activists (NIFFA), has come out with a unique idea to intertwine the message of eradicating social evils by coalescing their programmes with religious congregations.
A library in each village, Raghubir's mission


Sonepat, October 16
This 62-year-old man's quest to inculcate the habit of reading among youth in the rural areas knows no bounds. Working on these lines for the past many years, Raghubir Singh has so far raised and donated three libraries in villages, including one in his native village Nahri. The other two libraries are at Nangal and Kheri Manajat in Sonepat district.
Raghubir Singh
Courses for Muslim students
Chandigarh, October 16
The Haryana Wakf Bosard has invited applications from Muslim students residing in the state for admission to six-month computer and beautician courses.
Movies This Week
KARZZZZ
Producers: Bhushan Kumar, Kishan Kumar; Director: Satish Kaushik Music: Himesh Reshammiya; Cast: Himesh Reshammiya, Urmila Matondkar, Shweta Kumar (introducing), Danny Denzongpa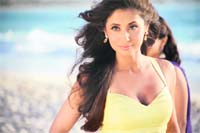 'Karzzzz' a remake of 1980 Subhash Ghai's hit film 'Karz' will be released today at Everest-Rewari, Suraj-Panchkula, Inder Palace-Karnal, Sheela-Rohtak, Nigar-Ambala Cantt, PVR-MGF, PVR Ambience, Adlabs, DT City Centre, DT Mega Mall, PVR Sahara, SRS (All Gurgaon), PVR Crown, SRS Sector 12, SRS Pristine, INOX, Cinemax, SRS Shubham, Movie Time City Mall, Movie Time Manthan (All Faridabad), Fun-Ambala City, Fun-Panipat, Sun City-Hisar.