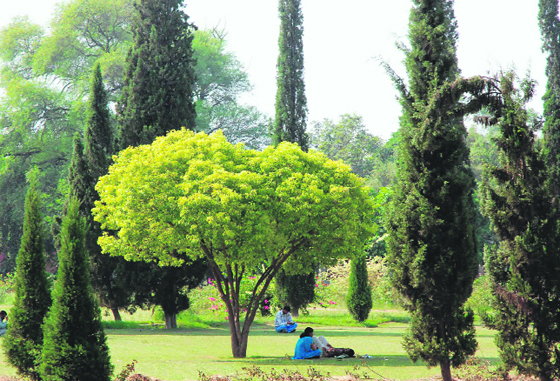 THE COLOUR OF AUTUMN: Students take a break from studies on the Kurukshetra University campus in Kurukshetra. Tribune photo: Ravi Kumar
Debt Waiver Fallout
Agriculture credit slows down
Chandigarh, October 23
The implementation of the agriculture debt waiver and debt relief scheme in Haryana has had its fallout on the advances made to the agriculture sector.
Inspiring women to defend their rights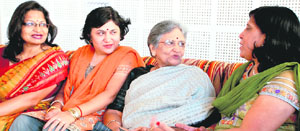 Chandigarh, October 23
There is a fire burning within and
a revolution brewing, there are
umpteen challenges ahead and
there is a ray of hope peeping
through cracks that is keeping
Haryana's women writers going.


Women writers discuss their concept of woman on the sidelines of a function organised by the Haryana Sahitya Akademi in Panchkula on Wednesday. Tribune photo: Himanshu Mahajan

Jhajjar to be developed as cultural hub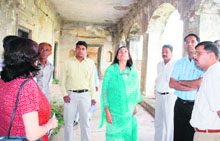 Jhajjar, October 23
Illustrious for its historical milieu, the district
would be developed as cultural hub in order
to preserve and promote the dying cultural
heritage and to educate people regarding
relics and antiquities of the state.

Jhajjar administrative officers along with
officer-bearers of INTACH survey Bagh
Wali Kothi at Dujana. Photo by the writer

Army tank to be placed in Jhajjar's Shahidi Park
Jhajjar, October 23
With a view to instilling patriotism among the younger generation and keeping the memory of wars alive, the Jhajjar Zila Sainik Board has decided to place a Vijayant tank at Shahidi Park here.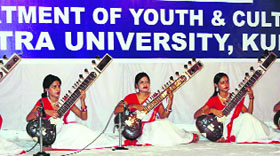 700 take part in youth fest
Sirsa, October 23
The three-day Zonal Youth Festival of the Sirsa zone of Kurukshetra University, held at local CMK National PG Girls College, afforded an opportunity to students to showcase their talent.

Students perform during a youth festival event at CMK National PG Girls College, Sirsa. Photo: Amit Soni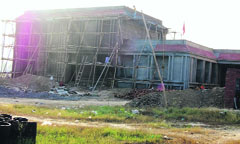 CDLU to have media centre
Sirsa, October 23
A specialised building has been designed
to house all media production activities
of the department of journalism and
mass communication of Chaudhary Devi
Lal University here.

The upcoming media centre building on the CDLU campus in Sirsa. Photo by the writer

Lecture on benefits of nanotechnology
Sirsa, October 23
A lecture was recently delivered on bimolecular electronic and nanotechnology by vice-chancellor of the Kurukshetra University R.P. Bajpai in the JCD College of Engineering here.
Hansi-Butana Link Canal
MLA seeks President's intervention
Rewari, October 23
The 14-day "jan adesh padyatra" by the Haryana Yuva Kisan Sangharsh Samiti, headed by MLA Naresh Yadav, to seek intervention of the President to ensure hassle-free flow of water from the Bhakra main line canal into the Hansi Butana link canal will begin on November 1.
Poor BSNL service irks bankers
Kalka, October 23
The frequent failure of BSNL internet service in the Pinjore and Kalka has been badly affecting the banking services in the area.
Faridabad beefs up security
Faridabad, October 23
The district administration is not taking any chance with regard to security arrangements, particularly in the wake terror threats it got recently.
Locals sleepless as marriage season returns
Kaithal, October 23
Resentment prevails among residents of this town over the playing of music at a high volume in marriages and religious functions till late night.
Movie This Week



Heroes


Roadside Romeo