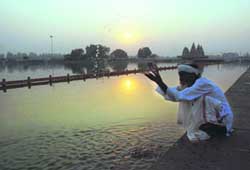 SPIRITUAL QUEST: A devotee offers prayers on the banks of Brahmsarovar in Kurukshetra. Tribune Photo: Ravi Kumar
Meltdown grips cotton industry
Sirsa, November 10
With the prices of cotton witnessing a plunge in the international market due to recent global recession has hit the cotton industry in the country hard. Effects have been equally visible in Haryana and neighouring Punjab. Industry in this cotton bowl of the region and elsewhere in the country, which was comfortably placed and reaping rich profits due to good prices, is now finding MSP of the raw cotton too high to afford.
Lok Sabha elections
Sitting Cong MPs eye Kurukshetra seat
Chandigarh, November 10
Certain Congress sitting MPs are eyeing the Kurukshetra Lok Sabha seat to re-enter Parliament in 2010. One of these MPs, according to reliable sources, is Jai Prakash Barwala, who is the party MP from Hisar.
Free insurance cover against terror attacks
Panipat, November 10
In the aftermath of serial blasts across the nation, an internet retail venture Optima Insurance Brokers†in collaboration with the public sector insurer New India Assurance has come up with a unique concept of providing free terrorism cover†to one lakh Indian nationals.
Over 250 new colleges in three years
Rohtak, November 10
Flexible and revised approach of the state government has led to start of over 250 new technical and professional colleges and institutes in the state in the past just three and half years.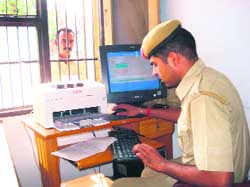 A step towards better policing
Sirsa, November 10
The district police has launched window system for the receipt of complaints at the city police station here. People coming to the police station will no more have to wait for the registration of their complaints. One just needs to deliver his complaint to the policeman on duty on the window and in return get a computer-generated receipt.

A policeman registers a complaint at the city police station, Sirsa. Photo: Amit Soni

Rohtak police introduces crime info boxes
Jhajjar, November 10
The Rohtak range police has decided to put complaint boxes (named as crime information box) at various places in Rohtak, Jhajjar, Sonepat, Panipat and Karnal districts. This is done with a view to enable the general public to file their complaints with the police without any fear.
Gateway to successful career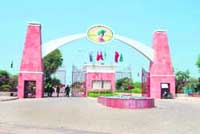 Sirsa, November 10
Jan Nayak Chaudhary Devi Lal Vidyapeeth has proved to be an important milestone in the development of educational facilities in this border district of the state.


JCD Vidyapeeth director-general Kuldeep Singh Dhindsa (Right) JCD Vidyapeeth, Sirsa
Committed to social work


Rewari, November 10
With 40 years-long association with the district unit of the All India Womenís Conference (AIWC) and several other professional as well as voluntary organisations, this septuagenarian and first woman doctor of Rewari, Tara Saxena (75), has has become a torchbearer for the younger generation. Tara Saxena
Inside Babudom
Over to officers to maintain its sanctity
Post of secretary, RTA, revived
Chandigarh, November 10
The recent administrative reshuffle in the state saw the revival of the post of secretary, Regional Transport Authority (SRTA), which was abolished last year in an attempt to curb corruption.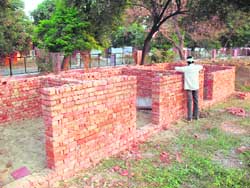 Work begins on Sonepat mini-secretariat building
Sonepat, November 10
The government has finally taken up the construction of a four-storey administrative block at the mini-secretariat complex here, which came into existence way back in 1978-79, after the inception of Sonepat as a separate district in 1975.

Work in progress for the construction of an administrative block of mini-secretariat, Sonepat. Photo by the writer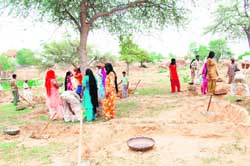 Job scheme fails to deliver
Fatehabad, November 10
The National Rural Employment Guarantee Scheme that has been implemented throughout the country under the National Rural Employment Act (NREGA) from April this year with much fanfare has failed to take off in the district.

Women work on the digging of a pond in a Fatehabad village under the NREGA scheme. Photo by the writer

AIDS Awareness
Red Ribbon Express to chug in on Nov 14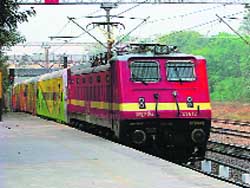 Panchkula, November 10
The Red Ribbon Express (RRE), a project conceptualised by the Rajiv Gandhi Foundation and National AIDS Control Organisation (NACO), would enter the state on November 14. The train is scheduled to halt at different places from November 14 to 27. It would halt at eight stations (Ambala Cantt on November 14 and 15, Chandigarh 16 and 17, Kurukshetra 18 and 19, Panipat 20, Jind 21, Rohtak 22 and 23, Bhiwani 24, Hisar 25 and Rewari 26 and 27).
The Red Ribbon Express

Dog squad to fight wildlife crime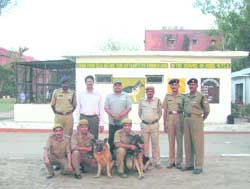 Panchkula, November 10
In a pioneering initiative, the forest departments of Haryana and Uttarakhand have deployed sniffer dogs to combat wildlife crime. The training of two dogs and their handlers in sniffing out tiger and leopard skins, bones and bear bile has been successfully completed at the National Dog Training Centre, ITBP, Panchkula.

Officials of the Indo-Tibetan Border Police (ITBP) and wildlife departments of Haryana and Uttarakhand with sniffer dogs trained at the National Dog Training Centre, ITBP, Panchkula.

Piloting underprivileged to a better life
Capt Indraaniís Literacy India covers a wide range of activities from spreading awareness about literacy to ensuring economic empowerment of rural women in and around Gurgaon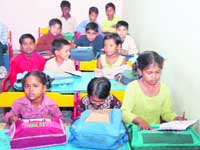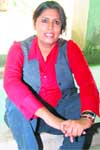 Gurgaon, November 10
It has been very well said that itís better to light a candle than to curse the darkness. Nonetheless, there are very few persons who not only imbibe the essence of this saying, but also act upon it with utmost dedication.


Capt Indraani Singh; (right) Students at a school run by Literacy India in Bajghera village near Gurgaon. Photo: Rajesh Yadav

Rare surgery performed
Yamunanagar, November 10
Dr Anil Aggarwal of a private hospital here claimed to have performed a rare and complicated surgical operation in which a tumour weighing more than 12 kg has been successfully removed from the abdomen of a woman.