Illegal taxis run parallel service on NH1
Panipat, November 3
Risking peoples' lives and cheating the authorities seems to be the mantra of a large number of taxis that are plying illegally on the national highway no. 1 between Panipat and Sonepat.

Not perturbed by the consequences, an attendant of an illegal taxi plying between Panipat and Sonepat travels by clinging to the door of the vehicle to make room for extra passengers. — Tribune photo by Ravi Kumar
Valuing Childhood
Govt to spend Rs 1 cr on swings, toys
Chandigarh, November 3
The state government has allocated Rs 1 crore to provide swings and toys to children at anganwadi centres during the current financial year so as to entertain the children and make these centres more attractive for them.
Spurious seeds
Experts call for local production
Karnal, November 3
The supply of spurious hybrid seeds to Haryana farmers by some Hyderabad-based companies, which resulted in crop losses to the tune of 15 to 30 per cent, has again brought to the fore the issue of supply of certified and tested seeds to the farmers through some credible agency.
Work in progress at Harbir Agrotech in Jundla village in Karnal district. — Tribune photo by
Ravi Kumar
Authorities gear up to beautify Fatehabad
Fatehabad, November 3
District authorities here have launched a special campaign to make the district clean, beautiful and healthy, and the slogan making rounds is Swatchha Fatehabad, Sunder Fatehabad and Swastha Fatehabad (Clean Fatehabad, Beautiful Fatehabad and Healthy Fatehabad). Launched by deputy commissioner J.S. Ahlawat, the drive is likely to continue till the end of the year.
From left: Deputy commissioner J.S. Ahlawat, additional deputy commissioner C.G. Rajnikanthan and SDM J.K. Abhir inaugurate fogging operations in Fatehabad. — A Tribune photograph
'All village households to have toilets'
Chandigarh, November 3
Kurukshetra MP Naveen Jindal had a dream that all houses in the 419 villages in his constituency should have a toilet so that these villages are declared nirmal grams.


Educationist par excellence
Yamunanagar, November 3
A multidimensional personality with a vision and commitment, Ramesh Kumar, principal of Mukand Lal National College (MLNC), retired after 35 years of service.

Ramesh Kumar
What went wrong with saffron?
Chandigarh, November 3
Political opinion in Haryana is divided on the issue of the relatively poor participation of BJP workers in what was termed as the "NDA rally" held at Sonepat on November 1. It has surprised many that the BJP, which emerged as the major partner in its alliance with the Indian National Lok Dal by cornering a majority of the 10 Lok Sabha seats in the state, seemed to be the minor partner in the rally in terms of its participation.
BJP GOES GREEN: BJP leaders wear green turbans at the NDA rally held in Sonepat on Saturday. — Tribune photo by Ravi Kumar
Innovative farmers recall their experiences
Jhajjar, November 3
With a view to sharing work experiences of innovators and contemplating about efficient implementation of these innovations, a day-long workshop on analysing and discussing grassroots innovations was organised by the Sristi Gyan Kendra, a voluntary organisation, in Balam village of the district yesterday.
Experts and farmers take out an awareness rally in Balam village in Jhajjar on Monday. — Photo by the writer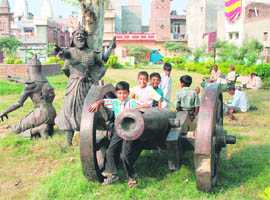 YOUNG WARRIORS: Children play with an ancient cannon at Ibrahim Lodhi's tomb in Panipat. — Tribune photo by Ravi Kumar
Mend your furniture, govt schools told
Jhajjar, November 3
While the state government has come up with various ambitious plans to lure children towards education, students studying in various government schools of the district are deprived of even basic facilities.
Officials told to accompany touring ministers
Chandigarh, November 3
Officials of the district administration would now be available to ministers on demand during their tour programmes.


Drive to enforce traffic rules launched
Ambala, November 3
The police has launched a drive against the violators of traffic rules in the city and the cantonment area these days. The duo-cities are connected with three national highways, therefore thousands of heavy and light vehicles cross it everyday. The vehicles leading to Punjab, Himachal Pardesh and Chandigarh pass through the duo-cities.


Police personnel challan traffic violators during a drive in Ambala.
ICL matches fail to impress Gurgaon
Gurgaon, November 3
Indian Cricket League's (ICL) second season did not have a bright start this season as all stands remained empty on the first three days of the tournament at Tau Devi Lal Stadium here. Only on the last day, 50 per cent of the seats were full.
Pak players and their families take part in the Diwali festivities in Gurgaon.