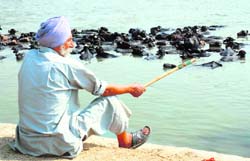 An old man watches his cattle bathing in a canal in Karnal. Tribune photo: Ravi Kumar
Flexing muscles in Delhi Assembly elections
The canvassing has given a chance to local leaders of Haryana to rub shoulders with senior functionaries of their parties
Gurgaon, November 27
The poll fever prevalent in Delhi these days has gripped the bordering areas of Haryana as well. While the influence of the election campaign seems more pronounced in Gurgaon, Faridabad, Rohtak, Jhajjar and Sonepat districts falling in the national capital region (NCR), the poll outcome is expected to have a bearing on the forthcoming Lok Sabha elections in the state.
'Green building' to house rural institute in Gurgaon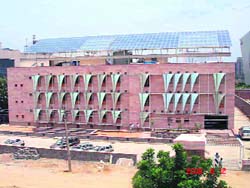 Gurgaon, November 27
It can be termed a green initiative. The Institute of Rural Research and Development (IRRAD), an initiative of the S.M.Sehgal Foundation, a non-profit organisation working for rural development in Mewat and Kurukshetra districts of Haryana, has come up with an environment-friendly "green building" in Gurgaon.


The "green building" of the Institute of Rural Research and Development in Gurgaon. A Tribune photograph

Vocational training for poor students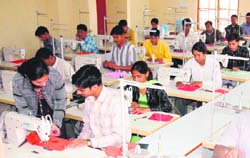 Faridabad, November 27
The Apparel Training and Design Centre (ATDC) located at Ballabhgarh in Faridabad, sponsored by the Apparel Export Promotion Council (union ministry of textiles), has emerged as productive institute for providing job skills and opportunities especially for weaker sections of the society.

Students at the Apparel Training and Design Centre (ATDC) in Ballabhgarh. Tribune photo: Sayeed Ahmed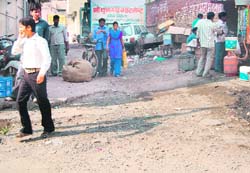 Ambala city roads in bad shape
Ambala, November 27
Crores of rupees have been spent on various development works in the city during the last three years, but roads here are still in a dilapidated condition. The roads, including the wholesale Cloth Market Road, the Railway Road, the Sarafa Road, the Hospital Road, the Shukalkund Road, the Sabji Mandi Road and the local bus stand road, are full of potholes and ditches.

An internal road of Ambala city in a dilapidated condition. A Tribune photograph
Disability no hurdle for this champion
Rohtak, November 27
Physical disability may prove a deterrent for many succeeding in various fields, but for Dr Lokesh Balhara, a local resident, who is a victim of about 90 per cent disability, the factor has hardly any impact on his motives and intentions.
Build character, minister tells students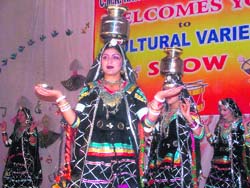 Sirsa, November 27
A cultural programme organised at the C.M.K. National Postgraduate Girls College here recently enthralled the audience comprising local dignitaries and students. Mange Ram Gupta, state minister for education and transport, was the chief guest while Jagdish Nehra, a former state minister, presided over. R.S. Sangwan, patron, and Parveen Baghla, president of the Sirsa Education Society that manages the college, were also present.
A cultural programme at a college in Sirsa. Photo: Amit Soni

Plea to Rahul on college, varsity elections
Kalka, November 27
Advocate Vijay Bansal , former secretary of the state Congress, has written a letter to Rahul Gandhi,general secretary of the All-India Congress Committee and coordinator of the NSUI, regarding elections to student bodies in colleges and universities of Haryana.
Give priority to qualified faculty, KU told
Kurukshetra, November 27
To assess the progress made by Kurukshetra University in the past five years, the four-day visit of National Assessment and Accreditation Council (NAAC) peer team to the university concluded with a meeting held here recently.
Expert stresses on quality for growth
Yamunanagar, November 27
The time has come that India become quality literate, which is possible only through total quality management. Quality has always been a prime factor to a nation's economy. It has major technical, economic and human implications that influence competitiveness, employment, exports and overall growth of a nation.
Bus stand at Kharkhoda
A boon for commuters
Sonepat, November 27
The inauguration of a new bus stand at Kharkhoda by Chief Minister Bhupinder Singh Hooda last week has brought relief to residents of the tehsil headquarters.
DHBVN to segregate rural load
Hisar, November 27
Dakshin Haryana Bijli Vitran Nigam (DHBVN) managing director Anurag Aggarwal said the nigam would give the top priority to giving power supply to the rural domestic consumers on urban mode and improving quality of supply to tubewells.
A tribute to Sir Shadi Lal
Rewari, November 27
In the recent times, the judiciary has been in the news for one reason or the other. As the debate continues on controversial issues involving the respective powers of the judiciary and the executive as well as the conduct of the judges, it might be appropriate to remember a great son of the Rewari region who had an exemplary career as a judge.
Oye Lucky, Lucky Oye!

Sorry Bhai