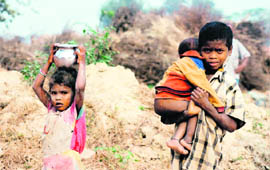 Children carry water at a brick-kiln near
Barota village in Karnal. — Tribune photo by
Ravi Kumar
Cops' temperament to decide posting
Chandigarh, November 17
After being in the line of fire for committing "accidents" with increasing frequency, the state police is now looking for "aberrations" within its force. An exhaustive exercise to identify short-tempered cops has been launched. The idea is to withdraw them from arms duty and, instead, use their services for traffic duty and the like.
Public transport in a mess in Rohtak, Jind
Rohtak/Jind, November 17
The public transport system is in a complete mess in both Rohtak and Jind districts. The number of state transport buses has been dwindling far below the need and expectations.


Brass-plated carts face extinction
Hisar, November 17
Another of Haryana's rare art form is on the verge of extinction. The special brass-plated carts that have been the trademark mobile homes of Maharana Partap's descendants since centuries are fast becoming a rarity.


An artisan puts the finishing touches to a brass-plated cart in Gangwa village, near Hisar. — Photo by Subhash Kumar
Environment
Mass movement must, say experts
Hisar, November 17
Over 100 experts from all over the country recently gathered here for a two-day national seminar on multidimensional approach to environment organised by the local F.C. College for Women under the aegis of the University Grants Commission.

Students look at T-shirts with environment-related slogans at an exhibition in Hisar. — Tribune photo by Subhash Kumar
Gurgaon mall goes without power
Occupants blame builder
Gurgaon, November 17
Central Plaza Mall here has been without electricity resulting in heavy losses to the businesses operating from its premises. The Haryana Pollution Control Board had disconnected the power supply to the Mall in Sector 53 here, owing to the non-compliance of pollution guidelines by the builder on November 11.
From beggar's bowl to the needy
Sonepat, November 17
A beggar on a mission, Baba Prakash Nath, resides in a cremation ground in front of the bus stand in Gohana. He collects alms and after meeting his requirements, spends the savings on noble causes like arranging free food for the poor , marriages of poor and destitute girls and other social services.
BSP gets into campaign mode
Faridabad, November 17
The BSP nominee for the Faridabad parliamentary seat for the coming general electon,Chetan Sharma,has already waded into election campaign even while the leaders of major political parties are busy politicking to beat one another in getting the party ticket.
Integrated township to come up in Fatehabad
Fatehabad, November 17
A private developer, Alpha G Corp, is coming out with first state-of-the-art township in the district. Named Alpha International City (AIC), the township is being developed in 51-acre of land in sector 4 in Fatehabad. The company is also developing townships in Karnal and Kurukshetra and claims it has been doing very well in all the three cities.


Work in progress at Alpha International City in Fatehabad
Educationist J.N. Kapur's legacy lives on
Yamunanagar, November 17
Jagan Nath Kapur, known as the architect of DAV institutions, was three-and-a-half-year-old when he lost his father, a medical practitioner. He got free education in those difficult times and later took a pledge to provide the opportunity to the needy.
Kapal Mochan's potential as tourist spot
(Kapal Mochan) Bilaspur, November 17
In view of the religious and historical value of this town, it can be developed as a major tourist destination. The place has the potential to attract more people from other states and also foreign tourists not only during the Kapal Mohan fair but also throughout the year.

A brief history

A view of the Rin Mochan Sarovar. — A Tribune photograph

Bijli Nigam to improve power supply in Jind
Chandigarh, November 17
To ensure power supply to the consumers for an enhanced duration daily, the Uttar Haryana Bijli Vitran Nigam (UHBVN) is segregating domestic and tube well load of 60 feeders of 11 KV supplying electricity to rural areas in Jind district under the Rajiv Gandhi Grameen Vidyutikaran Yojna.
HMT colony in deplorable condition
Deputy CM asks union minister to revamp basic amenities
Kalka, November 17
Deputy Chief Minister and local MLA, Chander Mohan has written a letter to union minister of Heavy Industries and Public Enterprises regarding the deplorable condition of the HMT residential colony.
Students, teachers resolve to work for country's uplift
Sirsa, November 17
Students and teachers of Chaudhary Devi Lal University have resolved to dedicate themselves to uplift the country and work for the restoration of India's glorious place in the world. At a function held here on the occasion of the National Education Day under the aegis of the mass communication department, various speakers advocated that universities must act as source of revolutionary changes.