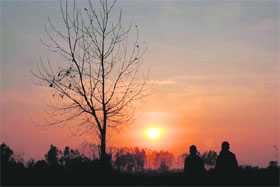 A view of sunset at Dabkoli village in Karnal district. Tribune photo: Ravi Kumar

Relaxation of specifications
State rice millers upset over denial
Chandigarh, December 25
Rice millers of Haryana are upset these days. They feel that the Centre is discriminating against them while their counterparts in Punjab are being favoured.
Rajnath, Chautala to address NDA rally in Gurgaon
Gurgaon, December 25
The BJP-INLD alliance will organise an NDA rally here on January 11. Addressing a joint press conference in this regard here yesterday, leaders of both parties said BJP president Rajnath Singh and INLD commander Om Prakash Chautala would address the rally.
First-aid booth on national highway
Kaithal, December 25
The Lions club, Kaithal Gold, today set up a first- aid booth on the national highway 65 on the premises of Aggarsain Charitable Hospital on the outskirts of the town here.
Kalka-Shimla rail cars on official website
Kalka, December 25
The Railways authorities have finally put information regarding Kalka-Shimla rail cars on its website. Sources in the DRM office say rail cars plying on the Kalka-Shimla track have been included in the website of the department last month.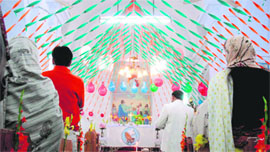 Prayers being offered at the Church of Ascension in Karnal on Thursday. Tribune photo Ravi Kumar

'Stress laid on disaster management system'
Kurukshetra, December 25
While inaugurating a two-week training programme on earthquake risk management on the premises of the National Institute of Technology (NIT) here recently, its director, Dr MN Bandyopadhyay, called upon engineers from various disciplines like mechanical and electrical engineering in addition to civil engineers to play a vital role to save the humanity from disasters.
Meltdown
Industry expresses optimism
Faridabad, December 25
Industry here feels that the global meltdown will not have much affect in India and is of the view that the crisis will blow over soon.
Institutes along highways
Students more prone to road mishaps
Ambala, December 25
The recent accident on the NH-73 where five students lost their lives has once again put a question mark on the safety of students, who are also vulnerable to a similar happening, thanks to the lax attitude of the administration.
Campaign to put reflectors on vehicles
Fatehabad, December 25
Foggy weather causes a number of road accidents these days. Slow moving vehicles, particularly tractors, bullock carts and camel carts have been responsible for many such mishaps.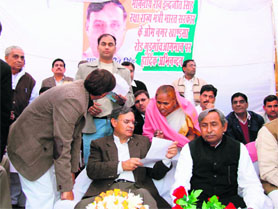 Minister underlines benefits of yoga, ayurveda
Gurgaon, December 25
It was a discourse with a difference. The subject matter comprised the unparalleled benefits of yoga and ayurveda, but the speaker was not a yoga guru or a spiritual preacher.


Union Minister of State for Defence Production Rao Inderjit Singh listens to grievances of residents in Gurgaon on Wednesday. Tribune photo: Sayeed Ahmed

17 new substations to be set up
Karnal, December 25
The Uttar Haryana Bijli Vitran Nigam (UHBVN) and the Haryana Vidyut Prasaran Nigam (HVPN) will establish 17 new power substations at an estimated cost of Rs 90 crore in Karnal district to strengthen the supply network.
Jhajjar pays tributes to its martyr
Jhajjar, December 25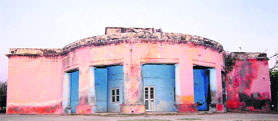 To commemorate the contribution and sacrifice of Jhajjar's Nawab Abdur Rahman Khan, who was hanged to death in front of the Red Fort by the then British regime on December 23, 1857, a ceremony was organised at Shahidi Park here to mark his death anniversary.
The historical building at Chhuchhakwas village in Jhajjar from where Nawab Abdur Rahman Khan was arrested by British forces on December 18, 1857.

LS elections
BSP, Cong in poll mode
Rewari, December 25
Though a decision regarding the holding of the Lok Sabha elections is still a matter of speculation, the Bahujan Samaj Party (BSP), the Haryana Janhit Congress (HJC) and the sitting Congress MP Rao Inderjit Singh, too, are in a poll mode in the Gurgaon constituency of the Ahirwal-cum-Mewat region.
Letter
HUDA's 'faulty' policy
While announcing the policy of reserving residential plots for advocates in HUDA urban estates, it has been provided that the aspiring advocate must be a practising member of such district/subdivision bar association where the urban estate in which he wants to apply for a plot is located.