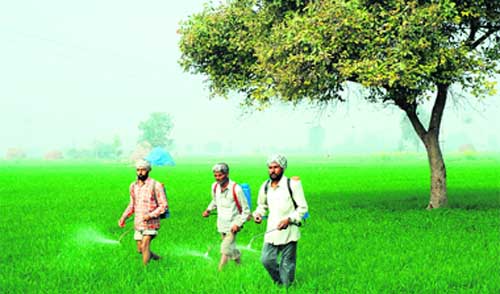 Workers spray pesticides on the wheat crop in Nilokheri near Karnal. Tribune photo: Ravi Kumar
Row over naming of Sirsa-Kariwala road
Sirsa, December 22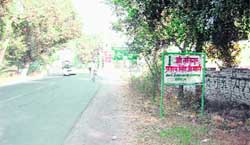 The recent announcement regarding naming of Sirsa-Kariwala road as Satguru Partap Singh Marg after the name of a former guru of the Namdhari sect by Chief Minister Bhupinder Singh Hooda at the December 14 Rania rally, has raised a new controversy.


A hoarding displaying the name of the Rania-Kariwala road as Satguru Partap Singh Marg. Photo: Amit Soni
Power potential remains untapped
Rohtak, December 22
Haryana has a vast potential for energy conservation in the agriculture sector alone by making the existing tubewell system energy efficient.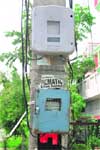 Transformer bank set up
Replacement of defective units
Jhajjar, December 22
Now, residents of the district need not wait for long to get their faulty transformers replaced. Keeping in view the rising incidents of road blockades by villagers in protest against the power crisis due to the burning of transformers, the local authority of the Uttar Haryana Bijli Vitran Nigam (UHBVN) has set up a transformer bank at the subdivisional level for the replacement of the defective transformers without delay.
Roadways plans to improve services
Sonepat, December 22
Besides maintaining its routine services, Haryana Roadways has introduced one of the best service for the convenience of the travelling public during about two-and-a-half-year period of the present government.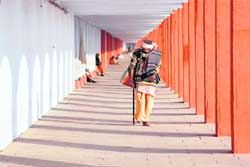 A sadhu walks in a corridor of Brahamsarovar in Kurukshetra. Tribune photo: Ravi Kumar
Underage driving rampant in Ambala
Ambala, December 22
Underage driving has become a nuisance here. According to information, around 800 school students of Ambala city and cantonment have been using two-wheelers frequently. But during the past one year, the police has challaned only a few teenagers for violating traffic rules.
Waterlogged road makes life miserable
Faridabad, December 22
Residents of Adarsh Nagar and Subash Colony in Ballabgarh are sore at the authorites' apathy to their problems.
NREGA: Rs 1 lakh each to be spent on 655 villages
Yamunanagar, December 22
After the successful implementation of the National Rural Employment Guarantee Act (NREGA) in the district, the administration has decided to spend Rs 1 lakh each on all 655 villages under the NREGA from this month.
Rs 23.46 crore for two Jagadhri sectors
Yammunanagar, December 22
The New Year will be significant for residents of Sectors 17 and Sector 18 of HUDA, Jagadhri, as the district administration has approved a HUDA proposal to spend an estimated Rs 23.46 crore on providing a number of facilities and improving the basic amenities there.
Kalka phone exchange being upgraded
Kalka, December 22
BSNL subscribers of Kalka, Pinjore and the neighbouring areas will soon get rid of the problem of frequent failure of the BSNL broadband system, landlines and poor signals of cellular phones as the Kalka telephone exchange is being upgraded.
Govt to take action against pvt schools
Kurukshetra, December 22
The Haryana government will take stern action against those private schools in the state which are not paying salaries and wages to their employees in accordance with the provisions of the Minimum Wages Act.
Sainik School to usher in new era of education
Rewari, December 22
The newly opened Sainik School of Rewari, which is the second one in the state, will usher in a new era of school education in the Ahirwal region which is already an acclaimed nursery of soldiers of the Army.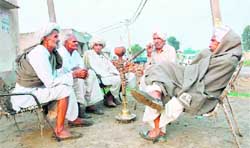 Elders of Rajpura village in Hisar district hold their daily meeting as one of them smokes a hookah despite a ban on smoking at public places. Tribune photo: Ravi Kumar
Neelgai menace assumes alarming proportions
Rewari, December 22
The menace of neelgais (white antelopes) in various parts of the Ahirwal region has alarming proportions for farmers in the past few years
Sulphur-based fertiliser to help retain soil fertility
Karnal, December 22
While progressive farmers are reverting back to "organic farming", the excessive use of fertilisers like urea, DAP, MOP and NPK have resulted in a decline in soil fertility in the states of North Rajasthan, Punjab and Haryana and farmers are facing the problems of stagnant crop yield and low production.
Steps to prevent crime
Gurgaon, December 22
Crime all over the country is increasing and to prevent it the Haryana police has decided to seal the border areas so that such activities can be checked.
Rajput sabha to celebrate anniversary of Maharana Pratap
Rohtak, December 22
The Haryana Rajput Pratinidhi Sabha, a representative body of the Rajputs in the state, has decided to celebrate the birth anniversaries of Maharana Pratap and Rani Laxmibai of Jhansi next year.

NSG commando gets rousing welcome
Bahadurgarh (Jhajjar), December 22
Rajesh Kumar, an NSG commando, who was injured in the Mumbai attacks, received a rousing welcome from the locals when he returned home at his native village of Chhudani, 18 km from here.




NSG commando Rajesh Kumar garlands the statue of Sir Chhotu Ram at Bahadurgarh in Jhajjar district.
Wrestler Amit Kumar felicitated
Sonepat, December 22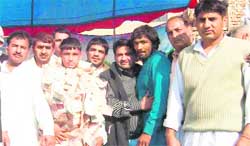 Residents of Bhainswal Kalan village accorded a warm welcome to wrestler Amit Kumar, who bagged a gold medal in the Commonwealth Games, which concluded in Pune on October 18, on his return to the village recently. He was accompanied by Olympic bronze medalist Sushil Kumar. The residents also awarded the wrestler with a cash prize of Rs 7 lakh.
Wrestler Amit Kumar being welcomed in his native Bhainswal Kalan village in Sonepat. Photo by the writer
Bishnoi couple's pledge to donate bodies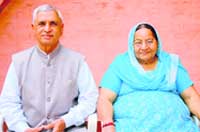 Hisar, December 22
Septugenarian Kashi Ram Godara and his wife Bhagwanti Devi hailing from Chaudharywas village near here have become the first couple among the Bishnoi community to donate their bodies after their death to Rohtak Medical College.



Kanshi Ram Godara and Bhagwanti Devi. Photo: Manoj Dhaka