SCERT Inspection
Teaching of science subjects lacking in government schools
Rewari, December 29
If the report of detailed inspection of science laboratories in various government schools, which was recently conducted by experts of the State Council of Educational Research and Training (SCERT), Gurgaon, is any indication, the teaching of science subjects - Physics, Chemistry and Biology - in general and their practical instruction in particular is in shambles in many the schools in the district.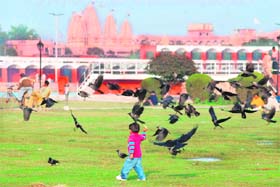 A child plays at Brahmsarovar on a sunny day in Kurukshetra. Tribune photo: Ravi Kumar
Village with 80 per cent SC population faces neglect
Karnal, December 29
Dabkauli Khurd village in Indri subdivision of the district is a glaring example of how the Scheduled Caste habitations are being discriminated against by the government and left to fend for themselves.
Another Khan sibling set to make his mark
Gurgaon, December 29
No doubt that the "super Khans" - Aamir, Salman, Shah Rukh and Saif - rule the tinsel town and after a successful debut by young Imran Khan, another Khan is knocking on the doors.
'Cinema has power to manipulate time, space'
Yamunanagar, December 29
We can manipulate time and space with cinema. Such is the power of cinema. We all have the sense of beauty whether literate or illiterate. And the sense of beauty is innate of human experience. This was stated by film director Goutam Ghose while addressing the gathering during the state international film festival at DAV College for Girls here.


Ensure amenities to workers, factory owners told
Rewari, December 29
Senior executive functionaries and owners of industrial units of Rewari, Dharuhera and Bawal as well as representatives of trade unions participated in a workshop on safety, health and welfare of industrial workers held here recently.

Labour commissioner N.C. Wadhwa at a workshop in Rewari.

Working to make special children self-reliant
Sirsa, December 29
Geeta Kathuria could not understand why her two-year-old daughter Gudoo was different from others. While other children started standing on their feet at the age of eight to nine months, she took almost two years for that.

Special children play at a school run by Disha, a Sirsa-based NGO. Photo: Amit Soni



9 most wanted criminals held in 2008: SSP
Sonepat, December 29
The Sonepat police has arrested nine most wanted criminals carrying rewards ranging from Rs 5,000 to 50,000 on their arrest, during 2008, claimed Senior Superintendent of Police Navdeep Singh Virk here recently.
71 development works under way in Sonepat
Sonepat, December 29
Under the National Rural Employment Guarantee Scheme, as many as 71 development works involving an amount of more than Rs 1.27 crore are being executed in the district during the current financial year.