Protesting EGS teachers to meet senior officials
Bathinda, January 20
After a long struggle, the DC raised a hope among EGS teachers when he called them in the morning and spoke to director (SCRT) and DPI (Elementary). The DC has fixed up their meeting with the authorities in Chandigarh.
Swearing-in of Dy CM
25 buses, 1000 cars to ferry supporters
Bathinda, January 20
Sarup Chand Singla, vice-president of the ruling Shiromani Akali Dal (SAD) today said that Sukhbir Singh Badal would continue to take interest in development of Bathinda even after becoming deputy chief minister of Punjab.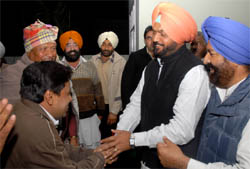 Now, Jassi begins mass contact programme
Bathinda, January 20
Following in the footsteps of Harsimrat Kaur Badal, the opposition Congress today launched a ward-to-ward contact campaign here today.


Local MLA Harmandir Singh Jassi meeting the residents of ward number one in Bathinda on Tuesday. Tribune photo: Malkiat Singh

A noble gesture
Widow donates land worth lakhs to school
Bathinda, January 20
Setting an example of service to humanity, Parsin Kaur donated around 1000 yards of land near an elementary school at Amarpura Basti to the school. The land is worth lakhs but Parsin donated it to the school with the condition that the school should be named after her husband.
Mansa rues lack of facilities for sports
Development still a far cry
Mansa, January 20
Even 15 years after it became a district, Mansa does not have adequate facilities for sports. The students of this district, especially those who have won medals and positions at national and international games, have been feeling the lack of facilities like stadium, grounds, coaches and other infrastructure related to games.
BMC councillors flay authorities on fund allotment|
Bathinda, January 20
An initiative of SAD (B) chief Sukhbir Singh Badal to give all BMC councillors Rs 10 lakh each for the development of the city has become inextricably intertwined with the much-controversial Rs 40-crore beautification project.
Rs 4 cr issued to clear pension cases
Bathinda, January 20
The state government has issued Rs 4.14 crore to clear the pension cases pending from October and November of the last year.
Army wives lend ear to old age home inmates
Sriganganagar/Abohar, January 20
Tears rolling on the wrinkled faces spoke volumes of the pain that the inmates of Sri Narayan Vridh Ashram, located in the village 2-DD of Padampur Tehsil in Sriganganagar district, were putting up with after their kin deserted them.
Drive against stray cattle begins in Moga
Moga, January 20
The animal husbandry department of the state government, with the help of the local administration, has today begun a 15-day exercise to catch stray cattle freely roaming on the roads and streets of this town.
PCCTU calls for strike by teachers on Jan 22
Abohar, January 20
The teachers of 170 non-government and 54 government colleges will observe strike for two hours and stage dharnas, organise rallies and demonstrations in their respective campus on January 22, Punjab and Chandigarh College Teachers Union (PCCTU) president Iqbal Singh Sandhu said here today.
'Implement pay panel report at earliest'
PSSF holds rally
Bathinda, January 20
Demanding early presentation of the Fifth Pay Commission report and its implementation from January 1, 2006, onwards, members of the Punjab Subordinate Services Federation (PSSF) today held a rally and staged demonstration in front of the mini-secretariat.
Mock test for engg students
Bathinda, January 20
Harbhajan Institute would organise a mock test on February 8 from 10 am to 1 pm.
Worker crushed to death
Abohar, January 20
A farm worker, Rajesh Kumar, was crushed to death by a tractor-trailer near village Kular of this sub-division on Tuesday. The driver fled leaving behind the vehicle, the police said.