Jind schools, villages get legal cells
Chandigarh, January 22
Jind has become the first district of the state which has set up legal cells in schools and villages under the micro-legal literacy programme.
CCTV cameras at public places in Panipat

Panipat, January 22
Moved by spurt in the number of crimes taking place in the district and to ensure that the security cover at all important establishments in the district was reinforced, the district administration has ordered the installation of CCTV cameras at 28 different places across the district. Deputy commissioner Vijay Singh Dahiya has asked officials of various public and owners of private undertakings in the district to put up CCTV cameras.
Sukhbir's elevation
Supporters of leading politicians' sons elated
Hisar, January 22
The elevation of Sukhbir Singh Badal as Deputy Chief Minister of Punjab has gladdened the hearts of supporters of sons of important politicians in Haryana in different parties.
Sirsa to have 90 new anganwari centres
Sirsa, January 22
The issue of setting up of daycare units for children, mobile medical units for senior citizens, home for differently abled adults and delivery huts was taken up in a meeting of the coordination committee set up under the Integrated Child Development Scheme (ICDS) here recently.
Join sports for bright future, ace shooter tells youth


Gurgaon, January 22
Where there is a will, there is a way - this old adage has been underlined once again by ace pistol-shooter Seema Tomar, who comes from a rural background. Having won gold medals at SAARC Games held in Kathmandu and Shooting World Cup in Germany, Seema has now set her sights on an Olympic medal. She was part of the Indian shooting squad winning the third position at Doha Asiad in 2003.
Sports,cultural tournaments for differently abled kids end
Fatehabad, January 22
The two-day district- level sports and cultural tournaments for the differently abled children concluded in the local Government Senior Secondary School recently.
UGC team to visit Sonepat varsity
Chandigarh, January 22
A seven-member team of the University Grants Commission (UGC) will visit the Deenbandhu Chhotu Ram University of Science and Technology, Murthal in Sonepat district, tomorrow to carry an inspection before the university is affiliated with the UGC under Section 12-B of the UGC Act. The team will inspect the infrastructure and teaching facilities in the university during its two-day stay.
Street play on Gurgaon's plight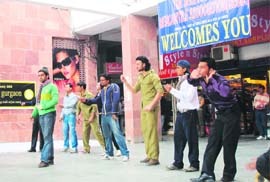 Gurgaon, January 22
A street play, "Gurgaon Ka Sabse Bekar Idol Kaun", based on cleanliness was organised by IamGurgaon in association with DLF City RWA, DLF Estate Developers and the Mercantile Association of Shopping Mall here.


A scene from a street play held in Gurgaon. Photo: Rajesh Kumar Yadav
A life devoted to folk music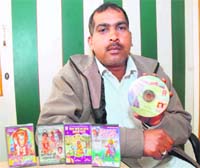 Karnal, January 22
It was a chance meeting with Krishan Lal of Jhattipur in Panipat district while travelling in a bus, but it turned out to be a lifetime experience. The brief encounter with him was very rewarding as he happened to be a famous lyricist and composer who has penned over 4,000 songs and brought out 150 albums.
Krishan Lal Jhattipur, a lyricist, with his collection of albums. Tribune photo: Ravi Kumar
| | |
| --- | --- |
| Karan Singh Yadav | Jyoti Yadav |
Couple gets UGC research project award
Rewari, January 22
With the award of two major research projects by the University Grants Commission (UGC), one each to Dr Karan Singh Yadav, officiating principal of Government College, Ateli in Mahenderrgarh district, and his wife, Jyoti , a lecturer in the same college, the couple has earned a rare distinction in the domain of investigative study of things which are vital for the Indian society.
Conference of Sanskrit poets
Chandigarh, January 22
The Haryana Sanskrit Akademi will organise a national Sanskrit poet conference and scholarship distribution function at Haryana Akademi Building, Panchkula, on January 23 to celebrate the Republic Day.