PUNJAB
HARYANA
JAMMU & KASHMIR
HIMACHAL
REGIONAL BRIEFS
NATION
OPINIONS
LETTERS
BUSINESS
SPORTS
WORLD
Advt
Monday, April 13, 2009, Chandigarh, India
Updated at 3:00 am (IST)

It's Manmohan vs Advani
Congress and BJP are deliberately trying to project the upcoming polls as a direct fight between Manmohan Singh and LK Advani for the prime ministership on the lines of the US presidential polls
New Delhi, April 12
With stakes being so high, campaigning is becoming shriller in the elections to the 15th Lok Sabha with even sober and mature politicians like Prime Minister Manmohan Singh and BJP Prime Ministerial candidate L K Advani attacking each other like never before.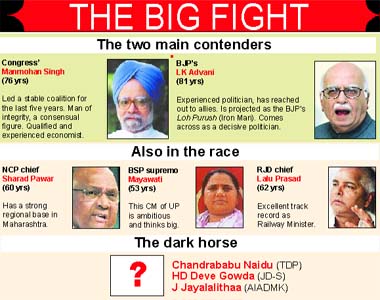 CAST YOUR VOTE
Should the government aggressively seek details of Indian account holders in Swiss banks?

Your Vote
Matters


Shed apathy, cast your vote with wisdom

CHANDIGARH
LUDHIANA
BATHINDA
JALANDHAR
DELHI
LIFESTYLE
DEHRADUN
DEHRADUN PLUS
HIMACHAL PLUS
HARYANA PLUS
J&K PLUS
JALANDHAR PLUS
AMRITSAR PLUS
BRIDES WANTED
GROOMS WANTED
OTHERS
HOW TO PLACE ADVTS
EDUCATION
JOBS & CAREERS
HEALTH & FITNESS
SCIENCE & TECHNOLOGY
REAL ESTATE
SPORTS
TRIBUNE CLASSIFIEDS
Modi takes generation leap
From budhia to gudiya Congress
Shravasti/Faizabad (UP), April 12
After kicking up a row over his description of the Congress as an old woman, BJP's star campaigner and Gujarat Chief Minister Narendra Modi today said he would now call the party "gudiya Congress" instead of a "budhia".
Big question in Bastar
Will polling be violence-free?
Dantewada, April 12
The question in this tribal heartland of Bastar is not who will win this Naxal-affected constituency, it is whether the authorities will be able to pull off the general elections, scheduled here on April 16, peacefully.
Pravin questions Pramod's character, family denies charges
Mumbai, April 12
Three years after his murder, Pramod Mahajan was today a subject matter of a big controversy with his killer-brother Pravin making serious allegations about his character, which Pramod's family dismissed as a "complete lie" and a "character assassination arising out of a political conspiracy".
Naxals attack Nalco site, six feared killed
Bolangir (Orissa), April 12
Just three days after Orissa DGP said that Naxal threat in the state was "more real and graver" than ever, left-wing extremists today struck with vengeance, launching the most daring attack in recent history on a reputed government undertaking in south-east Orissa.
Advt
Own the most prestigious address in Ludhiana.
Exclusive residential
Studio Apartments / Villas & Plots at reasonable prices. For details contact : 9815007979, 9815000122

NDA 60 Glorious Years
1857 The First Challenge
E - Revolution 2005:
A Two-day IT conclave
Assembly Elections - 2005
Turbans
Chandigarh is 50
125 Years of The Tribune
India: The Tasks Ahead
India at Sixty
A Tribune Supplement
EARLIER FEATURES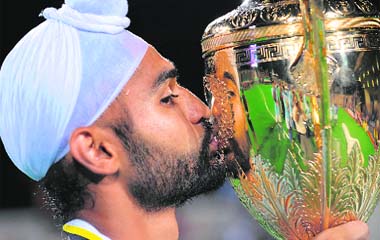 AFTER A LONG WAIT OF 13 YEARS: Indian captain Sandeep Singh kisses the winner's trophy after India beat Malaysia in the final of the Sultan Azlan Shah Cup field hockey in Ipoh, Malaysia, on Sunday. Arjun Halappa, Prabhjot Singh and Shivender Singh sounded the board as India won the tournament beating
Malaysia 3-1. — AFP (Details in Sports page)
Terror Threat During Polls
India not to share info with Pak
New Delhi, April 12
Indian officials say New Delhi is not keen to share with Pakistan any information about threats to Indian leaders from Pakistan-based terrorist groups in the run up to the Lok Sabha elections.


Islamabad calls for sharing intelligence


BJP gets support from PoK families
Poonch, April 12
The BJP has received support from the most unexpected quarters. People from Pakistan occupied Kashmir (PoK) are using loudspeakers to make appeal to those living on the Indian side of the Line of Control (LoC) to vote for "former Prime Minister Atal Behari Vajpayee's party" as he helped unite separated families on both sides of Kashmir.
PM, Sonia target Lalu, Left
April 12, 2009
PM says he was not consulted on Tytler
April 11, 2009
Tytler, Sajjan shooed out of fray
April 10, 2009
All eyes on Sonia, court
April 9, 2009
Missile misses PC, but hits Cong hard
April 8, 2009
April showers play spoilsport
April 7, 2009
Mulayam, PC, Jaswant earn EC ire
April 6, 2009
Terror strikes continue in Pak
April 5, 2009
BJP's poll opera
April 4, 2009
PM, Obama agree on terror
April 3, 2009