PUNJAB
HARYANA
JAMMU & KASHMIR
HIMACHAL
REGIONAL BRIEFS
NATION
OPINIONS
LETTERS
BUSINESS
SPORTS
WORLD
Advt
Own the most prestigious address in Ludhiana.
Exclusive residential
Studio Apartments / Villas & Plots at reasonable prices. For details contact: 9815007979, 9815000122

Monday, May 18, 2009, Chandigarh, India
Updated at 3:00 am (IST)


Govt Formation


Cong may stick to old faithfuls
New Delhi, May 17
As the Congress leadership initiated the process of government formation (possibly on May 22 as in 2004) and portfolio distribution, it came under increasing pressure from the party's Bihar and Uttar Pradesh units to keep out the Rashtriya Janata Dal and the Samajwadi Party.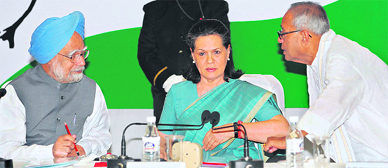 Prime Minister Manmohan Singh, Congress president Sonia Gandhi and Pranab Mukherjee during a Congress Working Committee meeting in New Delhi on Sunday. — AFP photo

Terror, meltdown to top agenda: PM
New Delhi, May 17
Tackling terrorism and the current economic recession will be the new government's foremost priorities, declared Prime Minister Manmohan Singh on Sunday.
CAST YOUR VOTE
Do better-than-expected corporate quarterly results show that India's economy is facing the global recession well?

Advt
India's Renowned Astrologer, Palmist, Tell your DOB,
0172-4372411, 09316048411.
BRIDES WANTED
GROOMS WANTED
OTHERS
HOW TO PLACE ADVTS
EDUCATION
JOBS & CAREERS
HEALTH & FITNESS
SCIENCE & TECHNOLOGY
REAL ESTATE
SPORTS
TRIBUNE CLASSIFIEDS
Jockeying on for key portfolios
New Delhi, May 17
Although the next UPA government is yet to be formed, jockeying for key ministerial berths has already begun.
BJP, RSS, allies commence Advani baiting


New Delhi, May 17
The day after LK Advani and his party, the BJP, were defeated in the general election, Advani baiting has started within the BJP in the RSS and even by allies in the NDA.
NDA 60 Glorious Years
1857 The First Challenge
E - Revolution 2005:
A Two-day IT conclave
Assembly Elections - 2005
Turbans
Chandigarh is 50
125 Years of The Tribune
India: The Tasks Ahead
India at Sixty
A Tribune Supplement
EARLIER FEATURES
Shoe missile: Good omen?
New Delhi, May 17
Call it coincidence or more than that - all political leaders who were made targets of footwear missiles in the run up to the Lok Sabha polls have tasted victory in the elections.
News Analysis
Elections that satisfied major contestants
Chandigarh, May 17
Elections to 13 Lok Sabha seats from Punjab were unique in more than one ways.
Editorial: North by North-West
25-year-old civil war comes to a bitter end in Sri Lanka
Tigers concede defeat
The statement by the Liberation Tigers of Tamil Eelam on Sunday that the group has decided to "silence it's guns" means an end of the bitter civil war that had ravaged Sri Lanka's north and east for the past 26 years and left thousands dead.
LeT exploits refugee camps in Swat
An Islamist charity accused of links to the militant fundamentalists blamed for the Mumbai terror attacks has resurfaced at the centre of the aid to the Taliban.
UPA returns to power
May 17, 2009

BJP, Congress wake up to Nitish's Bihar
May 16, 2009

Congress, BJP search for friends, plot for power
May 15, 2009

Voting ends on a high note
May 14, 2009

Cong, BJP all out to woo allies
May 13, 2009

UPA set to stage a comeback: PM
May 12, 2009

In last lap, NDA presents united face
May 11, 2009
Manmohan ignores demand for Eelam
May 10, 2009
SC suspends mining in Aravallis
May 9, 2009