Violence: Rly refunds Rs 94 lakh to passengers
Amritsar, May 29
An amount of Rs 94 lakh was refunded to the passengers by the Ferozepore Division of the Northern Railway due to cancellation of trains, of this Rs 47 lakh was refunded at two railway stations of Jammu and Amritsar during past two days.
Corridor to Kartarpur Sahib: SGPC team to meet PM
Gurdaspur, May 29
A deputation of the Shiromani Gurdwara Prabandhak Committee (SGPC) would call on Prime Minister Dr Mammohan Singh for securing a corridor from Dera Baba Nanak to Gurdwara Kartarpur Sahib located in Pakistan, said SGPC President Avtar Singh.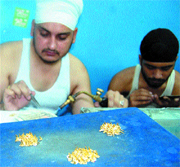 Government Apathy To Be Blamed
Nose pin trade fails to flourish
Amritsar, May 29
In the absence of any marketing facility about 50,000 artisans making nose pins, which are being sold not only in the country but across the world, have not been able to promote their business. About 80 per cent of the total supply of nose pins made of gold, silver and copper in the world was being produced here and almost every household in the market near Gurdwara Shaheedan was engaged in this business.
Villagers 'manhandle' govt teacher
Amritsar, May 29
The Punjab Subordinate Services Federation, headed by Jarmanjit Singh, today alleged that Parminder Singh, a teacher posted at a government elementary school in Loharawala village in Rayya, was allegedly manhandled by several residents of the village on the school premises.
3 builders booked for Rs 45-lakh fraud
Amritsar, May 29
The police has booked three private builders of Mumbai for allegedly duping a city resident of Rs 45.6 lakh.
Violence: Khaira demands CBI probe
Amritsar, May 29
Demanding a high-level judicial probe by a sitting judge, Punjab Pradesh Congress Committee (PPCC) spokesman Sukhpal Singh Khaira said at a press conference here today that the state government had failed to curb violence following the Vienna incident and added that there was a deep-rooted conspiracy in creating a wedge in society.
SBI adopts 14 poor students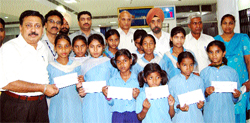 Amritsar, May 29
Taking up a noble cause of providing education and uplifting the life of poor children, the State Bank of India, Amritsar Cant Branch, has adopted as many as 14 students of Nishkam Seva Public School, being run by Sardara Singh, a social activist.

SBI officials distribute cheques among poor students of Nishkam Seva Public School in Amritsar. Photo: Vishal Kumar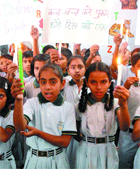 Schoolchildren with candles in hands pray for peace and harmony in Amritsar. A Tribune photo
Admissions for BTech, MSc begin
Amritsar, May 29
The Guru Nanak Dev University has invited applications for admission to BTech (Sugar and Alcohol Technology) and MSc Nano Science and Technology courses on prescribed forms available in the university prospectus for the session 2009-10.
NGOs to people: Use energy for development
Amritsar, May 29
Disturbed over the recent violence and rampage destructions in the region in the aftermath of the Vienna incident, Joint Effort --- the umbrella organisation of eight NGOs --- has urged the people not to waste their energy for destructive purposes but to use it for saving the environment and development of the country.
PFUCTO to CM
Implement UGC scales
Amritsar, May 29
President Dr S.S. Dhillon and vice-presidents Dr Jaipal Singh and Dr Ronki Ram of the Punjab Federation of University and College Teachers Organisations (PFUCTO) in a joint statement issued here today urged Chief Minister Parkash Singh Badal to implement the UGC pay scales and other service conditions for the university and college teachers as agreed at a meeting on February 13.
School Buzz
3 DAV boys clear IIT
Amritsar, May 29
Three students of DAV Senior Secondary School, Nitin Sharma, Abhishek Gupta and Sahil Sharma, have cleared the IIT examination - 2009.