PUNJAB
HARYANA
JAMMU & KASHMIR
HIMACHAL
REGIONAL BRIEFS
NATION
OPINIONS
LETTERS
BUSINESS
SPORTS
WORLD
Thursday, December 3, 2009, Chandigarh, India
Updated at 3:00 am (IST)

ULFA chief held in B'desh
Guwahati, December 2
In the most serious setback that has been suffered by the banned United Liberation Front of Assam (ULFA) in recent times, its chairman Arabinda Rajkhowa was arrested by Bangladeshi agencies somewhere near Dhaka in Bangladesh on Monday night. He was flown to New Delhi late this evening.


India-Bangla ink pacts to tackle terrorism

Nation page: 2 Bangalore terror suspects held
CAST YOUR VOTE
Has the level of security improved a year after the 26/11 terrorist attack?

EDUCATION
JOBS & CAREERS
HEALTH & FITNESS
SCIENCE & TECHNOLOGY
REAL ESTATE
SPORTS
US will send 30,000 more troops to Afghanistan: Obama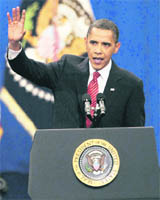 US President Barack Obama on Tuesday committed 30,000 additional US troops to the war in Afghanistan, set a July 2011 deadline for start of their withdrawal and acknowledged that success in the war against the Al-Qaida and the Taliban was "inextricably linked" to cooperation from Pakistan.

President Barack Obama talks about the Afghan policy in New York on Wednesday. AP/PTI

PC: Forces to be reduced in J-K
Says it's risky but Centre ready
New Delhi, December 2
Twenty years after Pakistan-sponsored militancy took roots in Jammu and Kashmir, Union Home Minister P. Chidambaram today announced a reduction in force deployment levels in the state even as he himself admitted that it could be a "risky step."
Govt in talks with J&K separatists: PC
Advt
NDA 60 Glorious Years
1857 The First Challenge
E - Revolution 2005:
A Two-day IT conclave
Assembly Elections - 2005
Turbans
Chandigarh is 50
125 Years of The Tribune
India: The Tasks Ahead
India at Sixty
A Tribune Supplement
EARLIER FEATURES
On Sundays
On Saturdays
IAF grounds Sukhois
New Delhi, December 2
Two days after a Sukhoi fighter jet crash, the second this year, the Indian Air Force has grounded its entire fleet of 100 SU-30 aircraft.
Army begins probe into battery blast
Jalandhar, December 2
A four-member team of Army officers today inspected the site of last evening's battery blast in Jalandhar Cantonment and initiated investigations.
Punjab's farm debt up five times in a decade
Chandigarh, December 2
Despite tall claims by successive governments of going out of their way to help the farmers in Punjab, farm debt in the state has increased five times over the last decade. Translated into numbers, Punjab farmers who were in debt amounting to Rs 5,700 crore in 1997, today have a debt liability of over Rs 30,394 crore.


India is world's biggest newspaper market
Hyderabad, December 2
With a sale of 107 million newspapers daily, India is the biggest newspaper market in the world. Together with China and Japan, it accounts for over 60 per cent of the global newspaper sales.
Obama calls up PM, discusses Af-Pak
December 2, 2009
Question Hour cut short as MPs play truant
December 1, 2009
Reprocessing deal likely in 10 days
November 30, 2009
PM turns the heat on developed nations
November 29, 2009
China boost to Pak military troubles India
November 28, 2009
Parliament resolves to defeat terrorism
November 27, 2009
Won't rest till attackers are punished, says PM
November 26, 2009
Vajpayee, Advani, Joshi indicted
November 25, 2009
Pak has not done enough: PM
November 24, 2009
Twin blasts rock Assam
November 23, 2009