PUNJAB
HARYANA
JAMMU & KASHMIR
HIMACHAL
REGIONAL BRIEFS
NATION
OPINIONS
LETTERS
BUSINESS
SPORTS
WORLD
Saturday, February 13, 2010, Chandigarh, India
Updated at 3:00 am (IST)

TRS cries 'betrayal' over Centre's terms
Objects to united AP demand, to intensify stir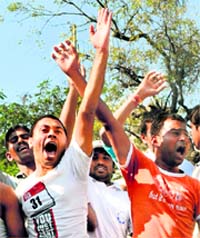 Hyderabad, February 12
The Telangana region was once again thrown into political turmoil today with the protagonists of separate state rejecting the terms of reference of the Justice Srikrishna committee and vowing to intensify their agitation.


Terms of reference on Telangana

Dec 31 deadline for Telangana panel to file report
Members of the Telangana Students Joint Action Committee shout slogans against the Srikrishna Commission during their protest at Osmania University in Hyderabad on Friday. — AFP
CAST YOUR VOTE
Should khap panchayats have any right to interfere in matrimonial matters?

Advt
EDUCATION
JOBS & CAREERS
HEALTH & FITNESS
SCIENCE & TECHNOLOGY
REAL ESTATE
SPORTS
Sena flops as Khan steals the show
Multiplexes, fans give thumbs up to MNIK; Maharashtra govt tames Sainiks
Mumbai, February 12
Hundreds of fans braved threats by the Shiv Sena to feast on Shah Rukh Khan's 'My Name is Khan' (MNIK) at theatres across Maharashtra as the state government went into an overdrive to prevent the disruption of film's screening.


Nation page: Sena threatens more action
Indo-Pak talks on February 25
New Delhi, February 12
The stage is set for Foreign Secretary-level talks between India and Pakistan in New Delhi on February 25, more than 14 months after India suspended the dialogue with the neighbouring country in wake of the Mumbai attacks.
School Fire
Staff airlifted; CM visits site
Guwahati, February 12
The authorities today airlifted 14 staff members, including four fathers, from the Don Bosco School in Palin in Arunachal Pradesh after enraged locals attacked the institution in wake of Wednesday's fire tragedy that left 14 children dead.
NDA 60 Glorious Years
1857 The First Challenge
E - Revolution 2005:
A Two-day IT conclave
Assembly Elections - 2005
Turbans
Chandigarh is 50
125 Years of The Tribune
India: The Tasks Ahead
India at Sixty
A Tribune Supplement
EARLIER FEATURES
On Sundays
On Saturdays
22-yr-old kills two fellow Indians in Oz
In a gruesome incident, a 22-year-old allegedly killed two fellow Indian students, both brothers, in Australia's westernmost city of Perth on Friday morning, following a fight over money and living arrangements in an apartment they were sharing. The identity of all three has not been revealed.
LCH to take first test flight by month-end
New Delhi, February 12
India's first indigenously made Light Combat Helicopter (LCH) will be making its maiden flight soon, most likely by the end of this month. Managing Director of the Hindustan Aeronautics Limited's helicopter complex R Srinavasan today said development of the LCH was well on its way and the attack helicopter would have its initial flight very soon.
Surrender Policy
Man hopeful of son's return
Srinagar, February 12
For 16 years, Ghulam Qadir of Ladoora village in Baramulla district was unaware of the fate of his son who had crossed over to the PoK to take arms and ammunition training, and it was only after one of his relatives visited Muzaffrabad on the Carvan-e-Aman bus that he came to know that his son was alive.


Nation Page: BJP flays PC offer to Kashmiri militants
Centre ready for amnesty to Kashmiri ultras in PoK
February 12, 2010
Shiv Sena stirs more trouble over Khan
February 11, 2010
No to Bt Brinjal, for now
February 10, 2010
Avalanche turns grave for 17 Army men in J&K
February 9, 2010
CMs one on internal security
February 8, 2010
Panel to tackle price pangs
February 7, 2010
Rahul hops onto Mumbai trains to snub Shiv Sena
February 6, 2010
Let's talk, India tells Pak
February 5, 2010
If PM panel has its way, LPG to go up by Rs 100
February 4, 2010
Amar, Jaya Prada expelled
February 3, 2010