10-month-old girl drowns in bucket
Bathinda, May 19
A 10-month-old girl of the Hazura Kapura basti here drowned in a bucket filled with water today. Sources in the locality informed that the daughter of Room Singh was playing with a water bucket in the bathroom. The family came to know about the mishap when the girl's uncle went to bathroom to bring her out but found her lying upside down in the bucket.
'Half-ticket entitles child to a seat in PRTC bus'
Bathinda, May 19
The general manager (GM) of the Bathinda depot of the PRTC Iqbal Singh on Wednesday released a sticker, carrying the message that the child between three years and 12 years after buying half-ticket has the right to occupy a seat in the bus.
Work on 14 RoBs delayed
Fatehgarh Sahib, May 19
As many as 14 railway overbridges (ROBs) in Punjab await to get operational due to the delaying attitude of the Railways department.
Engg student abducted from Amritsar recovered
Bathinda, May 19
A 23-year-old engineering student of Amritsar, Gurinderbir Singh, who was kidnapped on Monday, when he was on his way to a coaching centre located on the Queens' road in Amritsar, has been recovered from village Khiala of Mansa district this afternoon.
To buy electricity worth Rs 1800-cr
State gears up for paddy season ahead
Arniwala (Ferozepur), May 19
Punjab Deputy Chief Minister Sukhbir Singh Badal today announced that arrangements had been made to purchase enough electricity power at a cost of Rs 1800 crores to meet the demand for the same during the coming paddy transplantation season.
Decision soon
Party may field youth in SGPC polls: Sukhbir
Teh Kalander (Ferozepur), May 19
Deputy Chief Minister and president of SAD (Badal) Sukhbir Badal said that the party had been contemplating to nominate suitable youths as its candidates for the elections to the Shiromani Gurudwara Parbandhak Committee (SGPC), due after a few months.
Memorial raised to honour martyr
Abohar, May 19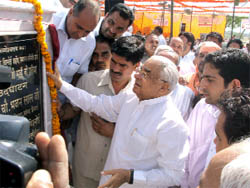 While inaugurating the memorial that has been raised to recognise the sacrifice made by one Hazari Lal Manjhu, in saving a blackbuck, at village Mehrajpur Dhora today, former Haryana Chief Minister Bhajan Lal said the Bishnoi community would always be respected for protecting animals and trees. Akhil Bhartiya Bishnoi Sabha president Malkhan Singh, MLA from Looni, said Manjhu kept the tradition up by chasing hunters in the open wildlife sanctuary and became a martyr.

Bhajan Lal, former CM of Haryana, inaugurating a memorial for Hazari Lal Manjhu in village Mehrajpur Dhora. Photo: Raj Sadosh
Amarnath yatra
NGOs resolve not to pay VAT
Abohar, May 19
More than 125 NGOs, commonly known as Shri Amarnath Yatra Langar Sewa Samitis, have resolved to force entry into Jammu and Kashmir during the last week of the next month without paying VAT and other taxes, Bhim Sain Jat, president of the Shri Amarnath Langar Sewa Samiti, informed during the "arthi phoonk" demonstration here at the Ghantaghar Chowk today.
Tax evasion by municipal contractors
Excise authorities begin probe
Moga, May 19
Reacting to a news item 'Purchase of tiles: Moga MC contractors evade VAT' published in these columns of The Tribune on May 15, the Assistant Excise and Taxation Commissioner (AETC) of Moga SJS Bisla has today begun probe into the reports of tax evasion in the purchase of material for construction works done by the contractors of the local body in the town.
'Daughters at par with sons'
Fazilka, May 19 "The agriculturist families of Punjab would be able to hold permissible area of the agriculture land of a daughter ever after her marriage," disclosed Sukhbir Singh Badal, while talking to this correspondent today at village Tahliwala Jattan at the residence of SGPC executive member Gurpal Singh Grewal.
Steroids found in drugs
Ayurveda dept swings into action
Moga, May 19
The Ayurveda department of Punjab has swung into action, following the swoop by the CBI on a herbal drug manufacturing company at Moga on having found steroids and other chemical/allopathic formulations in herbal medicines being prepared by it.
ETT teachers to hold meeting with Sukhbir
Fazilka, May 19
To resolve the issue of ETT Teachers, the Inspector General of Punjab Police Bathinda Zone Rohit Chaudhary arranged a meeting of the state-level representatives of the ETT teachers with the Deputy Chief Minister Sukhbir Singh Badal today at the residence of SGPC executive member Gurpal Singh Grewal at village Tahliwala Jattan of this sub-division, sources said. — OC
Privatisation of school
Villagers storm govt school in Abohar
Abohar, May 19
More than 150 villagers led by the Zila Parishad member Sukhdev Singh, local advisory panel members Karam Singh and Raja Singh, stormed the Government Senior Secondary School at village Rajpura, located near the inter-state barrier on Abohar-Hanumangarh road today. The students too later joined the agitating villagers.
Sarpanch booked for misusing pension funds
Fazilka, May 19
Sarpanch of village Bahmniwala has allegedly misappropriated pension funds to the tune of about Rs 10,000. On the complaint of Lal Singh, a resident of village Bahmniwala to the Punjab Human Right Commission (PHRC), the Sadar Police, Jalalabad, has booked Karam Singh, sarpanch under section 409 of the IPC.