PUNJAB
HARYANA
JAMMU & KASHMIR
HIMACHAL
REGIONAL BRIEFS
NATION
OPINIONS
LETTERS
BUSINESS
SPORTS
WORLD
Thursday, June 3, 2010, Chandigarh, India
Updated at 3:00 am (IST)


A TRIBUNE INVESTIGATION


Sukhna is dying, save it!
n Chandigarh Admn, Haryana Govt share the blame for its sorry state
n Much of lake catchment area denuded, check dams silted over
n Pernicious weed throttling Sukhna, poor rainfall another woe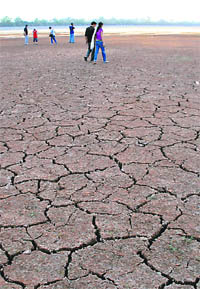 Chandigarh, June 2
You can play soccer on the drying bed of Sukhna today, the lake where the Senior Asian Rowing Championship was held in 1989, and which was famous for its rowing channel being the longest in Asia.You really don't need statistics to tell you that Sukhna is dying - just take a walk - on it!


With the Sukhna lake water receding, residents now even walk and play football on its drying bed. Tribune photos: Pradeep Tewari


WHY SUKHNA IS DYING- I
Catchment neglect
Chandigarh, June 2
Sukhna, the landmark waterbody of the City Beautiful, is dying. The water level of the lake has receded from 18 feet in 1958 to approximately four-and-a-half feet today.
CAST YOUR VOTE
Should the execution of Ajmal Kasab's death sentence be put on fast track?

EDUCATION
JOBS & CAREERS
HEALTH & FITNESS
SCIENCE & TECHNOLOGY
REAL ESTATE

SPORTS & WELLNESS
Mamata derails CPM in Bengal civic polls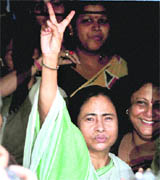 Kolkata, June 2
Trinamool Congress today dealt a stunning blow to the ruling Left Front by sweeping the Kolkata Municipal Corporation polls, results for which were announced today. Also, the Mamata Banerjee-led Trinamool Congress (TMC) won a majority of the 80 other municipalities in the district, 17 of them in alliance with the Congress.
Trinamool Congress chief Mamata Banerjee flashes the victory sign in Kolkata on Wednesday. — PTI

Trinamool fades CPM's red
Left Front accepts defeat but rules out early Assembly elections
New Delhi, June 2
For the Left Front, it was yet another day in the long, weary journey to introspection that began with last year's Lok Sabha polls when Mamata Banerjee led-Trinamool Congress stormed Bengal's red bastion.
(Details on Nation page)

UNION BUDGET 2010-11
RAILWAY BUDGET
2010-11
NDA 60 Glorious Years
1857 The First Challenge
E - Revolution 2005:
A Two-day IT conclave
Assembly Elections - 2005
Turbans
Chandigarh is 50
125 Years of The Tribune
India: The Tasks Ahead
India at Sixty
A Tribune Supplement
EARLIER FEATURES
On Sundays
On Saturdays
Cong bows to Mamata, orders CBI probe into train tragedy
New Delhi, June 2
The ruling UPA coalition led by the Congress today bowed to the demand of its key-yet-tempestuous ally, the Mamata Banerjee-led Trinamool Congress. On her demand, a CBI probe has been ordered into last Friday's train accident in which 148 persons lost their lives at Jhargram in West Bengal.


4 suspected Naxals held
Art of Living Foundation resents PC's remark
Bangalore, June 2
The Art of Livng (AoL) Foundation headed by Sri Sri Ravishankar has taken a strong exception to Union Home Minister P Chidambaram's remark that the AoL guru was not the target of the shooting incident at the ashram on May 30.
Optimistic PM pegs growth at 8.5 pc
June 2, 2010

Rail mishap takes political hues
June 1, 2010

US rehearses strikes on Pak
May 31, 2010
New education draft has states smiling
May 30, 2010
Maoists target train, 76 dead
May 29, 2010
AI limps back to normalcy
May 28, 2010
Air India strike off, 15 union members sacked
May 27, 2010
Rathore arrested, sent to jail
May 26, 2010
Good ties with Pak to benefit India: PM
May 25, 2010
Time for Re-alliance
May 24, 2010