PUNJAB
HARYANA
JAMMU & KASHMIR
HIMACHAL
REGIONAL BRIEFS
NATION
OPINIONS
LETTERS
BUSINESS
SPORTS
WORLD
Saturday, June 12, 2010, Chandigarh, India
Updated at 3:00 am (IST)

Cong in tizzy as Bhopal row rages
Core panel meets; party denies former
PM's hand in Anderson's release
New Delhi, June 11
The Congress core group, chaired by party president Sonia Gandhi, met here today as the swirling controversy over the 26-year-old Bhopal gas tragedy moved dangerously close to implicating late Prime Minister Rajiv Gandhi for ordering the release of former Union Carbide chief Warren Anderson after having been charged with culpable homicide not amounting to murder.


CBI failed to act on warrant in 2009
Alexander hints at Rajiv role


Chennai, June 11
A top aide of Rajiv Gandhi tonight spoke in contradictory voices about the Bhopal gas tragedy, first ruling out the late Prime Minister's involvement in the sudden release of former Union Carbide chief Warren Anderson and later hinting that he might have had a role.
CAST YOUR VOTE
Should the execution of Ajmal Kasab's death sentence be put on fast track?

EDUCATION
JOBS & CAREERS
HEALTH & FITNESS
SCIENCE & TECHNOLOGY
REAL ESTATE

SPORTS & WELLNESS
Soccer City lights up
n World Cup party begins
n Glittering opening ceremony
Johannesburg, June 11
The first World Cup football in Africa kicked off with a feast of song and dance as thousands of musicians and dancers in South Africa's Soccer City stadium welcomed the world "home" to the continent where man took his first steps.
No Army in Naxal zones: Govt
Fresh strategy to focus on revamping of police, paramilitary
New Delhi, June 11
Fearing political fallout, the Union Government has decided that the Army cannot be directly deployed to tackle the Naxal menace in the country. "As of now the induction of the Army (into the Naxal belt) has been ruled out," highly placed sources in the government said.
UNION BUDGET 2010-11
RAILWAY BUDGET
2010-11
NDA 60 Glorious Years
1857 The First Challenge
E - Revolution 2005:
A Two-day IT conclave
Assembly Elections - 2005
Turbans
Chandigarh is 50
125 Years of The Tribune
India: The Tasks Ahead
India at Sixty
A Tribune Supplement
EARLIER FEATURES
On Sundays
On Saturdays
7-day Headley questioning over
Washington, June 11
Indian investigators have concluded questioning of Mumbai terror attack plotter David Coleman Headley with the US Justice Department saying the team faced "no restrictions" during the seven-day probe of the Pakistani-American.
India to abide by UN sanctions against Iran
But says these are counter-productive
New Delhi, June 11
Despite its stand that the Iranian nuclear issue should be resolved peacefully, India will abide by the new sanctions imposed by the UN Security Council against the Islamic nation.


Under pressure from US?
Elusive Water – 1
As water level dips, farmers' debts rise
Patiala/Sangrur, June 11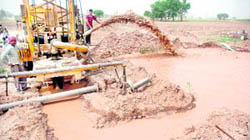 Central Punjab has been the food basket of the state and the country since the 70s when the Green Revolution brought bumper wheat and paddy crops in its wake.
Five held with RDX, heroin in Amritsar
June 11, 2010

Tamils will get their due, says Rajapaksa
June 10, 2010

The blame game is on
June 9, 2010

Keshub, 7 others convicted
June 8, 2010

Army suspends Major in fake encounter case
June 7, 2010

Post-regret, Canada has little new to say
June 6, 2010

Obama to keep his November date
June 5, 2010

Krishna pitches for access to Headley
June 4, 2010

Sukhna is dying, save it!
June 3, 2010

Optimistic PM pegs growth at 8.5 pc
June 2, 2010