PUNJAB
HARYANA
JAMMU & KASHMIR
HIMACHAL
REGIONAL BRIEFS
NATION
OPINIONS
LETTERS
BUSINESS
SPORTS
WORLD
Monday, June 14, 2010, Chandigarh, India
Updated at 3:00 am (IST)

BJP, JD(U) in face-saving mode
LK Advani, Sharad deny strain in ties
Patna, June 13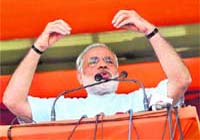 The BJP sought to underplay rather ignore the strong reaction of its ruling alliance partner in Bihar JD(U) over a controversial advertisement, displaying the photograph of Bihar Chief Minister Nitish Kumar and his Gujarat counterpart Narendra Modi raising each other's hand, carried by prominent newspapers in Bihar on the first day of its national executive meeting.


Modi attacks Sonia for 'silence' on Bhopal

Nation page: Modi blows his own trumpet
CAST YOUR VOTE
Should the execution of Ajmal Kasab's death sentence be put on fast track?

EDUCATION
JOBS & CAREERS
HEALTH & FITNESS
SCIENCE & TECHNOLOGY
REAL ESTATE

SPORTS & WELLNESS
Zardari 'assures support' to Taliban


London, June 13
Pakistan President Asif Ali Zardari recently met 50 captured Taliban leaders, including Mullah Abdul Ghani Baradar, in a prison to assure them that their outfit had his government's full support and that they would be freed soon, a media report claimed here today.


World page: Supporting Taliban 'official ISI policy'
India wary of China's increasing role in Lanka
New Delhi, June 13
The growing influence of China in Sri Lanka, which may upset New Delhi's geo-political interests in South Asia, appears to have compelled the South Block weigh the pros and cons of removing restrictions on arms sales to the island nation.
UNION BUDGET 2010-11
RAILWAY BUDGET
2010-11
NDA 60 Glorious Years
1857 The First Challenge
E - Revolution 2005:
A Two-day IT conclave
Assembly Elections - 2005
Turbans
Chandigarh is 50
125 Years of The Tribune
India: The Tasks Ahead
India at Sixty
A Tribune Supplement
EARLIER FEATURES
On Sundays
On Saturdays
Maoist plan to target politicians foiled
Hyderabad, June 13
The Andhra Pradesh police today claimed to have foiled an attempt of a Maoist team from Karnataka to target political leaders and senior police officers in the state by arresting one of its members.

Pacheco to move HC
Panaji, June 13
Former Goa Tourism Minister Fransisco Mickey Pacheco will move the high court for anticipatory bail tomorrow. The Goa bench of the Bombay High Court will also hear the anticipatory bail petition filed by Pacheco's aide Lyndon Monteiro tomorrow.


Biz Buzz: Ambanis on safari together
New Delhi, June 13
Leaving little to doubt about their growing understanding at home and at work, Mukesh and Anil Ambani holidayed with their families in South Africa and are believed to have discussed synergising their businesses to mutual advantage.
UNITED THEY STAND:
Anil and Mukesh, along with their families, revisited the same lodge at the Kruger National Park in South Africa, where their father had taken them in 2000
Photo with Modi annoys Nitish Kumar
June 13, 2010

Cong in tizzy as Bhopal row rages
June 12, 2010

Five held with RDX, heroin in Amritsar
June 11, 2010

Tamils will get their due, says Rajapaksa
June 10, 2010

The blame game is on
June 9, 2010

Keshub, 7 others convicted
June 8, 2010

Army suspends Major in fake encounter case
June 7, 2010

Post-regret, Canada has little new to say
June 6, 2010

Obama to keep his November date
June 5, 2010

Krishna pitches for access to Headley
June 4, 2010