PUNJAB
HARYANA
JAMMU & KASHMIR
HIMACHAL
REGIONAL BRIEFS
NATION
OPINIONS
LETTERS
BUSINESS
SPORTS
WORLD
Thursday, June 17, 2010, Chandigarh, India
Updated at 3:00 am (IST)

Costly power shocks Punjab industry
Duty hiked to 13%; Business threatens to pullout
Chandigarh, June 16
The recent hike in electricity duty from 10 to 13 per cent has made power in Punjab the second-most expensive in India. Registering protest against the hike, members of the Apex Chamber of Commerce and Industry (ACCI) today threatened to shut down their factories and move to other states.
Rouvanjit Suicide Fallout
Schools not to get away with corporal punishment


Centre to frame first-ever guidelines to define liability of teachers, schools
Child's death due to school harassment to be equated with custodial death
New Delhi, June 16
In his death, Kolkata school boy Rouvanjit Rawla has inspired big change.
CAST YOUR VOTE
Should Warren Anderson be expedited?

EDUCATION
JOBS & CAREERS
HEALTH & FITNESS
SCIENCE & TECHNOLOGY
REAL ESTATE

SPORTS & WELLNESS
Heavy rains coupled with strong winds on Wednesday lashed Mumbai and its suburbs, disrupting air and rail traffic.

Nine persons lost their lives in different incidents of wall collapses in and around the city. The downpour has so far claimed 46 lives in the state.

Monsoon has advanced to parts of Gujarat, with the Met office warning that winds with a speed of 60 kmph could sweep the region.

A taxi plies on a water-logged street after a heavy shower in Parel, Mumbai, on Wednesday. — PTI
'Greedy' carriers overlook glitches

Pressure on pilots to not report faulty equipment

Low-quality spare parts used to cut costs

Voices for independent air safety board get shriller
Mumbai, June 16
Airline executives and passengers alike are demanding that the government set up an independent air safety regulator to oversee the functioning of airlines, airports and even the Director General of Civil Aviation.
UNION BUDGET 2010-11
RAILWAY BUDGET
2010-11
NDA 60 Glorious Years
1857 The First Challenge
E - Revolution 2005:
A Two-day IT conclave
Assembly Elections - 2005
Turbans
Chandigarh is 50
125 Years of The Tribune
India: The Tasks Ahead
India at Sixty
A Tribune Supplement
EARLIER FEATURES
On Sundays
On Saturdays
It's official, permanent commission for women in IAF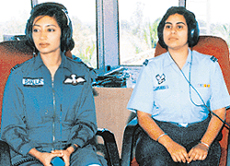 New Delhi, June 16
After winning a three-year-long court battle, women officers of the Air Force will now be accorded permanent commission for which an exercise has been initiated by the IAF. "Yes, we have already started the process for according permanent commission to women officers in accordance with the Delhi High Court orders," a senior IAF officer said.


Gold walls for Bangla Sahib Gurdwara
Critics say money could have been used for educating community kids
New Delhi, June 16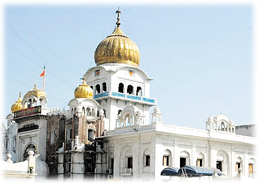 If all goes according to the plan, the main prayer hall of the historic Bangla Sahib Gurdwara in the Capital will soon shine with yellow metal. Around 125 kg of gold, costing nearly Rs 23.75 crore (as per the current market rate) will be required for the ambitious project.
Chautala & sons booked
June 16, 2010

Centre, Nagas enter truce lane
June 15, 2010

BJP, JD(U) in face-saving mode
June 14, 2010

Photo with Modi annoys Nitish Kumar
June 13, 2010

Cong in tizzy as Bhopal row rages
June 12, 2010

Five held with RDX, heroin in Amritsar
June 11, 2010

Tamils will get their due, says Rajapaksa
June 10, 2010

The blame game is on
June 9, 2010

Keshub, 7 others convicted
June 8, 2010

Army suspends Major in fake encounter case
June 7, 2010