PUNJAB
HARYANA
JAMMU & KASHMIR
HIMACHAL
REGIONAL BRIEFS
NATION
OPINIONS
LETTERS
BUSINESS
SPORTS
WORLD
Saturday, June 19, 2010, Chandigarh, India
Updated at 3:00 am (IST)

Now, joint engg, medical test
New Delhi, June 18
If all goes well, class XII pass-outs will not have to take separate the All-India Engineering Entrance Exam (AIEEE) and All-India Pre-Medical Test (AIPMT) entrance tests from the next academic session. Taking the ongoing examination reforms forward, the Human Resource Development Ministry today said the two tests would be merged to reduce the stress of staggered testing on students.
3 dead as train rams into bus at unmanned crossing
Chak Shakur (Jalandhar) June 18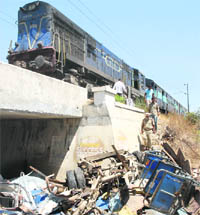 Another unmanned level crossing claimed three lives on Friday morning when the Jammu-Howrah Himgiri Express rammed into a private bus near Chak Shakur, 34 km from Jalandhar on the Jalandhar-Jammu highway. A worse tragedy was averted as the mini-bus had only three passengers and the driver inside at the time of the accident.


A pall of gloom descends in Moklan village

The accident site near Chak Shakur in Jalandhar district. Tribune photo: Malkiat Singh

CAST YOUR VOTE
Should Warren Anderson be expedited?

EDUCATION
JOBS & CAREERS
HEALTH & FITNESS
SCIENCE & TECHNOLOGY
REAL ESTATE

SPORTS & WELLNESS
CBI busts railway recruitment scam
Board chief suspended, his son among 8 held
New Delhi, June 18
In a major embarrassment to the Railways, the Chairman of the Railway Recruitment Board, Mumbai, SM Sharma, was today placed under suspension after his son was arrested by the CBI for allegedly leaking out questions for a recruitment exam.
Kanishka Bombing
Canadian PM promises action
Toronto, June 18
Canadian Prime Minister Stephen Harper promised to respond positively to the damning report into the 1985 Kanishka bombing, specifically on the call for compensation, as the families torn apart by the tragedy said the word 'closure' still haunts them.


Editorial: Canadian "atrocity"
UNION BUDGET 2010-11
RAILWAY BUDGET
2010-11
NDA 60 Glorious Years
1857 The First Challenge
E - Revolution 2005:
A Two-day IT conclave
Assembly Elections - 2005
Turbans
Chandigarh is 50
125 Years of The Tribune
India: The Tasks Ahead
India at Sixty
A Tribune Supplement
EARLIER FEATURES
On Sundays
On Saturdays
India responds to Pak dossiers on 26/11
New Delhi, June 18
Foreign Secretary Nirupama Rao will travel to Islamabad next week for talks with her Pakistani counterpart Salman Bashir on June 24 and set the stage for visits by Home Minister P Chidambaram and External Affairs Minister SM Krishna to the neighbouring country. While Chidambaram is scheduled to represent India at the SAARC Interior Ministers' meeting on June 26, Krishna will visit Islamabad for talks with his counterpart Shah Mehmood Qureshi on July 15 aimed at moving forward the dialogue process.
MiG-27 up in air, again
New Delhi, June 18
MiG-27 fighters, which were grounded in February following a crash, have resumed operational flights following clearance by the Indian Air Force. The IAF carried out certain checks on the engine before re-allowing flying operations. The MiG-27 fleet had to be grounded following a crash near Hashimara (West Bengal) in February in which a fighter pilot was killed.


Too late for justice, Mr Zakhmi
Chandigarh, June 18
For the last 24 years M.L. Zakhmi waited for his petition to come up for hearing before the Punjab and Haryana High Court. When it was finally taken up this month, the court ruled that it is too late for it to do anything about it. Cases like this, the high court admitted, gave a new life to the cliché "justice delayed is justice denied". Justice K. Kannan said while disposing the case that had it been taken up with alacrity, the case could have "obtained a different dispensation".
Canada govt blamed for Kanishka crash
June 18, 2010

Costly power shocks Punjab industry
June 17, 2010

Chautala & sons booked
June 16, 2010

Centre, Nagas enter truce lane
June 15, 2010

BJP, JD(U) in face-saving mode
June 14, 2010

Photo with Modi annoys Nitish Kumar
June 13, 2010

Cong in tizzy as Bhopal row rages
June 12, 2010

Five held with RDX, heroin in Amritsar
June 11, 2010

Tamils will get their due, says Rajapaksa
June 10, 2010

The blame game is on
June 9, 2010