PUNJAB
HARYANA
JAMMU & KASHMIR
HIMACHAL
REGIONAL BRIEFS
NATION
OPINIONS
LETTERS
BUSINESS
SPORTS
WORLD
Friday, June 25, 2010, Chandigarh, India
Updated at 3:00 am (IST)

Cordiality returns
India, Pakistan decide to move forward as foreign secys meet
After a prolonged finger-pointing exercise — that stretched over 18 months — India and Pakistan today settled for tight handshake, if not a bear hug, with both sides agreeing to break away from the past to give relations a "forward orientation".
World Page:Pak suspects secret India-US deal



Indian Foreign Secretary Nirupama Rao is welcomed by her Pakistani counterpart Salman Bashir in Islamabad on Thursday. — AFP
Bhopal Gas Tragedy
Cabinet okays GoM recommendations
New Delhi, June 24
The Union Cabinet today accepted the recommendations of the Group of Ministers (GoM) on Bhopal gas leak tragedy and has decided to begin a concerted effort to win justice and money for the Bhopal victims and to fix accountability for the industrial disaster that killed 20,000 residents of the city in 1984.
CAST YOUR VOTE
Should Warren Anderson be extradited?

EDUCATION
JOBS & CAREERS
HEALTH & FITNESS
SCIENCE & TECHNOLOGY
REAL ESTATE
SPORTS & WELLNESS
India lift Asia Cup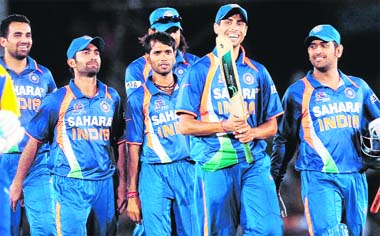 Indian captain Mahendra Singh (R) celebrates the victory over Sri Lanka with teammates after the final ODI of the Asia Cup between Sri Lanka and Indian in Dambulla on Thursday. Man of the Match Dinesh Karthik scored 66 runs, while seamer Aashish Nehra scalped four wickets as Sri Lanka failed to overhaul 269-run victory target by 81 runs. — AFP (Details on sports page)
Jaswant returns to saffron fold
New Delhi, June 24
Jaswant Singh, expelled barely 10 months ago, by the BJP for writing a book on Partition portraying Pakistan founder Mohammed Ali Jinnah as a secular nationalist, was welcomed back to the saffron party here today by an array of top leaders amidst much fanfare.
UNION BUDGET 2010-11
RAILWAY BUDGET
2010-11
NDA 60 Glorious Years
1857 The First Challenge
E - Revolution 2005:
A Two-day IT conclave
Assembly Elections - 2005
Turbans
Chandigarh is 50
125 Years of The Tribune
India: The Tasks Ahead
India at Sixty
A Tribune Supplement
EARLIER FEATURES
On Sundays
On Saturdays
Tamil Meet
Alagiri's absence hints at conflict in DMK
Coimbatore (TN), June 24
In a major blow to Tamil Nadu Chief Minister M Karunanidhi during the World Classical Tamil Conference, his elder son and Union Minister Alagiri today skipped the conference, which was expected to boost the DMK's
morale and set the momentum for the next Assembly elections.
Tight security for PM's visit
Unprecedented security arrangements will mark the two-day G-20 Summit, scheduled to be organised in Toronto from June 26, even as the government of Canada has encircled the convention center with a fenced red zone. (Details on Nation page)


Sorry, says Canada 25 yrs after AI bombing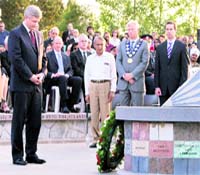 Toronto, June 24
Accepting "institutional failings of 25 years ago", Canada Wednesday formally accepted blame for the Air India bombing tragedy and said sorry to the families of the victims for the treatment meted out to them by successive governments.

Canadian Prime Minister Stephen Harper stands after placing a wreath at the memorial site for the victims of Air India Flight 182 in Toronto. — AP/PTI

India to talk tough with Pak
June 24, 2010
Shahzad pleads guilty
June 23, 2010
Rs 1,500 crore package for Bhopal victims
June 22, 2010
Govt keen to soften Armed Forces Special Powers Act
June 21, 2010
Nitish returns Gujarat's Kosi relief donation
June 20, 2010
Now, joint engg, medical test
June 19, 2010
Canada govt blamed for Kanishka crash
June 18, 2010
Costly power shocks Punjab industry
June 17, 2010
Chautala & sons booked
June 16, 2010
Centre, Nagas enter truce lane
June 15, 2010