PUNJAB
HARYANA
JAMMU & KASHMIR
HIMACHAL
REGIONAL BRIEFS
NATION
OPINIONS
LETTERS
BUSINESS
SPORTS
WORLD
Wednesday, June 30, 2010, Chandigarh, India
Updated at 3:00 am (IST)

Diesel prices to be decontrolled: PM
Subsidy to continue on LPG, kerosene

On Board PM's Special Aircraft, June 29
Prime Minister Manmohan Singh today said diesel prices, too, will be freed from government control as part of "much-needed reforms" but LPG and kerosene will continue to be subsidised. He did not say by when the diesel prices will be decontrolled, but said LPG and kerosene prices will continue to be regulated by the government.


Nation page: Call for Bharat Bandh on July 5

The Prime Minister addressing the media. — PTI
Naxals kill 26 CRPF men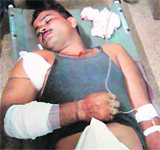 Raipur, June 29
Maoists today shot dead 26 CRPF personnel and wounded eight others in an ambush in a remote area of Chhattisgarh's Narayanpur district in the latest of a series of deadly attacks by the ultra-Left activists.

An injured CRPF personnel at a Bastar hospital late Tuesday evening. — AFP
CAST YOUR VOTE
Should Warren Anderson be extradited?

EDUCATION
JOBS & CAREERS
HEALTH & FITNESS
SCIENCE & TECHNOLOGY
REAL ESTATE

SPORTS & WELLNESS
Violence spreads in Valley
3 more killed in Anantnag
Srinagar, June 29
With violence spreading to south Kashmir, at least three youths were killed and five injured allegedly in firing by the CRPF during clashes in Anantnag town today.
Kandhamal: 7-year jail for BJP MLA
Phulbani (Orissa), June 29
Sitting BJP MLA Manoj Pradhan was today sentenced to a seven-year rigorous imprisonment by a fast-track court in a case of murder during the 2008 communal riots in Kandhamal in Orissa. Fast-track court-I judge SK Das awarded the sentence to Pradhan after convicting him for his role in the murder of Parikhita Digal, a Christian from Budedi village, under the Raikia police station limit on August 27, 2008.
UNION BUDGET 2010-11
RAILWAY BUDGET
2010-11
NDA 60 Glorious Years
1857 The First Challenge
E - Revolution 2005:
A Two-day IT conclave
Assembly Elections - 2005
Turbans
Chandigarh is 50
125 Years of The Tribune
India: The Tasks Ahead
India at Sixty
A Tribune Supplement
EARLIER FEATURES
On Sundays
On Saturdays
No HC relief for Rathore
Wife-cum-counsel alleges hanky panky in case listing, next hearing tomorrow
Chandigarh, June 29
Haryana's former Director-General of Police SPS Rathore's wife-cum-counsel Abha Rathore today alleged "hanky panky" in the listing of cases, as his appeal against conviction and sentence could not be taken up for detailed hearing. With this, it is clear that Rathore will remain behind bars for another few days, at least.
New Oz migration rules to hit 15,000 students
New Delhi, June 29
The controversial amendments to the Australian migration system, likely to affect nearly 15,000 Indian students in the Kangaroo land, are all set to come into force from July 1. Australia has slashed the existing Skilled Occupations List (SOL) from 400 skills to just 181 for vocational courses and jobs, which are the prerequisites for getting permanent resident status and student visas Down Under.


FIFA prez apologises for referee errors
Johannesburg, June 29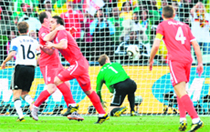 FIFA president Sepp Blatter promised today to re-open the file on goalline technology, while warning the French government not to meddle with the running of the country's football federation.

A file photo of the controversial Frank Lampard goal that was disallowed against Germany.

TODAY'S SPECIALS
HIMACHAL PLUS

J&K PLUS

JALANDHAR PLUS

AMRITSAR PLUS

JOBS & CAREERS

HEALTH & FITNESS

India, Canada sign N-pact
June 29, 2010
Can't silence Hafiz: Pak
June 28, 2010
India, Pak take a leap of faith
June 27, 2010
A big hole in your pocket
June 26, 2010
Cordiality returns
June 25, 2010
India to talk tough with Pak
June 24, 2010
Shahzad pleads guilty
June 23, 2010
Rs 1,500 crore package for Bhopal victims
June 22, 2010
Govt keen to soften Armed Forces Special Powers Act
June 21, 2010