PUNJAB
HARYANA
JAMMU & KASHMIR
HIMACHAL
REGIONAL BRIEFS
NATION
OPINIONS
LETTERS
BUSINESS
SPORTS
WORLD
Thursday, July 22, 2010, Chandigarh, India
Updated at 3:00 am (IST)

Mayhem in Bihar House

67 Opposition legislators suspended, marshalled out

Slipper hurled at Speaker

Din continues outside Assembly

Cong MLC goes on rampage
Patna, July 21
As many as 67 Opposition legislators were on Wednesday suspended for unruly behaviour in the Bihar Assembly while demanding Chief Minister Nitish Kumar's resignation over financial irregularities.

Lalu plot, cries JD(U)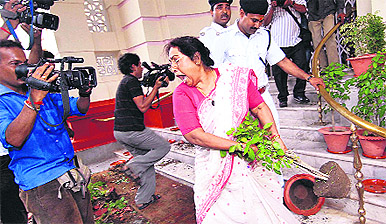 Cong legislator Kumari Jyoti on a rampage outside the Assembly on Wednesday. — PTI

Nation page: Punjab may go Bihar way, warns Congress

CAST YOUR VOTE
Should Warren Anderson be extradited?

EDUCATION
JOBS & CAREERS
HEALTH & FITNESS
SCIENCE & TECHNOLOGY
REAL ESTATE

SPORTS & WELLNESS
Govt apathy holds up workplace sexual harassment Bill
New Delhi, July 21
Even as the issue of sexual harassment at workplace again took centre stage today, with the junior Indian women's hockey team accusing its coach of misconduct, the government is slow as ever on the promised law to bar the malpractice. Drafted way back in 2007 by the National Commission for Women (NCW), the path-breaking "Protection of Women Against Sexual Harassment at Workplace Bill", remains in consultation stages.
Sports page:

Hockey sex scandal: Coach Kaushik quits, videographer sacked

KPS for independent inquiry

Hockey scene gets murkier

Lal Chowk attack mastermind killed
Sopore, July 21
In a major setback to the militants operating in the Kashmir valley, the security forces today gunned down one of the 'most wanted' militants of the state, who was also the mastermind of the Lal Chowk attack on the security forces in January this year.
UNION BUDGET 2010-11
RAILWAY BUDGET
2010-11

NDA 60 Glorious Years
1857 The First Challenge
E - Revolution 2005:
A Two-day IT conclave
Assembly Elections - 2005
Turbans
Chandigarh is 50
125 Years of The Tribune
India: The Tasks Ahead
India at Sixty
A Tribune Supplement
EARLIER FEATURES
On Sundays
On Saturdays
Repoll for Nepal PM on July 23


The speaker of Nepal's Parliament Subas Nembang on Wednesday informed the House on Wednesday that the names of two contestants from the Maoists and Nepali Congress- Prachanda and Poudel-would be tabled for the next round of election slated for July 23.
Inside the red zone: PART-II
Maoists vs CRPF: It's battle of unequals


"This is where it happened," a tribal boy (14) said, showing a vast opening in dense forest, 5 km from Chintalnar village (District Dantewada) in South Bastar. The spot is known for the biggest Maoist attack on security forces on April 6.
Army orders 1 million pieces of grenade developed by DRDO's Chandigarh lab


Chandigarh, July 21
About a decade after being designed, the Army has approved bulk production of lightweight modular hand grenades developed by the Defence Research and Development Organisation for induction.
They went, saw & returned empty-handed


The only lesson learnt by MLAs: Scotland more stringent in enforcing pollution checks
Chandigarh, July 21
The Vidhan Sabha Pollution Control Committee which had gone to study pollution management in distilleries of Scotland is back.
With train driver dead, probe may yield little
July 21, 2010
63 dead in Bengal train collision
July 20, 2010
Maoists build a big army in Bastar
July 19, 2010
Kayani played the spoilsport
July 18, 2010
Day after, the war of words begins
July 17, 2010
India-Pak talks end in stalemate
July 16, 2010
Unified Command to battle Naxal menace
July 15, 2010
Rumble over mining brothers hits Delhi
July 14, 2010
Unite for Kashmir, parties urged
July 13, 2010
Mehbooba says 'no' to PM
July 12, 2010
Spain vs Holland: Who'll win?
July 11, 2010