PUNJAB
HARYANA
JAMMU & KASHMIR
HIMACHAL
REGIONAL BRIEFS
NATION
OPINIONS
LETTERS
BUSINESS
SPORTS
WORLD
Wednesday, August 4, 2010, Chandigarh, India
Updated at 3:00 am (IST)

MESSY GAMES
Kalmadi feels the heat
n Told to sack 2 aides n Krishna confronts him with 'doctored' e-mail


New Delhi, August 3
Commonwealth Games Organising Committee chairman Suresh Kalmadi's cup of woes is brimming over with the Sports Ministry now putting him under pressure by asking him to sack two of his close aides in the committee.

Nation Page:Cong gives clean chit to Gill, Sheila

Panel to probe UK money trail
Oppn cites aam aadmi's woes to corner govt
New Delhi, August 3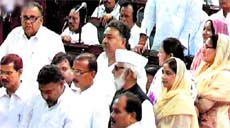 Frequent sparring between the Opposition and Treasury benches marked the much-awaited price rise debate, which saw over 50 speakers as the Lok Sabha sat beyond 9 pm

Editorial:Back to work

MPs disrupt proceedings in the Lok Sabha during the ongoing monsoon session in New Delhi on Tuesday. — PTI

CAST YOUR VOTE
Should Warren Anderson be extradited?

EDUCATION
JOBS & CAREERS
HEALTH & FITNESS
SCIENCE & TECHNOLOGY
REAL ESTATE
SPORTS & WELLNESS
2,000 additional troops for trouble-torn Valley
New Delhi, August 3
With no let-up in Valley violence, the Centre today decided to rush around 2,000 Central paramilitary force personnel to sensitive border areas. The Union Government, however, clarified that no additional Army troops were being sent. J&K Chief Minister Omar Abdullah on Monday had said that to strictly impose the curfew more forces were needed.

Editorial: Valley must be saved

J&K Page: Shoot-at-sight orders in Srinagar as 5 more killed
HC elevation for Ritu Bahri
Chandigarh, August 3
Haryana's senior deputy advocate-general Ritu Bahri will soon be administered oath as a judge of the Punjab and Haryana High Court. The President has cleared her name for elevation as an additional judge of the HC. A fax message in this regard was received today. The oath ceremony is likely to take place in a week's time.
Shimla Girl's Gang Rape
Charges to be framed against ex-UT Home Secy


Chandigarh, August 3
Additional District and Sessions Judge RN Bharti today ordered framing of charges against former UT Home Secretary NK Jain and four others in the gang rape of a Shimla girl in 2002.

NK Jain
UNION BUDGET 2010-11
RAILWAY BUDGET
2010-11

NDA 60 Glorious Years
1857 The First Challenge
E - Revolution 2005:
A Two-day IT conclave
Assembly Elections - 2005
Turbans
Chandigarh is 50
125 Years of The Tribune
India: The Tasks Ahead
India at Sixty
A Tribune Supplement
EARLIER FEATURES
On Sundays
On Saturdays
BlackBerry makers' no to data sharing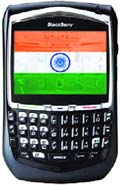 New Delhi, August 3
Some not so good news for the country's over one million BlackBerry users: The smartphone's maker, Research in Motion (RIM), today said that data being transmitted over the smartphones could not be made available to security agencies for monitoring. "The BlackBerry security architecture for enterprise customers is purposefully designed to exclude the capability for RIM or any third party to read encrypted information under any circumstances," the Canadian manufacturer, which operates in 175 countries, said in a statement.
Malaysia scraps visa on arrival for Indians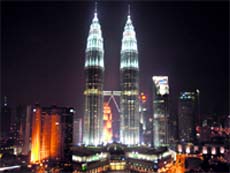 Kuala Lumpur, August 3
After 40,000 Indian tourists went "missing" from the country, Malaysia has permanently scrapped the Visa-on-Arrival (VOA) facility offeredto visitors from India and seven other countries, saying it was "open to abuse". Indians make up for a huge chunk of foreign tourists to Malaysia.
Today's specials
HIMACHAL PLUS

J&K PLUS

JALANDHAR PLUS

AMRITSAR PLUS

JOBS & CAREERS

HEALTH & FITNESS

No talks without peace, Omar to Valley hardliners
August 3, 2010
Valley bleeds as eight die in fresh clashes; over 60 hurt
August 2, 2010
Flood alert in Haryana again
August 1, 2010
Ready to talk with all Valley groups: PC
July 31, 2010
Make the border more secure, pleads Punjab
July 30, 2010
British PM ticks off Pak on terror export
July 29, 2010
Showdown over price rise
July 28, 2010
MPs panel sees police hand
July 27, 2010
Shah surrenders before CBI
July 26, 2010