Tuesday, August 24, 2010, Chandigarh, India
Updated at 3:00 am (IST)

Three dams full, Bhakra board calls meeting
Bhakra, Pong, Ranjit Sagar nearing danger mark
Chandigarh, August 23


Northern dams are brimming. The Bhakra Dam is inching towards the maximum permissible level of 1,680 feet. (It is expected to cross the 1,674-feet mark by Monday night).
Nuclear Liability Bill
After Oppn tough talk, Govt willing to modify language
BJP rules out support till changes dropped; Chavan to meet Left leaders today
New Delhi, August 23
Working overtime to save the contentious Civil Nuclear Liability Bill from collapsing, the government today assured an angry Opposition that it is willing to accommodate its concerns by modifying the language of the proposed legislation.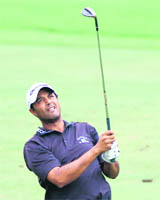 Lord of the Greens
Atwal first Indian to win on PGA Tour
Greensboro (USA), August 23
Arjun Atwal scripted history by becoming the first Indian golfer to clinch a US PGA Tour title as he lifted the Wyndham Championship trophy here, capping a remarkable turnaround of fortunes.

Arjun Atwal hits his second shot on the first hole during the final round of the Wyndham Championship in Greensboro. ó AFP