PUNJAB
HARYANA
JAMMU & KASHMIR
HIMACHAL
REGIONAL BRIEFS
NATION
OPINIONS
LETTERS
BUSINESS
SPORTS
WORLD
Sunday, August 29, 2010, Chandigarh, India
Updated at 3:00 am (IST)

Jet crew suspended for serious lapses
They panicked as fire alarm went off, didn't follow standard rules: DGCA
New Delhi, August 28


The Directorate General of Civil Aviation (DGCA) today hauled up the Jet Airways staff for serious procedural lapses in dealing with an emergency evacuation aboard its Mumbai-Chennai flight yesterday.
The Aftereffect. DGCA to review cabin traning procedures . Calls meeting of training heads of all carriers. Detail investigations into the incident on. Cockpit voice recorder removed for analyisis
Patel to help bury Babri ghost
PMO to rope in Cong leader for out-of-court settlement; Advani, too, to play key role
New Delhi, August 28
The Prime Minister's Office has decided to rope in Congress president Sonia Gandhi's political secretary Ahmed Patel to play a key role in bringing Muslim religious and political leaders to the negotiation table for an out-of-court settlement of the sensitive Ram Janmabhoomi-Babri Masjid dispute pending for decades. Also, Patel has been entrusted the job to brief Sonia on the issue.
Click Tribune in Punjabi, Hindi New
EDUCATION
JOBS & CAREERS
HEALTH & FITNESS
SCIENCE & TECHNOLOGY
REAL ESTATE

SPORTS & WELLNESS
Loose live wire snuffs out 8 lives
Nuh (Mewat), August 28
As a tractor trailer came in contact with loose and dangling live wire here this afternoon, one of the women hitching a ride back home instinctively tried to brush it aside and was electrocuted. She died on the spot and so did five other women and two teenaged girls. The freak accident took place near village Kherla in Mewat. The tractor was loaded with fodder.
HP targets Devi Lal's 'benami' deal
Shimla, August 28
Himachal Pradesh government has expedited proceedings against 121 cases of "benami" land deal, including one which , the prosecution claims, has been traced back to former Deputy Prime Minister Chaudhary Devi Lal in the Kullu-Manali area. Although proceedings were initiated in May 1997, the hearing in the case is scheduled for August 30. The delay in the high-profile case pertaining to a hotel and a farm house was due to the lack of credible evidence so far, confided officials.
Punjab BSNL site hacked
Handiwork of suspected Pak cyberpunks; portal page defaced
Chandigarh, August 28
In a case of major security breach, suspected Pakistani cyberpunks hacked the official website of BSNL's Punjab circle --- www.punjab.bsnl.co.in --- on August 21. The hackers, claiming to be members of urduhack.net, succeeded in defacing one of the pages on the site by posting comments in Urdu on it. The BSNL was quick to react and removed the page from the site. It also closed down its server in Bangalore soon after the intrusion was detected.
UNION BUDGET 2010-11
RAILWAY BUDGET
2010-11

NDA 60 Glorious Years
1857 The First Challenge
E - Revolution 2005:
A Two-day IT conclave
Assembly Elections - 2005
Turbans
Chandigarh is 50
125 Years of The Tribune
India: The Tasks Ahead
India at Sixty
A Tribune Supplement
EARLIER FEATURES
On Sundays
On Saturdays
China goes for troop build-up in PoK
New York, August 28
In a quiet move, China has deployed about 11,000 troops in the strategic Gilgit-Baltistan region in the Occupied Kashmir to take de facto control of the key area, where a rebellion is simmering against Pakistani rule. The New York Times said there were two important new developments in Gilgit-Baltistan; a simmering rebellion against the Pakistani rule and the influx of an estimated 7,000 to 11,000 soldiers of the Chinese People's Liberation Army in the area, which is closed to the world.
Missing Explosives
Key aide of 'kingpin' surrenders
Jaipur, August 28
The mystery shrouding the vanishing act of 164 explosive-laden trucks while on their way from RECL, Dholpur, to Madhya Pradesh may soon be resolved as one of the key accused in the case, Jaikishan Ashwani, has surrendered before the Sagar police. He was produced in a local court in Sagar today, which sent him to police remand. (Details on Nation page)


Leh fury leaves behind 150 orphans
August 28
Tragedy has struck two teenaged sisters for the second time. They lost their father, who was in the Army, to the 1999 Kargil conflict and now they have lost their mother to the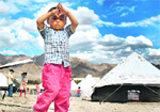 devastating flash floods here. The two sisters, Kunzang Chuskit (13) and Tsewang Dolkar (15), don't exactly remember seeing their father but their mother never let them feel the void after their father's death as she had taken the responsibility of both parents.
Three-year-old Staizing Thordot who lost his mother to the Leh flash floods. Tribune photo: Pradeep Tewari

LS plugs forex flow for religious conversions
August 28, 2010
Direct Taxes Code Bill gets Cabinet nod
August 27, 2010
With 'intent' clear, nuke Bill passed
August 26, 2010
Green spoke in Vedanta's mining plot
August 25, 2010
Three dams full, Bhakra board calls meeting
August 24, 2010
Gilani defends India's aid
August 23, 2010

Rain disrupts North
August 22, 2010

MPs get 300% hike, still unhappy
August 21, 2010

Badal scuttled it, says Arjun; no, it was treachery: Badal
August 20, 2010
It's all over bar the shouting
August 19, 2010