PUNJAB
HARYANA
JAMMU & KASHMIR
HIMACHAL
REGIONAL BRIEFS
NATION
OPINIONS
LETTERS
BUSINESS
SPORTS
WORLD
Sunday, September 12, 2010, Chandigarh, India
Updated at 3:00 am (IST)

Rally turns violent on Eid, Kashmir tense
l Mob turns violent, torches police post, police vehicle & govt offices l Omar says Mirwaiz betrayed him l Cabinet panel meets on Monday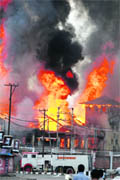 New Delhi/Srinagar, Sept 11
Security forces in Srinagar on Saturday showed considerable restraint while dispersing a violent mob that set a police post, a police vehicle and two government offices on fire and roughed up policemen and pelted stones at them. Police fired several rounds in the air although the mob did everything to provoke them into firing at the crowd.

Government buildings set ablaze by protesters in Srinagar on Saturday. — Reuters

Radiation from handsets raises heat & worry
New Delhi, September 11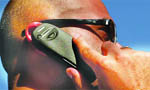 Is it too high or is it too low? The radiation levels emitted by mobile handsets and telecom towers and the 'pollution' (generated by diesel generators which provide power to towers in rural areas) is either too high or too low, depending upon which side of the fence you are on.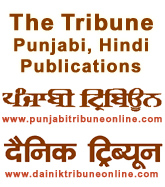 EDUCATION
JOBS & CAREERS
HEALTH & FITNESS
SCIENCE & TECHNOLOGY
REAL ESTATE
SPORTS & WELLNESS
US Open final
Despite losing, Bopanna and Qureshi win hearts
New York, September 11
India's Rohan Bopanna and Pakistan's Aisam-Ul-Qureshi put up a spirited fight but failed to stop the top seeded Americans Mike and Bob Bryan from winning their third US Open tennis here on Friday.

Swollen Yamuna sweeps away youth; Delhi parts marooned
25 trains cancelled, 36 diverted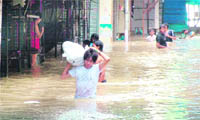 New Delhi, September 11
Surging Yamuna waters claimed one life today and inundated areas situated close to the river in the Capital. The worst affected were low-lying northern and eastern parts.
A trader wades through waist-deep water at Monastery, the Tibetan market near the ISBT, in New Delhi on Saturday. Tribune photograph: Mukesh Aggarwal
Mumbaikars brush aside terror threat
Celebrate Eid, Ganeshotsav with pomp & gaiety
Mumbai, September 11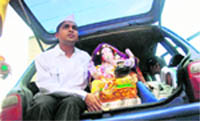 Brushing aside warnings by the police and the administration about possible terror attacks in the city, Mumbaikars came out in large numbers to celebrate the Ganeshotsav and Eid-ul-Fitr.
MY FRIEND GANESHA: A man carries an idol of Lord Ganesha in his car, in Mumbai on Saturday. — PTI

UNION BUDGET 2010-11
RAILWAY BUDGET
2010-11

NDA 60 Glorious Years
1857 The First Challenge
E - Revolution 2005:
A Two-day IT conclave
Assembly Elections - 2005
Turbans
Chandigarh is 50
125 Years of The Tribune
India: The Tasks Ahead
India at Sixty
A Tribune Supplement
EARLIER FEATURES
On Sundays
On Saturdays
Angmo reaches where she dreamt to be
Chandigarh, September 11


"Robin sat on a tree branch watching everybody, it's a bliss he thought being this carefree", the lines of this Class IV poem had always mesmerised nine-year-old Skalzang Angmo, but she could never have understood the bliss better than today.
Leh survivor Skalzang Angmo at Navodaya school in Chandigarh. Tribune photo
In Ladakh, people battle for survival, politicians for votes
Leh, September 11
Even as Ladakh continues to reel in the aftermath of the August 6 cloudburst that officially killed 233 people, the state government at Srinagar has notified an election for the Ladakh Autonomous Hill Development Council. While the Council's term does come to an end on October 16, the state government has powers to extend its term in extraordinary circumstances. And an irritated Chief Executive Councillor, Cherring Dorje, is convinced that Srinagar did not apply its mind before notifying the election.

Wannabe doctors, try IITs
September 11, 2010
Cabinet nod to caste count in census
September 10, 2010
Omar tries to pitch for Eid package with PM
September 9, 2010
Extended monsoon in North may cloud CWG
September 8, 2010
PM tells SC not to get into policy formulation
September 7, 2010
Bihar still awaits hostages' release
September 6, 2010
Nitish offers safe passage to Maoists for dialogue
September 5, 2010
Tension mounts as Naxals kill cop
September 4, 2010
Sonia set for 4th term
September 3, 2010
Sibal blames bad floor management
September 2, 2010