PUNJAB
HARYANA
JAMMU & KASHMIR
HIMACHAL
REGIONAL BRIEFS
NATION
OPINIONS
LETTERS
BUSINESS
SPORTS
WORLD
Tuesday, September 28, 2010, Chandigarh, India
Updated at 3:00 am (IST)


PART-I
A TRIBUNE INVESTIGATION


Seats for sale in PGI
n Agents claim to rig MBBS and MD entrance tests
n Seat costs Rs 80 lakh upwards
n PGI not alone, racket may be all over India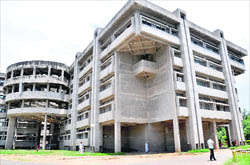 Chandigarh, September 27
Painstaking investigation by The Tribune has revealed shocking details of some self-claimed touts who ensure medical seats to aspirants for a hefty price.


"It will cost you Rs 1.25 crore for a PG seat in radiology,"says agent


The Post-Graduate Institute of Medical Education and Research (PGIMER) in Chandigarh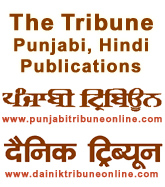 EDUCATION
JOBS & CAREERS
HEALTH & FITNESS
SCIENCE & TECHNOLOGY
REAL ESTATE

SPORTS & WELLNESS
ISI chief told CIA that his rogue elements were behind 26/11
Watergate journo reveals who were Mumbai plotters


Washington, September 27
Less than a month after the Mumbai attacks, Pakistan's spy agency chief Lt Gen Ahmed Shuja Pasha had admitted before the CIA that the terror strikes had ISI links but claimed it was not an "authorised" operation and carried out by "rogue" elements, according to a new book.
Kashmiri children pray at their school in Srinagar on Monday. The authorities had asked both government and private schools to re-open despite a curfew and a general strike called by separatists. Some schools in the Kashmir Valley have re-opened after remaining shut for most of the time during months of violent pro-independence protests and strict curfew, but attendance was thin. — PTI (Details on J&K page)
Rain Fury
Almora, Nainital count their losses
Chaamriya (Almora), September 27
The stretch between Garam Pani to Kwarab is the area that is on the border of Nainital and Almora districts and has been the worst affected in the recent rain related disaster in the state. Together, the two districts of Almora and Nainital have pegged their losses at well over Rs 900 crore.


In hour of despair, together they stand
UNION BUDGET 2010-11
RAILWAY BUDGET
2010-11

NDA 60 Glorious Years
1857 The First Challenge
E - Revolution 2005:
A Two-day IT conclave
Assembly Elections - 2005
Turbans
Chandigarh is 50
125 Years of The Tribune
India: The Tasks Ahead
India at Sixty
A Tribune Supplement
EARLIER FEATURES
On Sundays
On Saturdays
CWG: No deadline but conditions improving by the hour, says Sheila
New Delhi, September 27
Some weeks back Delhi Chief Minister Sheila Dikshit had said that the city needed the blessings of Indra Devta, the mythological rain god, if Commonwealth Games projects were to be completed on time.


President, Prince Charles to open Games
India objects to Pak's remark on Kashmir
New Delhi, September 27
India today chided Pakistan for its latest remarks on Jammu and Kashmir even as top diplomats of the countries were trying to fix a bilateral meeting between the foreign ministers of the two countries in New York.
Ayodhya: SC verdict on deferment plea today
New Delhi, September 27
A day ahead of the Supreme Court hearing on the Ayodhya dispute, the UP Sunni Central Waqf Board — the Number 1 respondent in the case — has strongly opposed the plea for another attempt at reconciliation.
Almora in dire trouble
September 27, 2010
8-point initiative for Kashmir
September 26, 2010
As monsoon recedes, sun shines on CWG
September 25, 2010
SC puts off Ayodhya verdict for a week
September 24, 2010
Rains continue to batter North, toll crosses 100
September 23, 2010
Double trouble for Games
September 22, 2010
All-party MPs meet separatists
September 21, 2010
Firing near Jama Masjid leaves two foreigners hurt
September 20, 2010
AFSPA not arbitrary, says Army chief
September 19, 2010
No deferment of Ayodhya decision
September 18, 2010