Rituals performed at Narayani Shilla for peace of forefathers
Haridwar, December 5
On the pious occasion of Amawasya, hundreds of devotees thronged the shrine of Shri Narayani Shilla in Devpura to perform religious rituals and pray for the solace of their forefathers "pitra".
Statue of Pt Upadhyay gets glass cover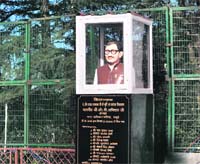 Mussoorie, December 5
Reacting to the news published in The Tribune on December 3 that highlighted the fact that the statue of one of the most revered BJP leader Pt Deen Dayal Upadhyay, which was installed recently at a park at Landour Bazar, was covered with an empty liquor carton, the Mussoorie MC, taking cognisance of the fact, got it covered with unbreakable crystal glass. The BJP workers had also raised this issue recently.

The statue of BJP leader Pt Deen Dayal Upadhyay at a park at Landour Bazarin Mussoorie.

Death Anniversary of Baba Bhim Rao Ambedkar
Cong anti-Ambedkar, Dalits: BJP
Haridwar, December 5
In view of its debacle in the last parliamentary elections as well as eyeing the forthcoming Assembly elections in Uttarakhand, the Bharatiya Janata Party (BJP) seems to be eyeing the Scheduled Caste (SC) votes that have long been eluding it owing to varied reasons.
Delay in fixing sugarcane rates irks farmers
Dehradun, December 5
Delay in fixing sugarcane rate has triggered immense anger among the farmers in Uttarakhand even though the sugar mills have opened in the state."Now the time has come for farmers and their organisation to be united and go for agitation against non-fixing and announcing of rate for sugarcane farmers," said Rashtriya Lok Dal (RLD)president Ajit Singh.
Rashtriya Rajiv Gandhi Sena stages protest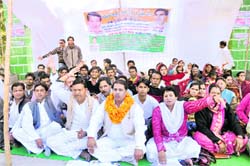 Dehradun December 5
Agitated members of the Rashtriya Rajiv Gandhi Sena staged a protest in favour of their demands at the Gandhi Park here yesterday.Under the leadership of Susheel Rathi, state president, the protesters accused the state government of ignoring corruption in the state.


Members of the Rajiv Gandhi Sena protest against the state government in Dehradun on Saturday. A Tribune photograph

Sensitisation bid to save girl child begins
Dehradun, December 5
Worried at the widening gap in the child sex ratio, Rural Litigation and Entitlement Kendra (RLEK) has launched a sensitisation campaign to save the girl child.As a first step, a sensitisation programme was organised in villages of Dehradun district under the aegis of RLEK and Women Power Connect (WPC). The 40 women participants included the pradhan, Anganwadi, and ASHA and ANM workers. The meeting had sessions on the issue of sex selection and sex discrimination, consequences of female foeticide, pregnancy related laws, and the PCPNDT Act.
DM directs DSO to disconnect multiple connections
Dehradun, December 5
District Magistrate (DM) Sachin Kurve has directed the oil companies to pass the orders to all dealers for the verification of the lists of consumers and disconnect multi-connections to curb the shortage of gas supply.
Stress laid on IT in rural banking
Haridwar, December 5
High-end information technology (IT) and web services are making banking-related work much easier in cities, the same cannot be said about this in rural areas, villages and hill districts of the state owing to lack of knowledge and infrastructure required for the application.
AIDS awareness seminar held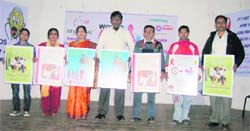 Dehradun, December 5
A seminar on AIDS awareness was organised by the Beginning Trust at the ONGC Officers' Club here today, under its week-long programme to observe World AIDS Week.



Participants at a seminar on AIDS awareness in Dehradun on Sunday.

Keep check on animal sacrifice in Bhookhal Mela, CM urged
Dehradun, December 5
Several educationists in Dehradun have sought the Chief Minister's intervention to bring an end to the practice of animal sacrifice in the Bhookhal Mela of Pauri Garhwal.Several educationists, led by Welham Boys School Principal Dev Lahiri, St Joseph Academy Principal Brother George and DS Mann from Doon International School, today met in Dehradun and called for collective strategy to keep check on gruesome animal sacrifice in the Bhookhal Mela of Pauri Garhwal.
Plea to make Haldwani a dist
Nainital, December 5
A demand for making Haldwani a district has been raised. A large number of residents of the town, that is referred to the "Gateway of Kumaon" and is the nerve centre of the region, demanded that a new district be carved out with its headquarters in Haldwani.
Submit course of action, DMC tells Co.
Dehradun, December 5
The Dehradun Municipal Corporation (DMC) on Tuesday asked the Delhi-based company SPML, that won the tender of solid-waste management, to submit a reply within three days mentioning their course of action for the waste management with the quoted amount for the next 15 years.
Nurse accuses doctor of raping her for 9 years
Dehradun, December 5
A nurse, in her 20s, alleged that a doctor on the pretext of marrying and providing her a job, had been sexually exploiting her for the past nine years.Dr Bharat Kishore is posted as Additional Director (Medical Education) in the Directorate of Family and Health Planning, while the nurse has been working with him. She has alleged that she had been raped several times in the past nine years, said the police. She said Dr Kishore had promised to marry her and on this pretext had sexual relations with her.
72 docs in U'khand face cadre blues
Dehradun, December 5
Confusion prevails over the allocation of cadre to 72 doctors with more than 20 years of service as neither the Uttar Pradesh or the Uttarakhand government is willing to own this, even though there is paucity of medical staff in the state.
MP Harish Rawat assures of government help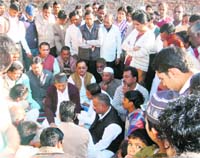 Haridwar, December 5
After five days of the shocking accident that took toll on 10 members of a family, Union Minister of State-rank and Haridwar MP Harish Rawat visited the Jwalapur-based family members and assured them of appropriate government help.



Haridwar MP Harish Rawat meets family members of the deceased in Haridwar on Sunday. Tribune photo: Rameshwar Gaur

Schemes to give impetus to animal husbandry
Nainital, December 5
Following in the footsteps of his cabinet colleagues and going on an inaugural spree as the Assembly polls draw near, Agriculture Minister Trivendra Singh Rawat launched a series of facilities for the development of animal husbandry in the region on Saturday.