Report bares Char Dham ills
Dehradun, December 8
The Tourism Development Board Corporation has prepared a report elucidating problems prevailing at the Char Dham locations, namely Gangotri, Yamunotri, Badrinath and Kedarnath, which has been affecting the tourism development in the region. The report says 20 lakh visitors throng the Char Dham sites each season. The tourists flow reaches its pinnacle two months before monsoon.
80 participate in drive against domestic violence
Dehradun, December 8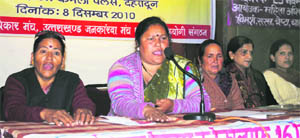 Under the aegis of the Uttarakhand Jan Karwa Manch, women from Nainital, Udham Singh Nagar, Chamoli, Tehri and Dehradun gathered to participate in the national convention here today. Around 80 women were present to share their experiences and participate in the 16-day drive against domestic violence and women protection programme.
Participants in the Uttarakhand Jan Karwa Manch in Dehradun on Wednesday. A Tribune photograph

Anushuya Mata Ashram most sought-after by childless couples
Dehradun, December 8
While the French first couple President Nicolas Sarkozy and his wife Carla Bruni prayed for a son at Fatehpur Sikri, a tradition of seeking blessing for a son has continued for ages at the Anushuya Mata Ashram in the border district of Chamoli in Uttarakhand. The belief certainly has a basis as many young boys have Anushuya as name, thereby giving credibility to the age-old belief.
Champawat residents seek more water schemes
Pitthoragarh, December 8
Residents of Champawat and Lohaghat towns of Champawat district have demanded allocation of potable water projects from visiting Kumaon Commissioner as they are getting potable water only for 100 days in a year from the existing water schemes situated in their towns. "Kumaon Commissioner Kunal Sharma was felicitated by members of the Nagar Panchayat, Lohaghat. They have demanded new potable water schemes for the town from the Saryu river, that flows 30 km from here," said Meenu Punetha, a member of the Nagar Panchayat.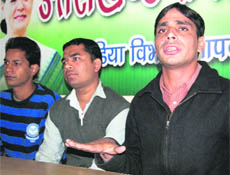 NSUI begins drive against fake colleges
Dehradun, December 8
To protest against the commercialisation of education in Dehradun, the National Students Union of India (NSUI) announced the commencement of its drive against fake colleges here today. The announcement was made at a press conference held by Sandeep Kumar, state president of the NSUI.

Sandeep Kumar, state president, NSUI, addresses a press conference in Dehradun on Wednesday. A Tribune photograph

Haridwar shelterless step up stir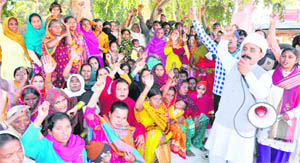 Haridwar, December 8
With no heed being paid to their woes, particularly from the administrative side, people having no shelter today took to streets to press for their demands.



Women from lower strata hold a protest at Devpura in Haridwar on Wednesday. Tribune photo: Rameshwar Gaur

Initiative to make health care toxic free launched
Dehradun, December 8
The People's Science Institute, Dehradun, and Toxics Links, based in New Delhi, have jointly started work on biomedical waste (BMW) management and mercury elimination in health-care facilities.
Armed Forces Flag Day celebrated
Dehradun, December 8
The Armed Forces Flag Day was celebrated at the Raj Bhawan here yesterday. On the occasion, Uttarakhand Governor Margaret Alva said to donate generously to the Flag Day Fund was to display his or her gratitude and respect to the nation's armed forces.


DM presented flag

Plea to make donation
Ex-servicemen thank CM
Dehradun, December 8
Central president of the Uttarakhand Poorv Sainik Avam Ardh Sainik Sangathan, Lt-Col Ganga Singh Rawat (retd) said their request to seek permission to buy two-wheelers and four-wheelers from the CSD had been turned down by the previous state government citing shortage in tax after this step.
Policies to provide relief to disaster-hit sought
Dehradun, December 8
Discussing the shortcomings of the state government in providing relief to Uttarakhand's disaster-affected areas till now, the Aapda Samvedna Manch held a convention here yesterday. A large number of disaster-affected people, members of non-government organisations (NGOs) from all over Uttarakhand gathered to express their grievances on disaster management.
Human Rights helpline launched
Haridwar, December 8
In view of safeguarding violation of human rights of common people, particularly the poor and the downtrodden, the Haridwar unit of a social organisation, Human Rights Emergency Helpline Association, came into existence with the appointment of all executive working committee members.
Jagatram Joshi to be SP (City)
Dehradun,December 8
After winning a legal battle against the state governement, Jagatram Joshi is all set to become the new City Superintentdent of Police (SP).
Landslides
Survey in Pindar Valley sought
Dehradun, December 8
A Geological of India Survey (GSI) has been sought for the entire Pindar Valley taking into account massive landslides experienced in the state in recent monsoon.
Lok Awaas Yatra begins
Dehradun, December 8
Lok Awaas Yatra, to be carried out in Himalayan states of Himachal Pradesh and Uttarakhand, began here on Monday. The yatra is an initiative of the Basin-South Asia Secretariat, Delhi, and is being organised in assistance with the Himalayan Environment Studies and Conservation Organisation. The yatra will conclude at the Jagori campus, Dharamshala, on December 10.
Homage paid to AIDS victims
Dehradun, December 8
The world AIDS week organised by the Beginning Trust came to an end on Monday. Under the campaign, the trust conducted tribute meetings and paid homage to AIDS victims by lighting lamps and offering flowers.
Brij Bhushan's death mourned
Dehradun, December 8
A Uttarakhand theatre group, Doonghati Rangmanch, held a mourning session to pay tributes to Kunwar Brij Bhushan. Luxmi Narayan, presiding over the session, said Bhushan was a great supporter of social and cultural organisations and a constant inspiration to theatre actors for the past 35 years. He was conferred with Doon-Kirti and Doon Ratan awards.