COLUMNS



THIS ABOVE ALL

TELEPROMPT

GOOD MOTORING

LIFE'S LESSONS

LEXICON


FOR CHILDREN



CROSSWORD

RHYME TIME

Earlier Feature


TELEVISTA


AUDIO SCAN

Footprints of The Mahatma
From the seaside port of Porbandar in Gujarat ó where Mohandas Karamchand Gandhi was born ó to the serene environs of Raj Ghat in Delhi, where he found his final resting place, Vimla Patil trails Bapuís journey into independent Indiaís history
Kirti Mandir,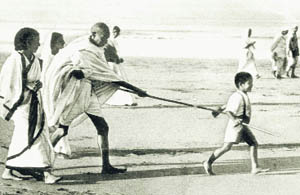 Bapuís birthplace
At the paisley-shaped tip of Saurashtra in Gujarat, lies the quiet town of Porbandar, the birthplace of Mohandas Karamchand Gandhi, one of the greatest icons of the 20th century. Little did his parents know at the birth of their son Mohan, that one day he would illuminate the souls of countless people all over the world and leave footprints in the pages of Indiaís history.
Pen drive
Once a darling of students, pens are now only plastic waste, writes Nikhil Agarwal
Treasured by many students once upon a time, pens are now quickly turning into plastic waste as the thrift practice of refilling them is dying a slow death. A far cry from the early 1990s, when writing instruments, in their earlier avatar of fountain pens, had to be recharged from an ink bottle frequently, most of the users now end up throwing away branded pens as they avoid refilling at Rs 3 to buy a new one for as low as Rs 5.